New management at Cargobull Parts & Services
Patricia Aznar and Britta Sprey jointly manage the business of Schmitz Cargobull's service subsidiary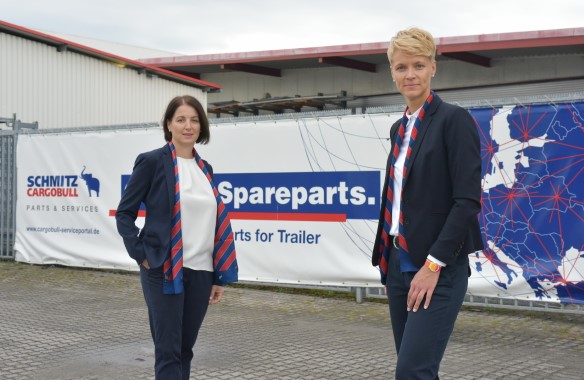 September 2020 – Together with Schmitz Cargobull Chief Sales Officer, Boris Billich, Patricia Aznar and Britta Sprey were appointed to the management of the Schmitz Cargobull subsidiary "Cargobull Parts & Services" as of 1st July 2020. At the end of June 2020, the long-standing Managing Director, Dr. Peter-Hendrik Kes, entered his well-deserved retirement. He is followed by Britta Sprey and Patricia Aznar, who have both held responsible positions at Schmitz Cargobull for many years.
New management at Cargobull Parts & Services
After completing her studies in industrial engineering, specialising in mechanical engineering, Patricia Aznar began working as a technical engineer at Schmitz Cargobull's Spanish plant in Zaragoza in 2001. Here, the Spanish born engineer helped to set up the production site. In the following 12 years, Aznar worked in various departments and in 2014 transferred within the group to Schmitz Cargobull's Business Development department in the After Sales division in Altenberge. As Head of Spare Parts Order Management, she worked on standardising sales processes and systems. Outside of work, the mother of two is an avid tennis and paddle tennis player.
Britta Sprey began her career at Schmitz Cargobull in 2003 with a dual course of studies in business administration. She completed her studies in 2007 at the University of Applied Sciences in Münster. She then started as a logistics planner in the product development process at the Vreden plant. Subsequently, she worked as a group leader in the Schmitz Cargobull production system and later as a strategic purchaser. Here, she played a decisive role in the introduction of the "Cargobuy" purchasing platform. In 2017, Sprey transferred to Cargobull Parts & Services as the Head of Supply Chain Management. In addition to her new function as Managing Director, Britta Sprey will also take on the "After Sales" product line management for Service Net, Assist Center and Spare Parts. In her free time, Britta Sprey enjoys running and hiking.

"We are delighted that we have been able to gain such a powerful and dedicated duo, Patricia Aznar and Britta Sprey, from our own ranks for the responsible Managing Director positions," explains the Chief Sales Officer, Boris Billich. "With their profound expertise and company knowledge, they will continue to build on and expand Cargobull Parts & Services' many years of success".

Informazioni su Schmitz Cargobull:
Con un produzione annuale di circa 63.500 trailer e con circa 6.500 collaboratori, Schmitz Cargobull AG è il produttore leader in Europa di semirimorchi, trailer e motrici furgonate per merci a temperatura controllata, General Cargo e materiali sfusi. Nell'esercizio 2018/2019, la società ha raggiunto un fatturato di circa 2,29 miliardi di euro. In qualità di leader del settore, la società ha sviluppato tempestivamente una strategia del marchio completa dalla regione del Münsterland e punta a soddisfare gli standard qualitativi su tutti i livelli: da ricerca e sviluppo, alla produzione e contratti di assistenza fino alla telematica per trailer, finanziamento, approvvigionamento di pezzi di ricambio e commercio di veicoli usati.


L'ufficio stampa Schmitz Cargobull:
| | |
| --- | --- |
| Anna Stuhlmeier: | +49 2558 81-1340 I anna.stuhlmeier@cargobull.com |
| Andrea Beckonert: | +49 2558 81-1321 I andrea.beckonert@cargobull.com |
| Silke Hesener: | +49 2558 81-1501 I silke.hesener@cargobull.com |
New management at Cargobull Parts & Services

New management at Cargobull Parts & Services