New tipper chassis: weight-optimised for more payload
The Schmitz Cargobull S.KI tipper trailer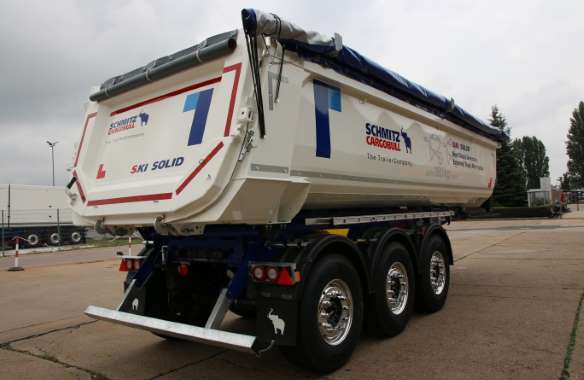 September 2020 - The S.KI tipper trailer's steel chassis frames have always been characterised by an ideal balance between weight optimisation, robust longevity and tipping stability. The fundamental redesign of the modular frame has achieved weight savings enabling up to 180 kg more payload for the S.KI tipper trailer, depending on length and specific frame design. The revised design of the crossbeams provides even greater stability and ensures a longer service life of the chassis due to optimum corrosion protection. Schmitz Cargobull grants customers a 10-year warranty against rust-through for the galvanised S.KI frame generation.

The Schmitz Cargobull S.KI tipper trailer
• New chassis design: weight-optimised for more payload
• 10-year warranty against rust-through for the S.KI frame generation with a galvanised design
• Redesigned underride guard: compliance with new legislation
The new LIGHT frame of the short S.KI variants was specifically developed for payload-optimised use on roads, construction sites, and light off-road routes. This innovation is one of the lightest steel chassis frames on the market.
The modular system offers the right frame for every application: four different frame lengths are available (system lengths 7.2, 8.2, 9.6, 10.5), depending on the desired body volume. In addition to the STANDARD versions, a LIGHT version for especially high payload or a HEAVY-DUTY version for particularly heavy-duty use are available for each frame length, depending on the application and demands. All of the frame variants will be converted to the new generation as of spring 2021 and will then be available with the new design.
The newly developed underride guard already meets the future statutory regulations of the ECE-R58.03 directive. This directive significantly increases the requirements regarding underride protection. In addition to modified dimensions, the load must be verified through significantly higher test loads. As of 1 September 2021, new vehicles must be equipped an underride guard that complies with ECE-R58.03.
The new underride guard is also being launched on the S.KI tipper trailer together with the new frame generation. This underride guard already fulfils all of the criteria of the new directive. At the same time, the weight has been reduced and handling improved.
A spring-supported folding mechanism simplifies operation and saves resources. The new underride guard also offers high ground clearance of 728 mm when folded up. This enables easy manoeuvring up to the road paver.
Informazioni su Schmitz Cargobull:
Con un produzione annuale di circa 63.500 trailer e con circa 6.500 collaboratori, Schmitz Cargobull AG è il produttore leader in Europa di semirimorchi, trailer e motrici furgonate per merci a temperatura controllata, General Cargo e materiali sfusi. Nell'esercizio 2018/2019, la società ha raggiunto un fatturato di circa 2,29 miliardi di euro. In qualità di leader del settore, la società ha sviluppato tempestivamente una strategia del marchio completa dalla regione del Münsterland e punta a soddisfare gli standard qualitativi su tutti i livelli: da ricerca e sviluppo, alla produzione e contratti di assistenza fino alla telematica per trailer, finanziamento, approvvigionamento di pezzi di ricambio e commercio di veicoli usati.


L'ufficio stampa Schmitz Cargobull:
| | |
| --- | --- |
| Anna Stuhlmeier: | +49 2558 81-1340 I anna.stuhlmeier@cargobull.com |
| Andrea Beckonert: | +49 2558 81-1321 I andrea.beckonert@cargobull.com |
| Silke Hesener: | +49 2558 81-1501 I silke.hesener@cargobull.com |
New tipper chassis

New tipper chassis

New tipper chassis 1

New tipper chassis 2

New tipper chassis 3

New tipper chassis 4

New tipper chassis 5

New tipper chassis 6

New tipper chassis 7

New tipper chassis 8

New tipper chassis 9

New tipper chassis 10

New tipper chassis 11

New tipper chassis 12

All Press Releases Smart Trailer Days in English