Schmitz Cargobull sets milestones for continuity on the Supervisory Board and Management Board
• Karin Hageböck succeeds IG Metall Chairman Heinz Pfeffer on the Supervisory Board • Tragic death overshadows the Annual General Meeting • Supervisory Board extends management board seats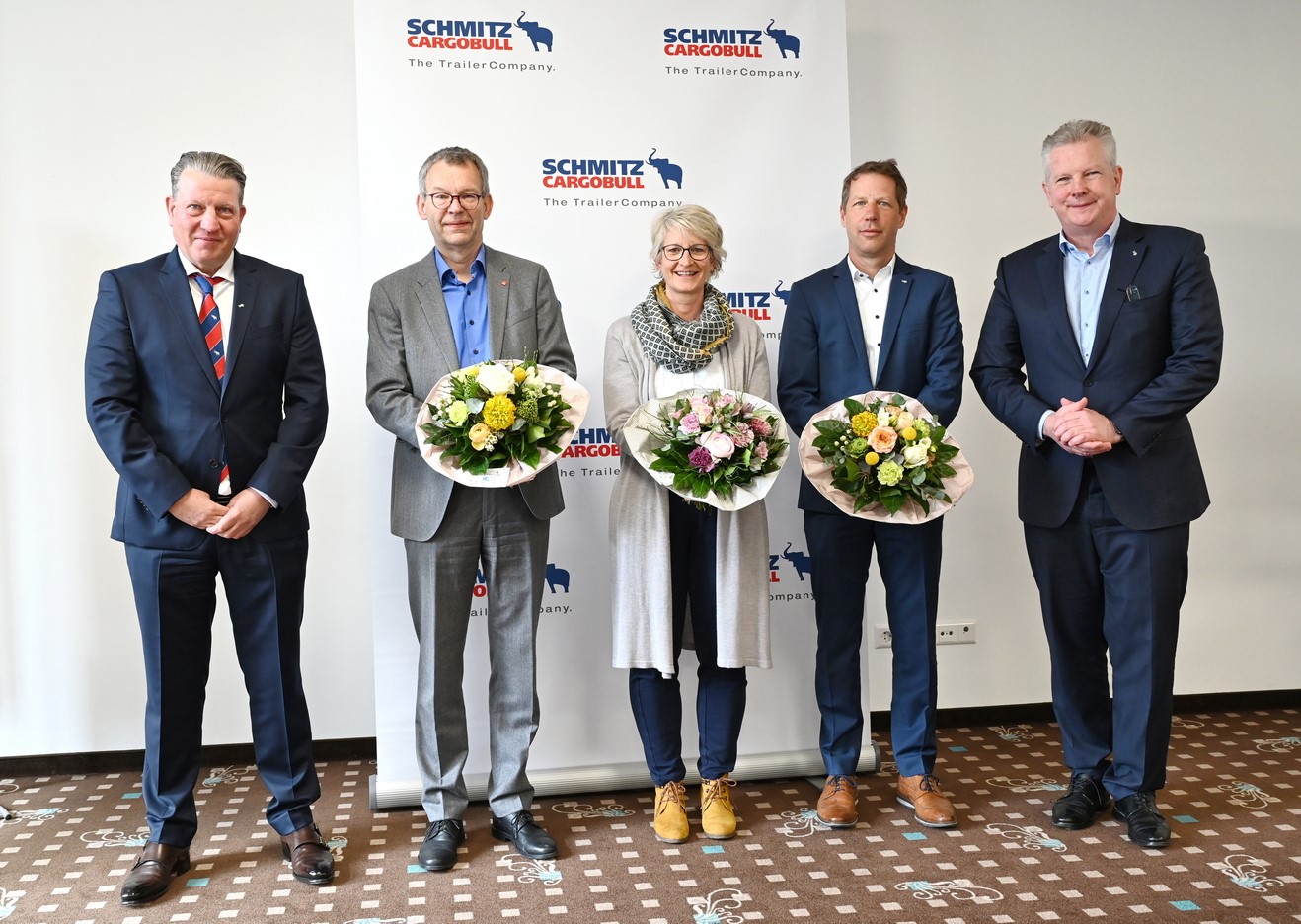 April 2022 – The final Supervisory Board meeting of Schmitz Cargobull AG in the 2021/2022 Financial Year took place on 29 March 2022 against the background of the war in the Ukraine, the uncertainty surrounding the supply chain and the ongoing challenges created by the corona pandemic.


Changes on the Supervisory Board
As part of a planned succession policy, a new member was welcomed to the Supervisory Board. Karin Hageböck succeeded Heinz Pfeffer, who has transitioned into the release phase of his partial retirement. Heinz Pfeffer had been a member of the Schmitz Cargobull AG Supervisory Board since 1 September 2009.

The Supervisory Board, the Management Board and the entire Schmitz Cargobull workforce would like to express their sincere gratitude for his services on behalf of Schmitz Cargobull and wish him all the best for his future endeavours.

Karin Hageböck is the managing director, the first authorised representative as well as the treasurer of the IG Metall branch in Rheine and Heinz Pfeffer's direct successor within the union. She commenced her career with IG Metall at the beginning of the 1990s as a union secretary. Qualified as an industrial clerk, she went on to study law at FernUniversität Hagen, specialising in labour law and insolvency law.

The Annual General Meeting was overshadowed by the sudden death of the IG Metall representative Pietro Bazzoli. He had been a member of the Schmitz Cargobull Supervisory Board since 24 September 2019. The long-standing Siemens Works Council Chairman and recently the first authorised representative of IG Metall Bocholt, died on 26 March at the age of 53. He leaves behind a wife and three daughters.

"We are deeply shaken by the sudden death of our Supervisory Board member", said Dirk Hoffmann, Chairman of the Supervisory Board of Schmitz Cargobull AG, "We will remember Pietro Bazzoli for his dedication and his focus on achieving solutions. Our condolences and deepest sympathies go out to his family."

During the meeting, the Supervisory Board also confirmed the early extension of the Management Board seats of Boris Billich (Sales) and Andreas Busacker (Finance) for a further five years.
The early contract extensions also reflect the company's successful course in recent years, as explained by the Chairman of the Supervisory Board, Dirk Hoffmann: "The Management Board has successfully faced the demanding tasks throughout this entire past period. In view of the major challenges ahead of us, we would like to provide both the management team and the company as a whole with a stable, shared perspective."

As a change on the Management Board, Dr. Günter Schweitzer, who has served as the Board Member for Purchasing & Logistics since September 2021, will also represent Operations on the Management Board. He takes over from Michael Grund, whose Management Board contract expired in March.


Informazioni su Schmitz Cargobull:
Con un produzione annuale di circa 63.500 trailer e con circa 6.500 collaboratori, Schmitz Cargobull AG è il produttore leader in Europa di semirimorchi, trailer e motrici furgonate per merci a temperatura controllata, General Cargo e materiali sfusi. Nell'esercizio 2018/2019, la società ha raggiunto un fatturato di circa 2,29 miliardi di euro. In qualità di leader del settore, la società ha sviluppato tempestivamente una strategia del marchio completa dalla regione del Münsterland e punta a soddisfare gli standard qualitativi su tutti i livelli: da ricerca e sviluppo, alla produzione e contratti di assistenza fino alla telematica per trailer, finanziamento, approvvigionamento di pezzi di ricambio e commercio di veicoli usati.


L'ufficio stampa Schmitz Cargobull:
| | |
| --- | --- |
| Anna Stuhlmeier: | +49 2558 81-1340 I anna.stuhlmeier@cargobull.com |
| Andrea Beckonert: | +49 2558 81-1321 I andrea.beckonert@cargobull.com |
| Silke Hesener: | +49 2558 81-1501 I silke.hesener@cargobull.com |