"Innovations for Transport Efficiency" 
Schmitz Cargobull presents the latest product and service highlights for the IAA Transportation 2022.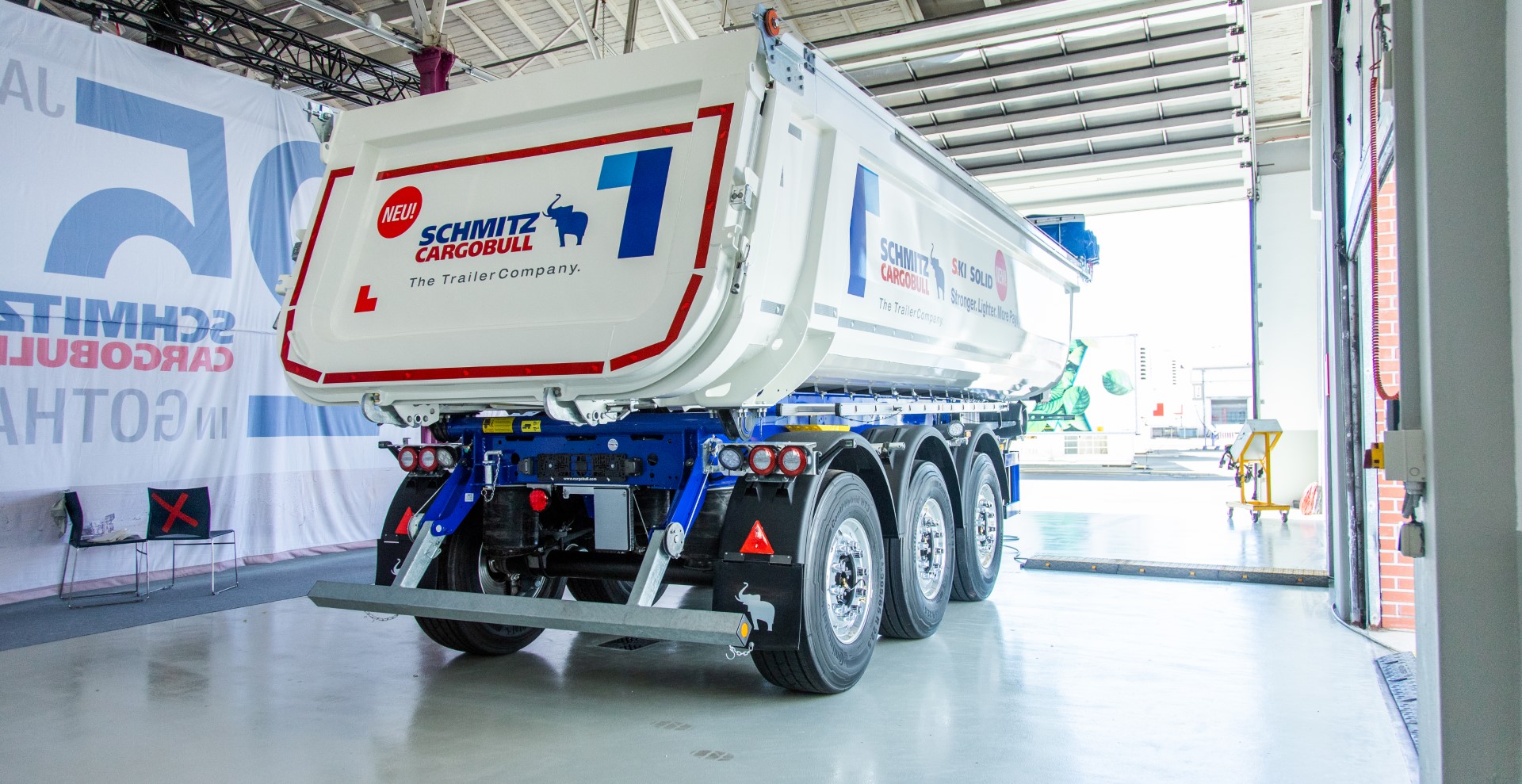 June 2022 - Schmitz Cargobull offers a holistic portfolio of innovative transport solutions. Under the motto "Innovations for Transport Efficiency", product and service innovations are presented that reduce the TCO in the fleet. The product innovations will focus on aerodynamics to reduce emissions and costs, cooling efficiency for temperature-controlled freight, reducing vehicle weight while maintaining robustness, and using telematics data for greater process efficiency.
Here is a preview of the innovations:
Aerodynamic cargo transport: Schmitz Cargobull EcoGeneration vehicles
With lathe-free POWER CURTAIN for rapid loading and unloading
Sensors detect height adjustments and transfer this data to the telematics system
Aerodynamic storage box improves efficiency even further
Interior lighting for added occupational safety


For more information, see press release 2022-305
Smart features for cool transport solutions
The S.KO COOL deep-freeze semi-trailer
New: S.KO COOL compatible with TAPA TSR1 ex works
New air distribution system: Uniform cooling for the entire cargo area, efficient, durable and with pharmaceuticals certification ex works
Further equipment available to ensure vehicle and cargo security
100% SMART thanks to TrailerConnect® telematics system fitted as standard


For more information, see press release 2022-505 and 2022-510
Safe and efficient – Transport cooling units by Schmitz Cargobull
S.CU 2.0 - with its efficient common rail diesel engine and new Performance mode – in MonoTemp and MultiTemp (mt) design
S.CU 1.0 with its robust and well-known Perkins diesel engine in MonoTemp-design
S.CUe – the electric Cooling Unit does not generate any emissions and is designed especially for use in urban transport


For more information, see press release 2022-506
City campaign - The S.KO CITY box body semi-trailer for food distribution
Twin-axle, force-steered body
With electric cooling unit S.CU
100% SMART thanks to TrailerConnect® telematics system fitted as standard
For more information, see press release 2022-507
New dry freight box S.BO PACE from Schmitz Cargobull
New Schmitz Cargobull dry freight box body S.BO PACE now available across Europe
S.BO PACE produced in Manchester factory for the UK and in Spain for the mainland European market
Stable, lightweight body made from STRUKTOPLAST
S.BO is Schmitz Cargobull's new product name for dry freighters


For more information, see press release 2022-508
Emissions-free operation in temperature-controlled transport: The fully electric box body semi-trailer S.KOe
Refrigerated box body with battery-powered cooling unit and trailer axle with energy recuperation for environmentally friendly freight transport


For more information, see press release 2022-509
New Schmitz Cargobull tipper trailer for even greater payload
New generation of bodies and frames for weight savings of up to 230 kg with the new Schmitz Cargobull S.KI
New bodies also available for the M.KI truck tipper body
Redesigned underride guard: Simple handling and high clearance
10-year warranty against rust-through for the S.KI frame generation with a galvanised design
Production on the new S.KI tipper semi-trailer is scheduled to start at the end of the 1st quarter of 2023
First place at the Best Brand Awards in the "Tipper" category

For more information, see press release 2022-703
Increased flexibility for day-to-day transport operations
New and back in the portfolio: The Z.KI three-sided tipper
Lighter and easier to handle
Unladen weight reduced by 50 kg


For more information, see press release 2022-704
Digitale Services by Schmitz Cargobull
Data Management Center offers controlled approach to automated data transparency
Tyre pressure monitoring system (TPMS) for smart trailers
"Proactive monitoring" through the TrailerConnect® trailer telematics system
Safety for cargo and drivers with the new TL4 door locking system

For more information, see 2022-133, 2022-134, 2022-135 and 2022-136
Informazioni su Schmitz Cargobull:
Con un produzione annuale di circa 63.500 trailer e con circa 6.500 collaboratori, Schmitz Cargobull AG è il produttore leader in Europa di semirimorchi, trailer e motrici furgonate per merci a temperatura controllata, General Cargo e materiali sfusi. Nell'esercizio 2018/2019, la società ha raggiunto un fatturato di circa 2,29 miliardi di euro. In qualità di leader del settore, la società ha sviluppato tempestivamente una strategia del marchio completa dalla regione del Münsterland e punta a soddisfare gli standard qualitativi su tutti i livelli: da ricerca e sviluppo, alla produzione e contratti di assistenza fino alla telematica per trailer, finanziamento, approvvigionamento di pezzi di ricambio e commercio di veicoli usati.


L'ufficio stampa Schmitz Cargobull:
| | |
| --- | --- |
| Anna Stuhlmeier: | +49 2558 81-1340 I anna.stuhlmeier@cargobull.com |
| Andrea Beckonert: | +49 2558 81-1321 I andrea.beckonert@cargobull.com |
| Silke Hesener: | +49 2558 81-1501 I silke.hesener@cargobull.com |