EcoDuo
With the EcoDuo concept, Schmitz Cargobull campaigns for the Europe-wide introduction of a transport concept that reduces CO2 emissions despite increasing transport volumes.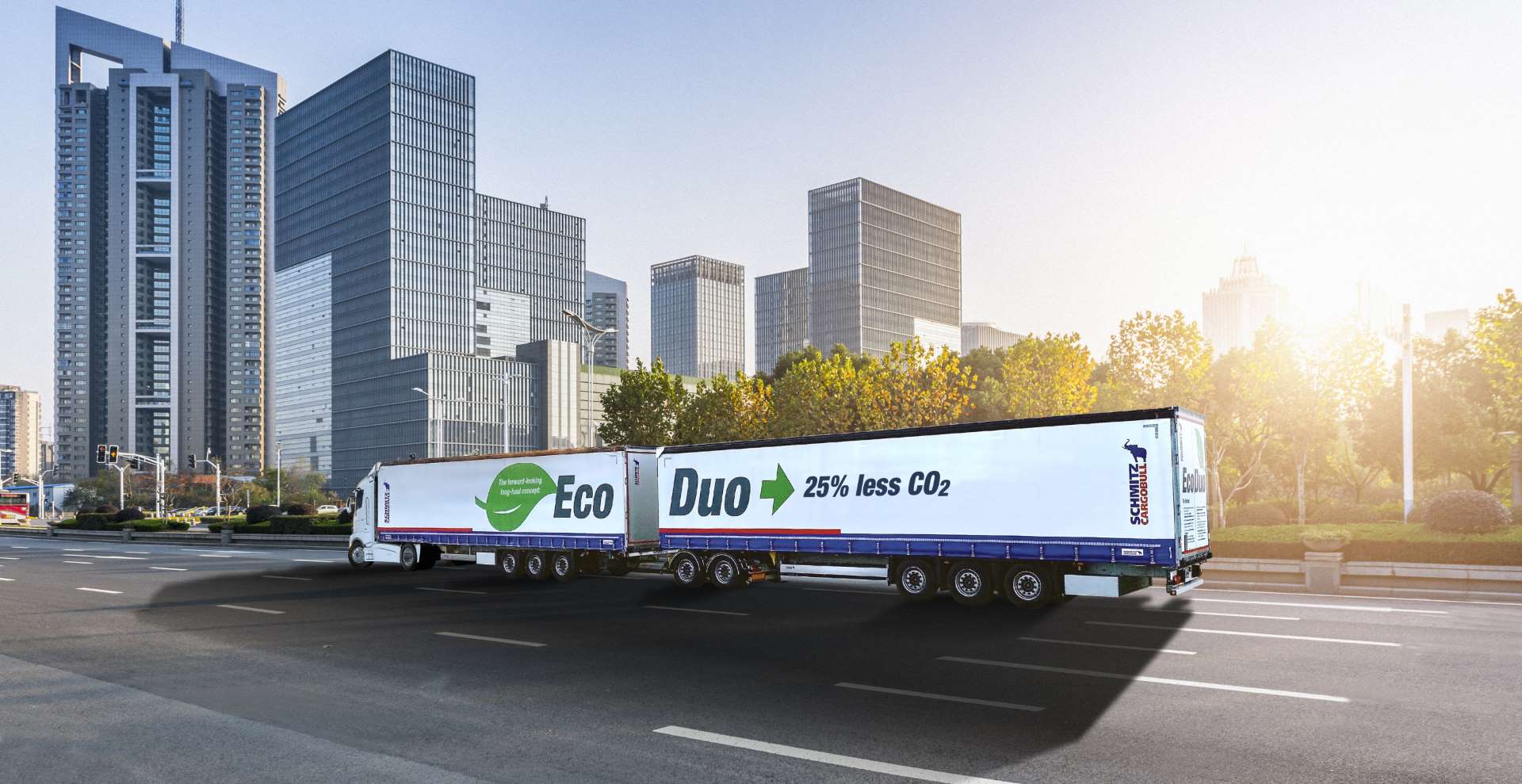 Your benefits
Compared to the current standard (one trailer on a tractor unit):
Alleviates the shortage of drivers as twice the volume can be transported by a single tractor.

Continue to use your existing fleet with minimal investment needed in your existing equipment - even in combined transport.

The total length of 31.5 metres lies between the long-truck (25.25 m) and the platoon (48 m).

Approx. 25% lower CO2 emissions and approx. 14% lower single axle loads than a semi-trailer. Both semi-trailers can also be pulled by a single tractor.

The existing loading infrastructure at carriers, warehouses and factories can continue to be used without the need for modifications.

Higher total capacity, while relieving pressure on roads and bridges.

Suitable for combination with alternative drives.
Concept
A ground-breaking long-distance concept
The EcoDuo combination consists of two conventional semi-trailers coupled to one tractor. The two standard semi-trailers are connected to each other by a dolly trailer. The total weight of the tractor unit and trailer remains at 40 tonnes. The towing weight of the second trailer can vary and reach 36 tonnes, for example.
CO2 reduction, infrastructure and rising transport volumes present major challenges for the legislature, transport industry and commercial vehicle manufacturers.

Climate change and CO2 emissions in particular require a rethink in the entire industry, increasing demand for innovative solutions.

New concepts are needed to prevent further pressure on infrastructure, despite higher transport volumes on roads, railways and waterways.

At the same time, the existing equipment can only be used to a limited extent due to the declining number of well-trained and qualified drivers.

Concepts like EcoDuo and the interplay of all modes of transport are urgently needed to reconcile requirements to reduce CO2 emissions and impact on infrastructure with higher transport volumes.
Green Truck Future Innovation 2019
Schmitz Cargobull has received the Green Future Innovation 2019 award by VerkehrsRundschau and TRUCKER for its EcoDuo long-truck concept. Schmitz Cargobull's Chief Sales Officer, Boris Billich comments: "We are very pleased to receive this award and truly stand behind this concept. This vehicle combination is currently only used in Scandinavia and is being tested in individual European countries. In the long term, we regard the EcoDuo as an environmentally and economically efficient transport solution for use across Europe."