EcoDuo transport concept receives another award
The flexible vehicle combination wins with efficient transport and reduced environmental impact at the European Transport Award for Sustainability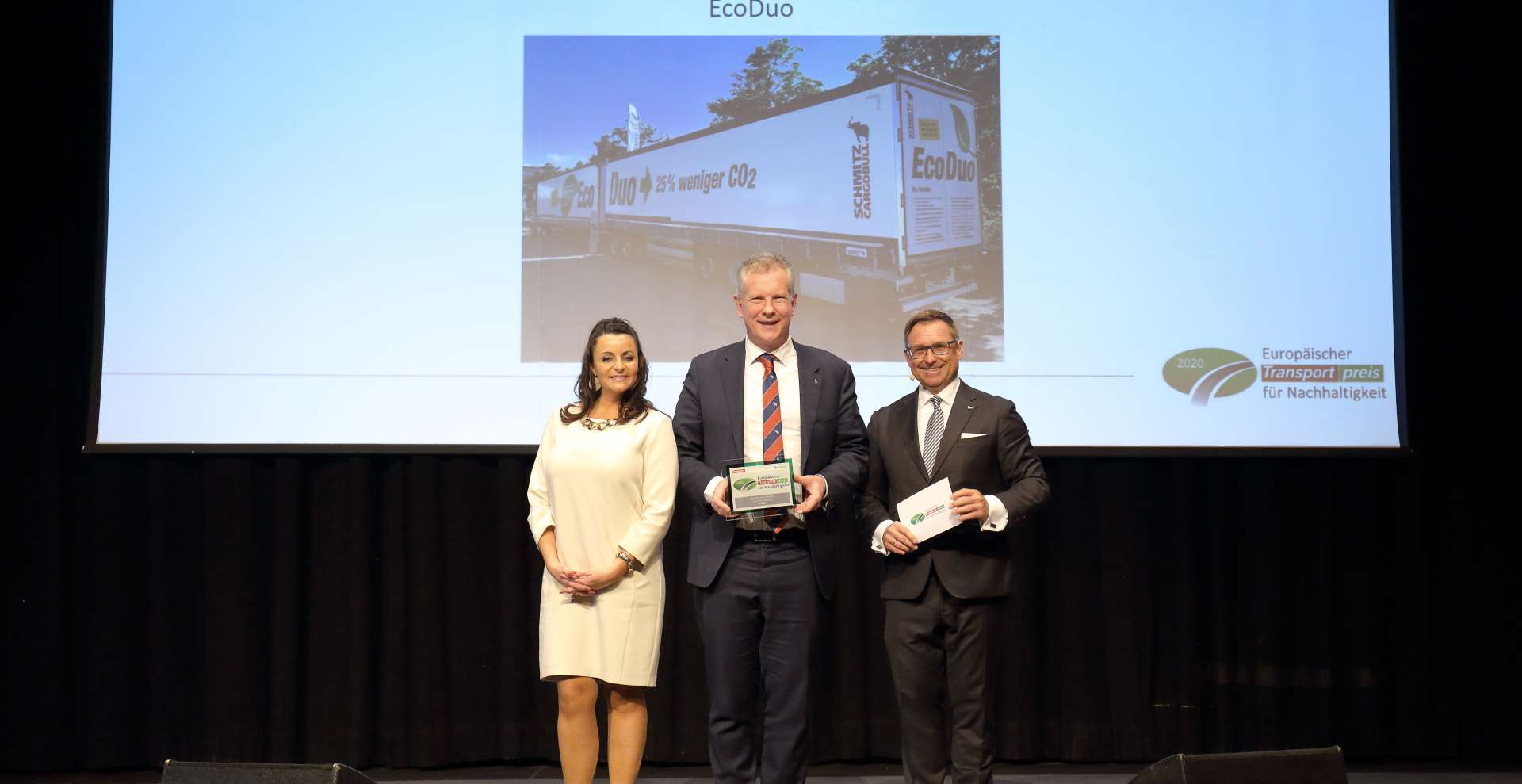 November 2019 - Schmitz Cargobull has once again secured one of the coveted sustainability awards from the Huss-Verlag publishing house. This time, the EcoDuo transport concept impressed the expert jury in the Concept and Initiative category. The EcoDuo is two standard semi-trailers, connected by a dolly and towed by a tractor unit.
EcoDuo transport concept receives another award
"We see the EcoDuo as a long-term ecologically and economically efficient transport solution throughout Europe, which is why we are advocating the use of this concept for motorway trunking", said Andreas Schmitz, Chairman of the Board of Schmitz Cargobull AG, during the award ceremony on 21 November 2019 in Munich. He added: "The combination of existing standard trailers ensures flexible use in hub-to-hub transport outside urban areas".
The total towing weight of the semitrailer tractor and first trailer remains at 40 tonnes, while the towing weight of the second trailer can vary, e.g. up to 36 tonnes, which currently complies with the regulations in Scandinavia. This vehicle combination is also being tested in Spain with a train weight of 40 tonnes on the first trailer and 30 tonnes on the second trailer.
"The EcoDuo combination is one of the few concepts that reduces CO2 emissions by up to 25 percent and at the same time reduces costs for the state, consumers and the economy. By using these concepts, we can increase the competitiveness of German industry and make it worthwhile for companies to continue to produce in Germany and export their goods from here to all parts of the world. We are convinced of this concept because it does not require any additional purchases for the haulier and they can fall back on their current fleet," continues Schmitz. The EcoDuo vehicle combination can be divided flexibly, for example at national borders or in defined areas on two tractors.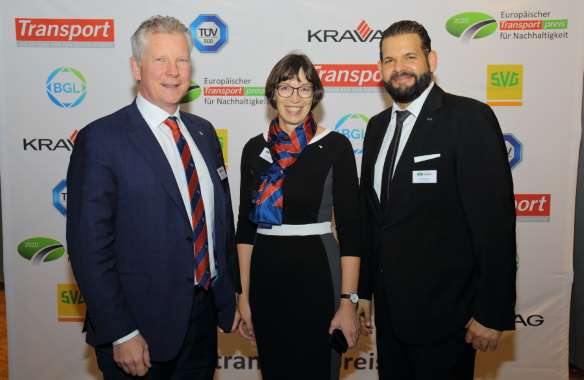 By using two standard trailers, the existing dimensions in the transport industry remain the same. All existing infrastructure can still be used without expensive investments. This also ensures that rail transport can continue and that loading and unloading processes remain unchanged. The EcoDuo meets all safety standards with modern vehicles that are state-of-the-art in terms of technology, e.g. axle and brake systems.
Image source: HUSS-Verlag
About Schmitz Cargobull
With an annual production of around 61,000 trailers and with approximately 6,900 employees, Schmitz Cargobull AG is Europe's leading manufacturer of semi-trailers, trailers and truck bodies for temperature-controlled freight, general cargo and bulk goods. The company achieved sales of around €2.3 billion in the 2021/22 financial year. As a pioneer in the industry, the North German company developed a comprehensive brand strategy early on and consistently established quality standards spanning every level: from research and development, through production and service contracts, to trailer telematics, financing, spare parts, and used vehicles.


The Schmitz Cargobull press team:
| | |
| --- | --- |
| AnnaStuhlmeier: | +49 2558 81-1340 I anna.stuhlmeier@cargobull.com |
| Andrea Beckonert: | +49 2558 81-1321 I andrea.beckonert@cargobull.com |
| Silke Hesener: | +49 2558 81-1501 I silke.hesener@cargobull.com |
EcoDuo transport concept receives another award

EcoDuo transport concept receives another award

EcoDuo transport concept receives another award_Picture 1

EcoDuo transport concept receives another award_Picture 2