Expansion of the product portfolio
The new A.WF trailer swap chassis, Z.WF central axle swap chassis and W.BO swap boxes from Schmitz Cargobull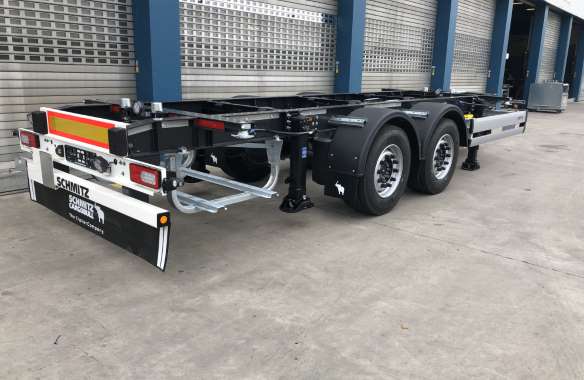 September 2020 – Expanding its product portfolio, Schmitz Cargobull is reintroducing the A.WF and Z.WF swap chassis for transporting short swap containers, as well as a new W.BO swap box. These trailers for swap body operation are adaptable and feature optimum equipment. With a large range of ground clearances and everything that can ease rough swap operations, the Schmitz Cargobull swap body chassis enable economical handling of swap containers. They are distinguished by their simple and robust design. Optionally, they are also available as galvanised versions.

The new A.WF trailer swap chassis, Z.WF central axle swap chassis and W.BO swap boxes from Schmitz Cargobull
With the robust two-axle steel chassis and container locks for 1 x 20', the A.WF trailer swap chassis offers the optimum equipment for securing and supporting the trailer. To flexibly transport interchangeable modules and containers, it has been optimally adapted to the demands of multimodal transport. The Z.WF central axle swap chassis is also designed to flexibly transport interchangeable modules and containers Designed and tested for every type of transport task with a payload of approximately 14.5 tonnes, both of the trailers are suitable for transporting containers and swap bodies with standardised ISO container mountings (20ft).
The W.BO swap box is a completely new addition to the Schmitz Cargobull product range and serves as a multimodal transport solution. Instead of losing time during loading and unloading, swap containers can be set down and immediately replaced by another swap container ready for further transport. This helps to save time and use the transport trailer more efficiently. In addition, the driving times per driver are reduced and empty runs are avoided.
The Schmitz Cargobull W.BO swap box for dry freight transport is a smooth-walled box with a steel construction featuring a wide range of equipment options such as a double-decker system, roller door or standard keyhole system.

Schmitz Cargobull offers three different interchangeable box models, which are designed to handle a wide range of transport tasks. They are available as steel versions with 7.45 m and smooth walls or beaded walls, as well as a 7.82 m smooth wall version.

About Schmitz Cargobull
With an annual production of around 61,000 trailers and with approximately 6,900 employees, Schmitz Cargobull AG is Europe's leading manufacturer of semi-trailers, trailers and truck bodies for temperature-controlled freight, general cargo and bulk goods. The company achieved sales of around €2.3 billion in the 2021/22 financial year. As a pioneer in the industry, the North German company developed a comprehensive brand strategy early on and consistently established quality standards spanning every level: from research and development, through production and service contracts, to trailer telematics, financing, spare parts, and used vehicles.


The Schmitz Cargobull press team:
| | |
| --- | --- |
| AnnaStuhlmeier: | +49 2558 81-1340 I anna.stuhlmeier@cargobull.com |
| Andrea Beckonert: | +49 2558 81-1321 I andrea.beckonert@cargobull.com |
| Silke Hesener: | +49 2558 81-1501 I silke.hesener@cargobull.com |
Expansion of the product portfolio

Expansion of the product portfolio

Expansion of the product portfolio 1

Expansion of the product portfolio 2

Expansion of the product portfolio 3

All Press Releases Smart Trailer Days in English