Double the efficiency: Philipp Reich takes over curtainsider semi-trailers for EcoDuo combination
Economy and ecology in harmony for road-based freight transportation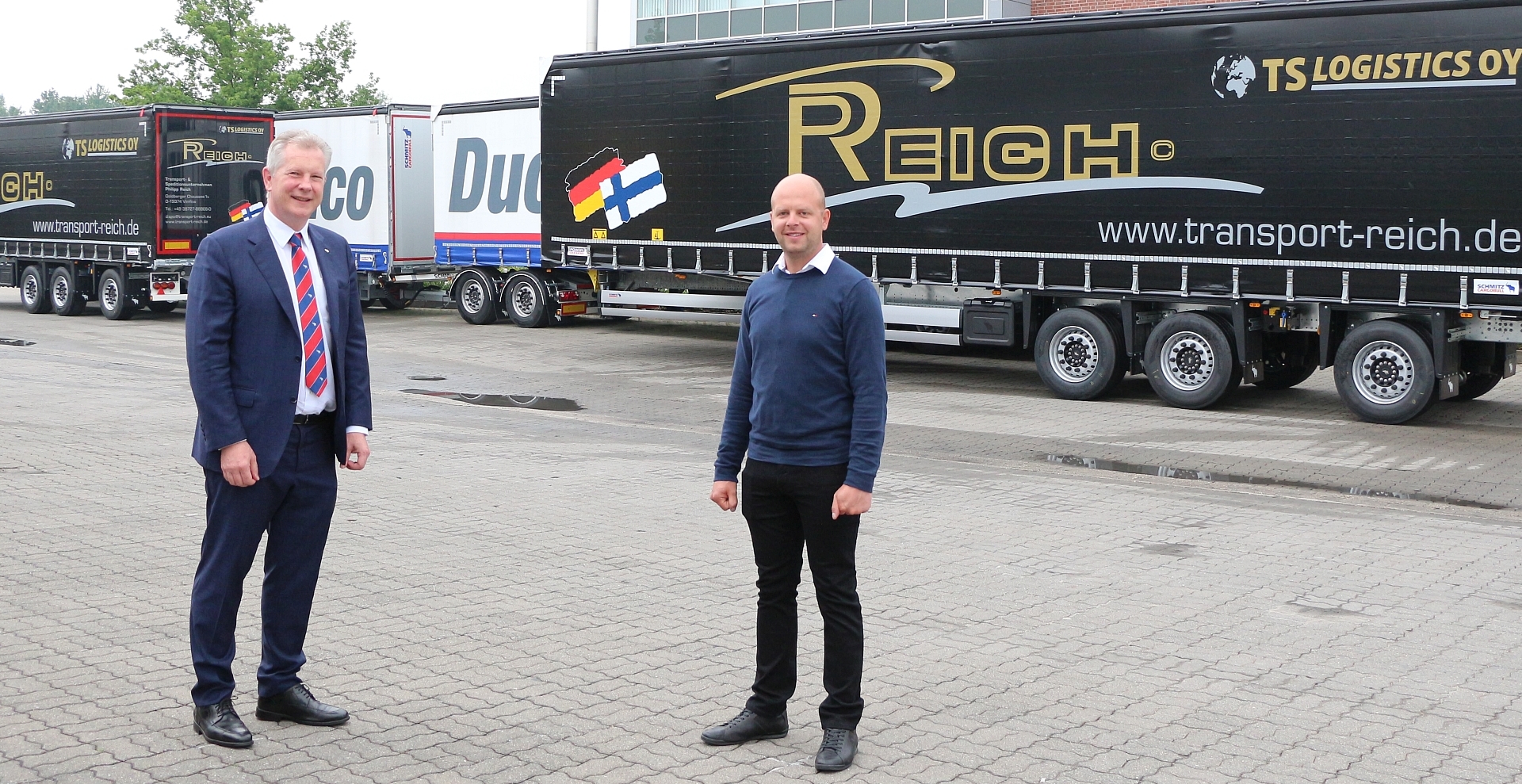 July 2020 – Philipp Reich, owner of Reich transport company from Vimfow in the German state of Mecklenburg-West Pomerania, took ownership of two new vehicles equipped with a POWER CURTAIN at the Schmitz Cargobull curtainsider factory in Altenberge. Attending the handover of the first EcoDuo trailers for German customers was Andreas Schmitz, CEO of Schmitz Cargobull AG and Benjamin Bröderdörp, the responsible sales manager. The specially equipped curtainsiders can be used to form the EcoDuo combination – made up of two standard trailers connected by a dolly and pulled by a tractor unit. Philip Reich will be using the combination in Finland. His company works with its Finnish logistics partner Logistics Oy to deliver transport jobs.

Economy and ecology in harmony for road-based freight transportation 
"We opted for the EcoDuo combination because we generally have one route of approx. 600 kilometres in Finland and it has just one unloading point. On the outward journey, we deliver various machine components for the vehicle industry and the return journey transports timber. To do this, we need a flexible vehicle combination with a large loading volume," explains the owner Philip Reich, "And our customers are impressed by this concept, too."
Each of these vehicles is equipped with an underfloor coupling at the rear for accommodating the dolly. The robust chassis features an offset wheelbase in combination with a Schmitz Cargobull steering axle and 385/55 R 22.5 Schmitz Cargobull tyres. The POWER CURTAIN includes a lath-free structure and features an anti-theft mesh tarpaulin as standard.
In Germany, two semi-trailer tractor units take the trailers to the ferry; after the ferry arrives in Finland, the two trailers are then connected via a dolly and the combination hits the road – pulled by just one semi-trailer tractor unit.
The total tractor-trailer weight of the tractor and the first trailer remains unchanged at 40 tonnes; the weight of the second trailer can reach 36 tonnes to comply with current Scandinavian regulations.
"So far, we have been able to deliver around 100 combinations of this vehicle concept to Scandinavia and Spain," reports Andreas Schmitz, CEO of Schmitz Cargobull AG, who is proactively promoting the concept. "In the long term, we regard the EcoDuo as an environmentally and economically efficient transport solution on suitable main routes across Europe."
Standard legal principles and suitably prepared infrastructure are basic requirements for a cross-border, Europe-wide solution. Furthermore, there must also be an option to uncouple the vehicles again on defined roads and spread between two tractor units.
"Depending on the enforceability of the requirements, I can imagine that the use of this vehicle combination will work really well on marked routes, particularly in Germany. It also makes sense when it comes to ecological criteria," adds Philip Reich, "as we can do without one of the tractor units on certain routes. Another major advantage of the EcoDuo combination compared to long HGVs is that I can use standard tractor units and trailers, which I can then use for other purposes in normal day-to-day business."
For transport jobs in Finland, drivers of this vehicle combination receive special comprehensive training, similar to courses for driving long HGVs.
The transport & freight company Philipp Reich:
The transport & freight company, Transport & Speditionsunternehmen Philipp Reich, is an owner-run, medium-sized enterprise that was founded in 2008. At the moment, 42 employees work at the site in Vimfow, Mecklenburg-West Pomerania. The fleet consists of 36 semi-trailer tractor units and corresponding vehicles for transporting both general cargo and frozen produce, pharmaceuticals and food.
The EcoDuo concept:
With the EcoDuo, Schmitz Cargobull is advocating for the Europe-wide introduction of a transport concept that relieves strain from existing infrastructure, reduces CO2 emissions, takes current transport industry standards into account – particularly for combination transport jobs – and ideally can be used in the extra-urban area.
Advantages of the EcoDuo concept:
When compared to conventional tractor units and one trailer with a 40t total tractor-trailer weight, the EcoDuo concept offers the following advantages:
-Reduction of fuel consumption and, as such, CO2 emissions per transported tonne, i.e. approx. 25 % fewer CO2 emissions and approx. 14% lower single axle loads than a semi-trailer. Both semi-trailers can also be pulled by a single tractor.
-Increased road capacity or reduction of traffic due to the use of fewer vehicles with more capacity
-Less strain on roads and bridges due to lower axle loads and fewer HGVs
-Solution to the driver shortages – One driver, two semi-trailers for long-haul journeys
-Existing tractor units can still be put to good use and the use of two standard semi-trailers means that current dimensions used in the transport industry will remain unchanged.
-All current infrastructure can still be used without any expensive investments. This means that trailers can still be loaded onto trains and nothing will change in terms of loading and unloading procedures.
-When modern trailers are used – i.e. ones that are equipped with the latest axle and brake technology – the EcoDuo complies with all safety standards.
-The concept is compatible with current traffic conditions without any additional risks – safety distances and warning signs ensure that cars can still overtake without any danger.
-Suitable for technology such as platooning and automated driving
About Schmitz Cargobull
With an annual production of around 61,000 trailers and with approximately 6,900 employees, Schmitz Cargobull AG is Europe's leading manufacturer of semi-trailers, trailers and truck bodies for temperature-controlled freight, general cargo and bulk goods. The company achieved sales of around €2.3 billion in the 2021/22 financial year. As a pioneer in the industry, the North German company developed a comprehensive brand strategy early on and consistently established quality standards spanning every level: from research and development, through production and service contracts, to trailer telematics, financing, spare parts, and used vehicles.


The Schmitz Cargobull press team:
| | |
| --- | --- |
| AnnaStuhlmeier: | +49 2558 81-1340 I anna.stuhlmeier@cargobull.com |
| Andrea Beckonert: | +49 2558 81-1321 I andrea.beckonert@cargobull.com |
| Silke Hesener: | +49 2558 81-1501 I silke.hesener@cargobull.com |
Philipp Reich takes over curtainsider semi-trailers for EcoDuo combination

Philipp Reich takes over curtainsider semi-trailers for EcoDuo combination Picture 1

Philipp Reich takes over curtainsider semi-trailers for EcoDuo combination Picture 2

Philipp Reich takes over curtainsider semi-trailers for EcoDuo combination Picture 3