Duvenbeck expands its fleet with Schmitz Cargobull curtainsiders
New S.CS MEGA curtainsiders handed over at Altenberge site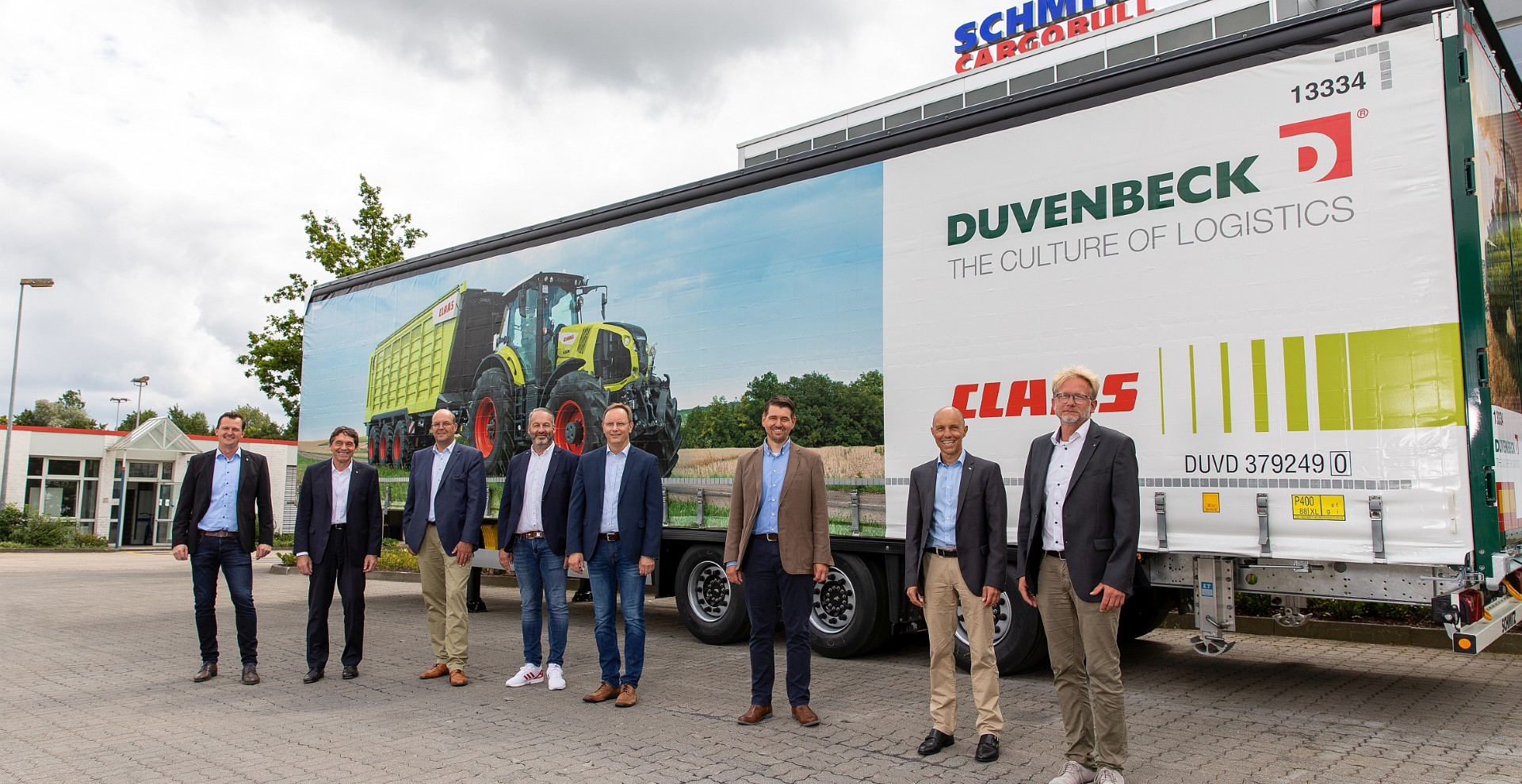 September 2021 – Nils Gerdemann, Managing Director of DUVENBECK Kraftverkehr GmbH & Co. Spedition KG, Bernd Reining, Head of Fleet, and Jens Beermann, Key Account Manager and branch manager at Duvenbeck joined representatives from CLAAS KGaA mbH, Rüdiger Mohr, Senior Vice President for Corporate Purchasing, and Sascha Gees, Corporate Purchasing - Head of Logistics, to visit Schmitz Cargobull's curtainsider competence centre in Altenberge for the joint handover of 12 new vehicles. They were greeted by Roland Klement, Member of the Board responsible for Research and Development at Schmitz Cargobull, and Jörg Irsfeld, Director of International Key Accounts.

Vehicles to be used for transport logistics for the international farm machinery group Claas
The logistics experts Duvenbeck and Schmitz Cargobull have been working closely together since 2005. They joined forces to enhance the S.CS MEGA curtainsider for high-volume transport jobs. What's more, Duvenbeck were so impressed with Schmitz Cargobull's telematics system TrailerConnect® CTU that their entire trailer fleet is now equipped with the technology. Duvenbeck not only uses Schmitz Cargobull's telematics system in its new vehicles, but also retrofits all of its existing trailers with the reliable trailer telematics solution, regardless of the brand.

"During the 2008/09 global economic crisis, we worked with Schmitz Cargobull to help enhance the Megatrailer," remembers Bernd Reining, Head of Fleet of Duvenbeck. Their combined efforts resulted in significant weight savings, which have a positive impact on fuel consumption and help to reduce carbon emissions. And as the two companies worked more together, so too their mutual appreciation grew: "Schmitz Cargobull is quality-oriented, from the individual stanchions through to the highly complex digital developments. Just like Duvenbeck, they always want to get top marks from their customers."

A quick glance at Duvenbeck's numbers reveals that quality awareness is paying off for the company. Founded over 80 years ago, the fleet is now made up of around 1,500 HGVs and 3,000 trailers. In the automotive sector, the company works with all leading premium brands; other key business fields include consumer goods, plastics and the farming vehicle industry. Schmitz Cargobull also benefits from this: Around 2,000 of the trailers in the fleet were built by the brand with the blue elephant. Almost all of these trailers are S.CS MEGA curtainsiders. And before the year is out, a further 280 new trailers of this type will once again refresh the modern fleet, with even more orders already in place for 2022.

Duvenbeck has been providing extensive logistics services for seven of CLAAS's European sites since 2013. This work primarily involves providing procurement logistics services for production factories and various CLAAS business divisions in Germany, France and Hungary. In Germany alone, Duvenbeck uses 80 HGVs every day for transferring and directly delivering products from the Harsewinkel, Paderborn, Hamm and Bad Saulgau plants. It also moves goods to and from Le Mans and Woippy in France and Törökszentmiklos in Hungary.
About Schmitz Cargobull
With an annual production of around 61,000 trailers and with approximately 6,900 employees, Schmitz Cargobull AG is Europe's leading manufacturer of semi-trailers, trailers and truck bodies for temperature-controlled freight, general cargo and bulk goods. The company achieved sales of around €2.3 billion in the 2021/22 financial year. As a pioneer in the industry, the North German company developed a comprehensive brand strategy early on and consistently established quality standards spanning every level: from research and development, through production and service contracts, to trailer telematics, financing, spare parts, and used vehicles.


The Schmitz Cargobull press team:
| | |
| --- | --- |
| AnnaStuhlmeier: | +49 2558 81-1340 I anna.stuhlmeier@cargobull.com |
| Andrea Beckonert: | +49 2558 81-1321 I andrea.beckonert@cargobull.com |
| Silke Hesener: | +49 2558 81-1501 I silke.hesener@cargobull.com |
Vehicle handover to Duvenbeck and Claas

Vehicle Duvenbeck and Claas

Press Release: "Duvenbeck expands its fleet with Schmitz Cargobull curtainsiders"