Intelligent data management protects transport companies
Data Management Center offers controlled approach to automated data transparency.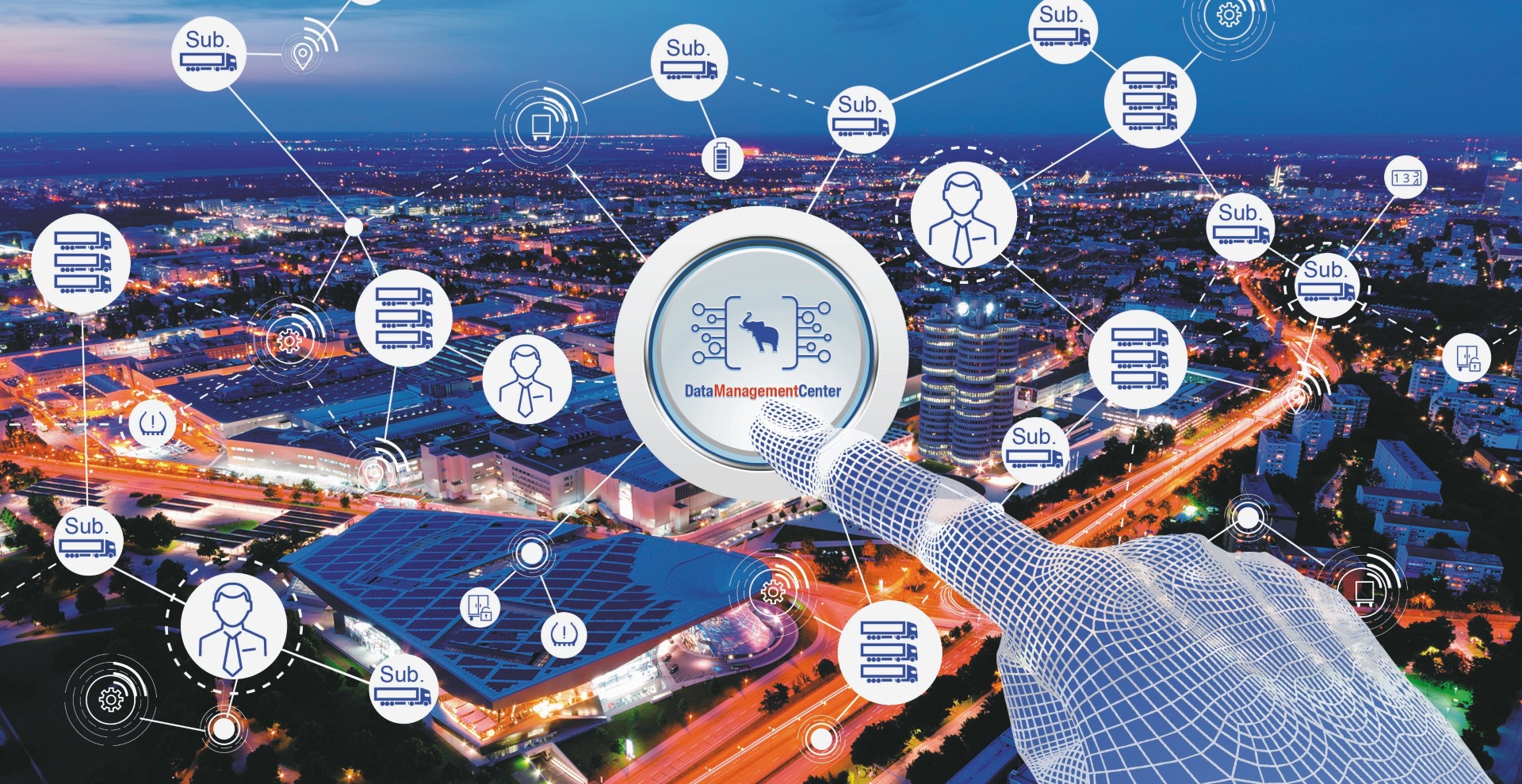 September 2022 - Thanks to real-time visibility platforms (RTV), online freight handling platforms and online forwarding services offer a wide range of benefits for transport companies. However, the sharing of transport data with shippers can cause problems for the transport sector. That's why intelligent data management is essential for efficient cooperation.
Digital freight handling platforms and online forwarding services are changing the transport market: Strong, long-standing business relationships between shippers, forwarders and carriers are starting to fall apart. A new approach to transparency is gaining ground in the market, providing real-time insight into the location and status of freight and enabling transport companies to evaluate data on these digital portals.
Telematics data from tractors and trailers cover the entire transportation journey. Using this data, RTV platforms make a piece of cargo's journey visible, from start to finish. Result: The customer feels well-informed and is able to respond early to any unforeseen incidents, for example. RTV platforms improve relations between all those involved in the logistics process and simplify cooperation in the supply chain network.
The Schmitz Cargobull Data Management Center
The challenge of data security for route-related data
However, every silver lining has a cloud. As appealing the sharing of route-based data between networks of transporters and industrial operations may be, forwarders not only have to network their own fleets to achieve this, but also need to incorporate their subcontractors' fleets, too. This in turn means that RTV platforms have transparent access to data from the forwarder's entire network.
As such, this approach allows for almost uncontrolled access to large volumes of data and, with this, new business models such as digital freight matching.
Forwarders are concerned that the new business models generated by data sharing could undermine their business, and these worries are reducing transparency within the supply chain. New solutions are needed that only disclose route-related logistics data without revealing the complete network of sub-contractors.
The Schmitz Cargobull Data Management Center
This is precisely where Schmitz Cargobull's vision comes in. In the TrailerConnect® Data Management Center, forwarders retain control over their data. Information from the individual members of their logistics network is centralised under the forwarder's name, and consolidated without revealing the individual partners to third parties. TrailerConnect® is able to forward route- and transport-order-related data (LTL) separately to the individual destinations. Here, the forwarder decides which information is disclosed to a shipper, thereby protecting their business secrets and networks. Fleet operators using the TrailerConnect® DMC can therefore rest assured that their trailers are compatible with any shipper platform, and that in future their data can be passed on in a controlled and secure manner.
"As a key participant in the logistics sector, Schmitz Cargobull will provide solutions to help forwarders and transport companies safely and reliably share data in future," explains Marnix Lannoije, Head of Product Line Digital Services, Cargobull Telematics GmbH, "Forwarders will only share their fleet data if they have control over how their data is shared. This is what motivates Schmitz Cargobull. We will enhance further functions to assist forwarders and their customers in improving transparency and supporting digitalization in the logistics sector."
Par Schmitz Cargobull:
Gadā saražojot aptuveni 63 500 puspiekabes un ar aptuveni 6500 darbiniekiem, uzņēmums Schmitz Cargobull AG ir Eiropas vadošais saldējamām precēm, ģenerālkravām un beramkravām paredzētu puspiekabju, treileru un automašīnu virsbūvju ražotājs. 2018./2019. saimniecības gadā tika sasniegts apm. 2,29 miljardu eiro apgrozījums. Kā jomas galvenais uzņēmums Minsterlandē esošais uzņēmums laicīgi radīja mārketinga stratēģiju un apzināti īstenoja kvalitātes standartus visos līmeņos: sākot no pētniecības un attīstības, ražošanas un servisa līgumiem līdz puspiekabju telemātikai, finansēšanai, rezerves daļu piegādei un lietotu transportlīdzekļu tirdzniecībai.


Schmitz Cargobull preses komanda:
| | |
| --- | --- |
| Anna Stuhlmeier: | +49 2558 81-1340 I anna.stuhlmeier@cargobull.com |
| Andrea Beckonert: | +49 2558 81-1321 I andrea.beckonert@cargobull.com |
| Silke Hesener: | +49 2558 81-1501 I silke.hesener@cargobull.com |
Image 1: Intelligent data management protects transport companies_DMC

Image 1: Intelligent data management protects transport companies_DMC

Press Release: Intelligent data management protects transport companies_DMC

ZIP-File: Intelligent data management protects transport companies_DMC