S.CS UNIVERSAL SMART
Robust, flexible with universal uses: higher payloads, shorter load times and simple load securing - that's the Schmitz Cargobull S.CS UNIVERSAL SMART curtainsider semi-trailer.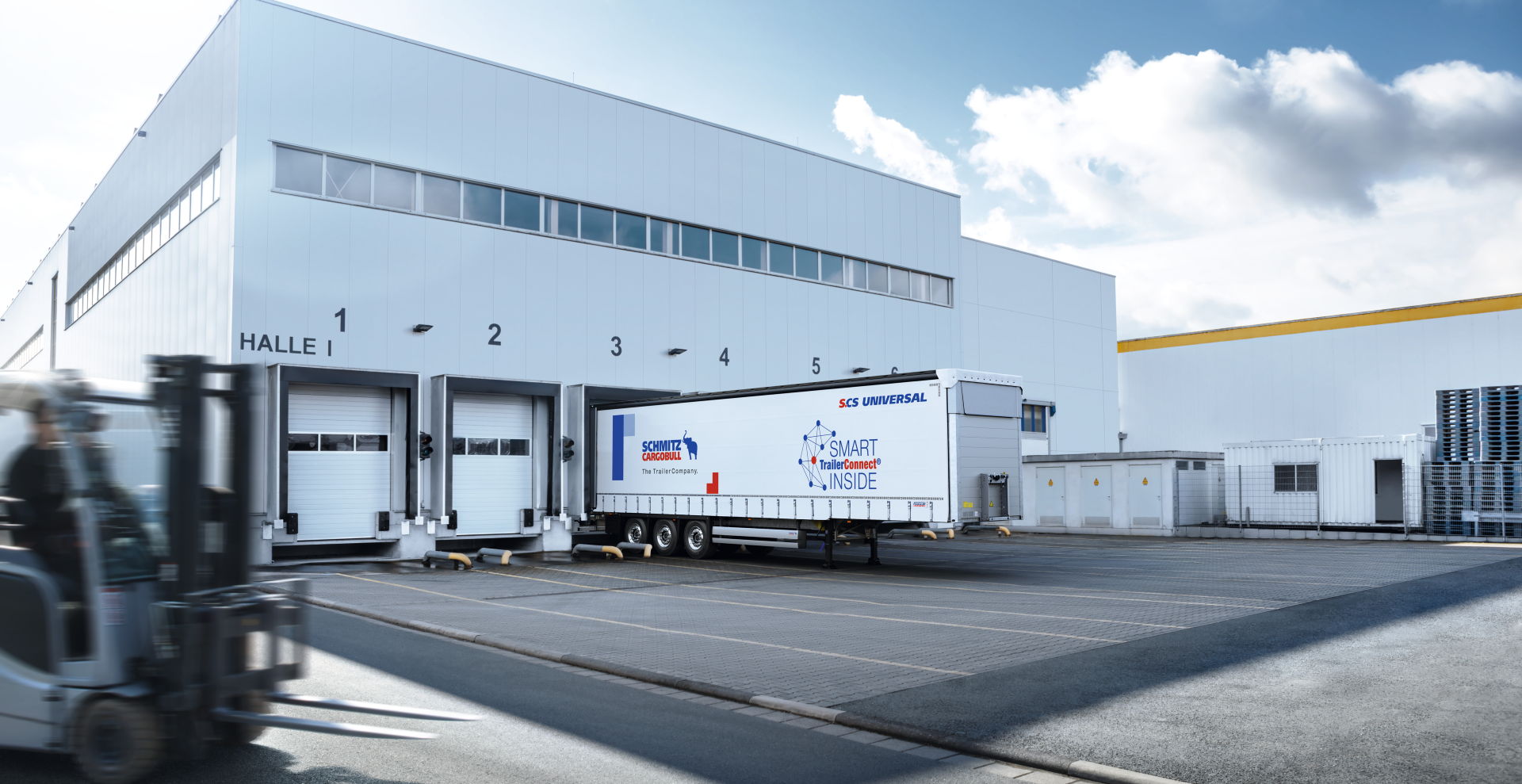 The EcoGeneration, the EcoFIX and EcoFLEX save fuel and CO2 with their aerodynamically optimized body.

New generation, rolled, galvanised MODULOS chassis – easy to maintain with a 10-year warranty against rust-through

The right options to meet every transport requirement.

POWER CURTAIN PLUS

- Increases the rigidity of the curtain via pre-tensioning in the tarpaulin. Ideal for the transportation of non-rigid goods.

Excellent structural rigidity of the body in accordance with DIN EN 12642 Code XL, optionally with Beverage Certificate and DL Directive 9.5.

Comprehensive services from financing to trade-in of your used trailer, for optimum Total Cost of Ownership.
X-LIGHT

Greater payload and efficiency due to reduced unladen weight. Saves fuel costs and optimises use of the cargo space.

KP+

The reinforced design of the chassis enables a trailer load of up to 18 tonnes to be achieved, meaning that a higher total weight can be used. 4x2 as well as 6x2/6x4 semi-trailer tractors can be used, thanks to the long 8,130 mm wheelbase.

Reinforced chassis

And with a reinforced chassis, compact and very heavy goods weighing up to 25 tonnes can be efficiently transported on a cargo area length of only 6m. This makes the S.CS even more flexible when the normal distributed load is not sufficient.

Cross-border transport

The TIR equipment package for even greater safety and comfort in cross-border goods transport. Just what you need when you want to get through the border crossing with shorter waiting times.

DB equipment

Combined transport is an economical alternative particularly over longer distances. The trailers have gripper edges enabling the semi-trailers to be easily loaded by crane or reach-stacker, for optimum vertical handling.

Ferry equipment

Safe and sound on the open seas with ferry equipment for accompanied and unaccompanied transport. Ferry lashings to secure the trailer on the ferry, clearly labelled lashing point and an underride guard with skid ensure the safety and protection of your asset and goods.
Flashing side marking lights

Electronic ramp approach aid
Pressure monitoring system
Flashing side marking lights
Certificates
Comprehensive certifications for your safety in day-to-day transportation work.
DIN EN 1264 Code XL

Certified structural rigidity as standard. With DIN EN 12642 Code XL certification, Schmitz Cargobull bodies comply with the load securing requirements governing reinforced bodies.

Beverages

Trailer bodies that confirm to DIN EN 12642 Code XL with the addition "suitable for beverage transport" meet the special requirements governing well pallets and drums. Suitable for one- or two-layer beverage transport.

Daimler Directive 9.5

Daimler AG has its own separate directive for binding load securing methods for the correct and proper transport of goods to and from its factories. The Daimler Directive 9.5 is increasingly used for all transportation work in the automotive sector.

VDI 2700

S.CS curtainsider semi-trailers comply with the load securing requirements of Directive VDI 2700, whether for the transport of packaged goods, beverages, paper or steel.

Tyres

Loose tyres that need to be transported interlocked with each other settle when they are transported and press heavily against the side walls. Body stability is ensured with additional fittings in accordance with DIN EN 12642 Code XL.

Octabin

The certificate for obctabin transport for the chemical industry. Special clamping beams and octabin reversible slats effectively secure goods from slipping longitudinally and laterally.
Internal body length

13.62 / 14.92 / 16.37

m

Intenal body width

2,480

mm

Internal body height*

up to 3,050

mm

Pallet spaces

34 / 37 / 40

Euro pallets
* depending on the coupling height and the statutory conditions.
Strong Curtainsider soultions for demanding transport tasks

Raise the curtain for correct load securing - Load securing brochure

S.CS UNIVERSAL curtainsider semi-trailer - Short information

S.CS X-LIGHT curtainsider semi-trailer - Short information

S.CS UNIVERSAL KP+ - Short information

S.CS POWER CURTAIN curtainsider semi-trailer - Short information