Finding spare parts online even faster
User-friendly online shop with new design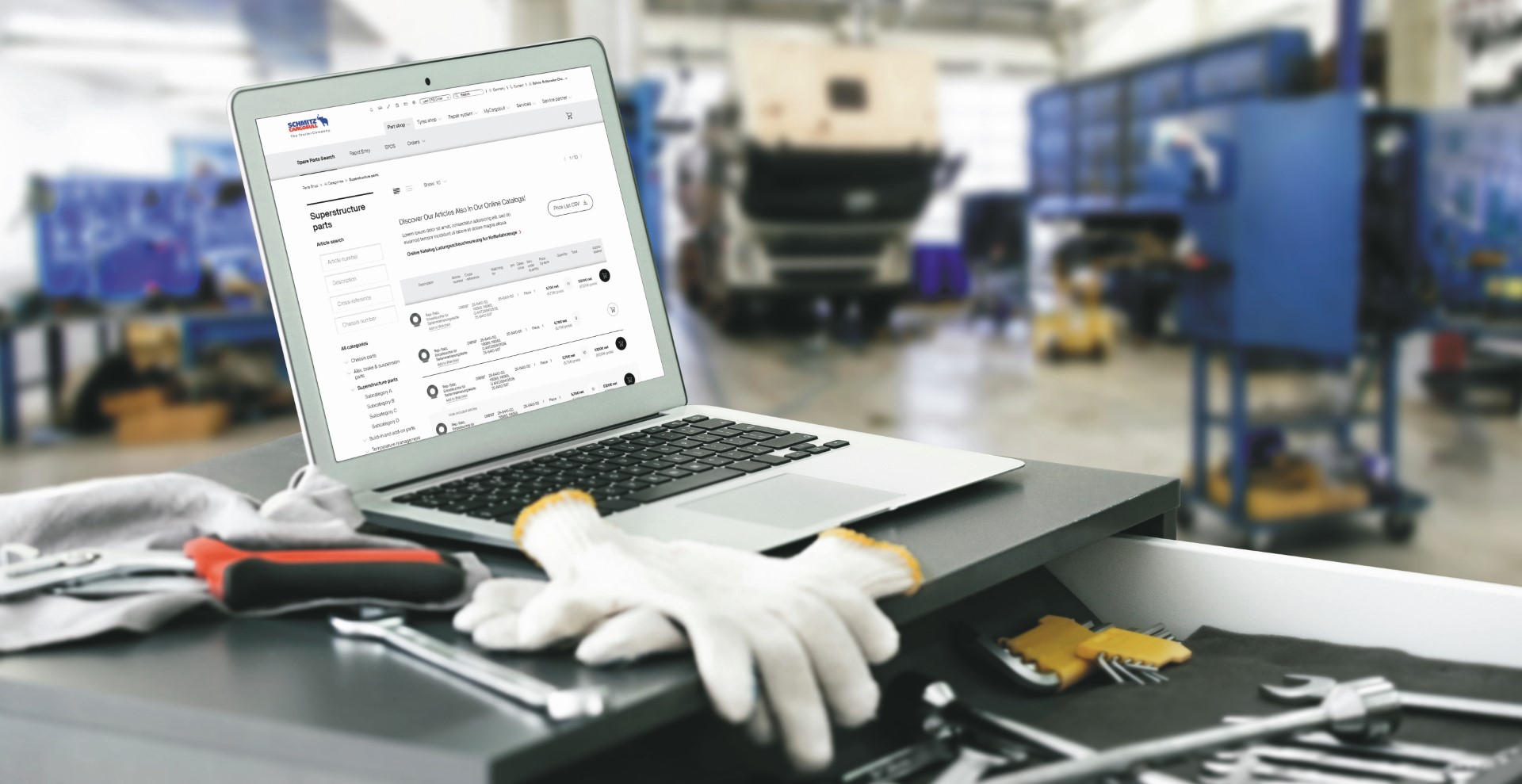 Schmitz Cargobull has redesigned its service portal for the after-sales segment with a view to greater user friendliness and expanded it with smart functions that make searching for and ordering required spare parts easier and more efficient.
Since 2004, Schmitz Cargobull has operated its own service portal with an integrated spare parts online shop in which today around 80,000 spare parts from Schmitz Cargobull and other brand manufacturers can be ordered quickly and easily.
In addition, 12,000 spare parts are immediately available from stock at 29 distribution locations throughout Europe, so that Schmitz Cargobull trailers never remain in the workshop longer than necessary.
User-friendly online shop with new design
Now the after-sales specialists at Schmitz Cargobull have scrutinised the service portal and made some substantial improvements and enhancements. Here the main focus was on user-friendliness and a modern and visually appealing design that harmonises with the new design of the Schmitz Cargobull website.
New and flexible search and filter functions were added: Customers can now find the spare parts available via the online shop as well as the most important information about the respective article on the Internet using search engines without already being logged in. This also makes the finding of the spare parts easier for those who do not work with the online shop on a daily basis. In addition, navigation in the online shop has been simplified. Support is now provided by so-called "breadcrumb navigation", which consists of a link path offering the user orientation and simple and clear navigation on the site.
Since the service portal went online around 18 years ago, it has been continuously enhanced for greater user-friendliness and adapted to changing customer needs.
Currently the online shop is active and available in 26 European countries. The aim is to offer this spare parts service across all Europe.
"We are pleased to be making a further step towards customer convenience and satisfaction with the completely new structure," says Patricia Aznar, Managing Director Cargobull Parts & Services, who is responsible for spare parts sales and product management. "The importance of easy ordering 24/7 of the required spare part and its smooth and fast delivery is also evidenced by the figures from the last financial year 2020/21. A total of 110,000 orders were placed via the online shop."
The new online shop can be reached via the following link:
www.cargobull-serviceportal.de
About Schmitz Cargobull:
With an annual production of around 46,100 trailers and with around 5,700 employees, Schmitz Cargobull AG is Europe's leading manufacturer of semi-trailers, trailers, and truck bodies for temperature-controlled freight, general cargo and bulk goods. The company achieved sales of approximately €1.87 billion in the 2019/2020 financial year. As a pioneer in the industry, the North German company developed a comprehensive brand strategy early on and consistently established quality standards spanning every level: from research and development, through production and service contracts, to trailer telematics, financing, spare parts, and used semi-trailers.


The Schmitz Cargobull press team:
| | |
| --- | --- |
| Anna Stuhlmeier: | +49 2558 81-1340 I anna.stuhlmeier@cargobull.com |
| Andrea Beckonert: | +49 2558 81-1321 I andrea.beckonert@cargobull.com |
| Silke Hesener: | +49 2558 81-1501 I silke.hesener@cargobull.com |
Photo "New Spare Parts Webshop"

Press Release "New Spare Parts Webshop"