Service Partner trainings resumed
Schmitz Cargobull training team hits the road again!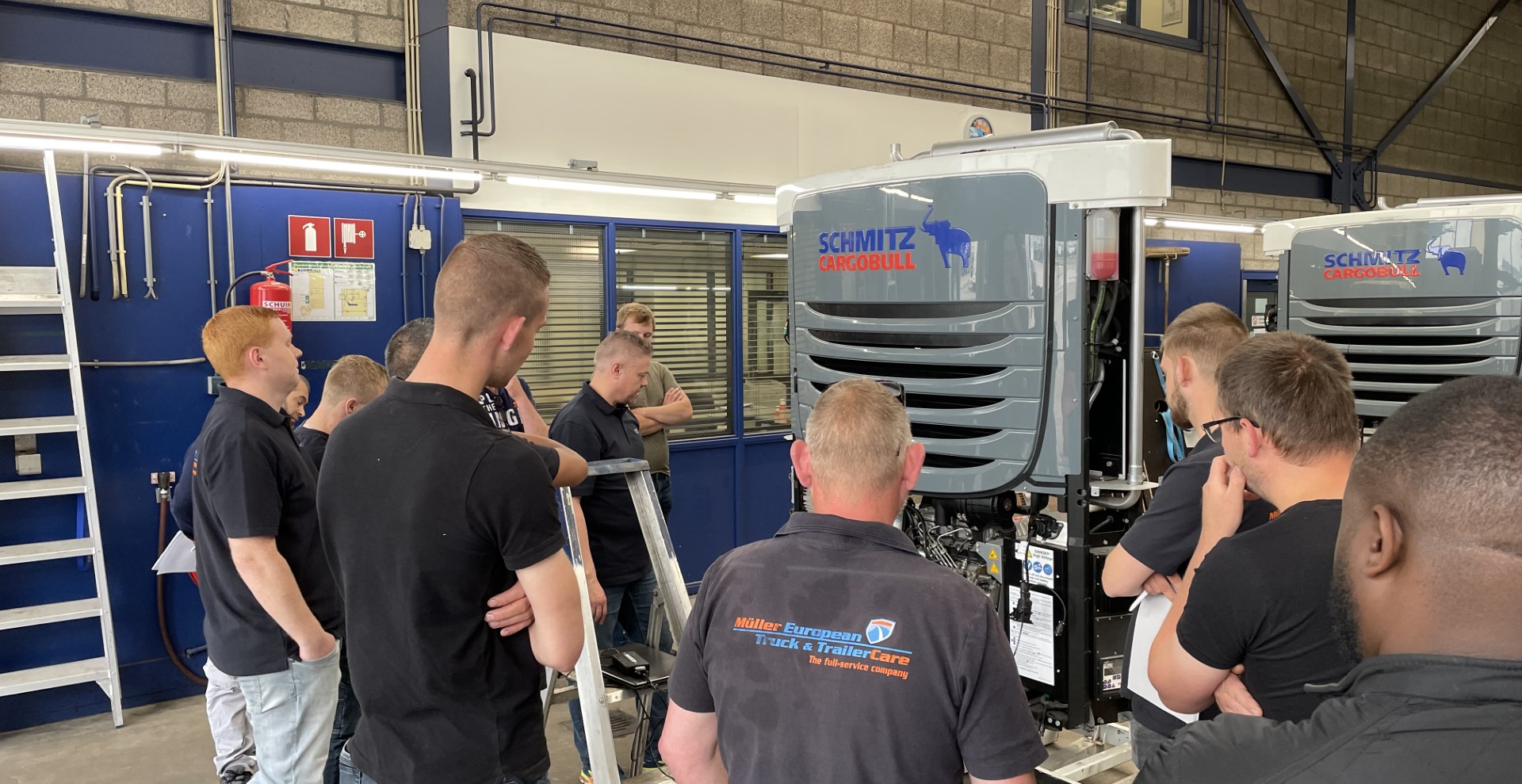 July 2022 - For a long time, due to the ongoing pandemic, the Cargobull College's Service Partner training courses could no longer take place in person. This is now changing and more and more training courses at home and abroad can take place again. In recent weeks, Schmitz Cargobull Service Partners from Germany, Turkey, Switzerland, Finland, Morocco, Spain, England, the Netherlands, Croatia, Slovenia and Bulgaria have been trained in the safe and professional use of the Schmitz Cargobull S.CU refrigeration unit. The aim of this training is to qualify participants to independently operate the S.CU refrigeration unit, repair it and carry out all maintenance work.



Schmitz Cargobull Service Partner Training
To achieve the required skills, the training is a combination of theory and practical modules. The knowledge gained in theory is put directly into practice, and so is consolidated quickly and further questions can be dealt with directly.

The S.CU trainings are currently conducted by three trainers:
Tom Mohl (Scandinavia, UK, Ireland), Joao Botas (Southern Europe, Africa)
Max Gruber (Central Europe). Max Gruber says: "It is very important for us to fully train our service partners. This way, our customers can be sure that every service partner meets our high Schmitz Cargobull standards. We are very happy we can work in person again. It is precisely the mix of practice and theory that makes the training so successful. In addition, exchanges between trainees are very enriching and would not happen online in the same way."

Further Service Partner training courses on various topics are planned for coming months.
About Schmitz Cargobull:
With an annual production of around 46,100 trailers and with around 5,700 employees, Schmitz Cargobull AG is Europe's leading manufacturer of semi-trailers, trailers, and truck bodies for temperature-controlled freight, general cargo and bulk goods. The company achieved sales of approximately €1.87 billion in the 2019/2020 financial year. As a pioneer in the industry, the North German company developed a comprehensive brand strategy early on and consistently established quality standards spanning every level: from research and development, through production and service contracts, to trailer telematics, financing, spare parts, and used semi-trailers.


The Schmitz Cargobull press team:
| | |
| --- | --- |
| Anna Stuhlmeier: | +49 2558 81-1340 I anna.stuhlmeier@cargobull.com |
| Andrea Beckonert: | +49 2558 81-1321 I andrea.beckonert@cargobull.com |
| Silke Hesener: | +49 2558 81-1501 I silke.hesener@cargobull.com |
Schmitz Cargobull Service Partner Training_1

Schmitz Cargobull Service Partner Training_2

Schmitz Cargobull Service Partner Training_3

Press release: "Service Partner trainings resumed"