There for each other: Schmitz Cargobull provides concrete help for Ukraine
Employee initiative: Schmitz Cargobull employees support their colleagues in Ukraine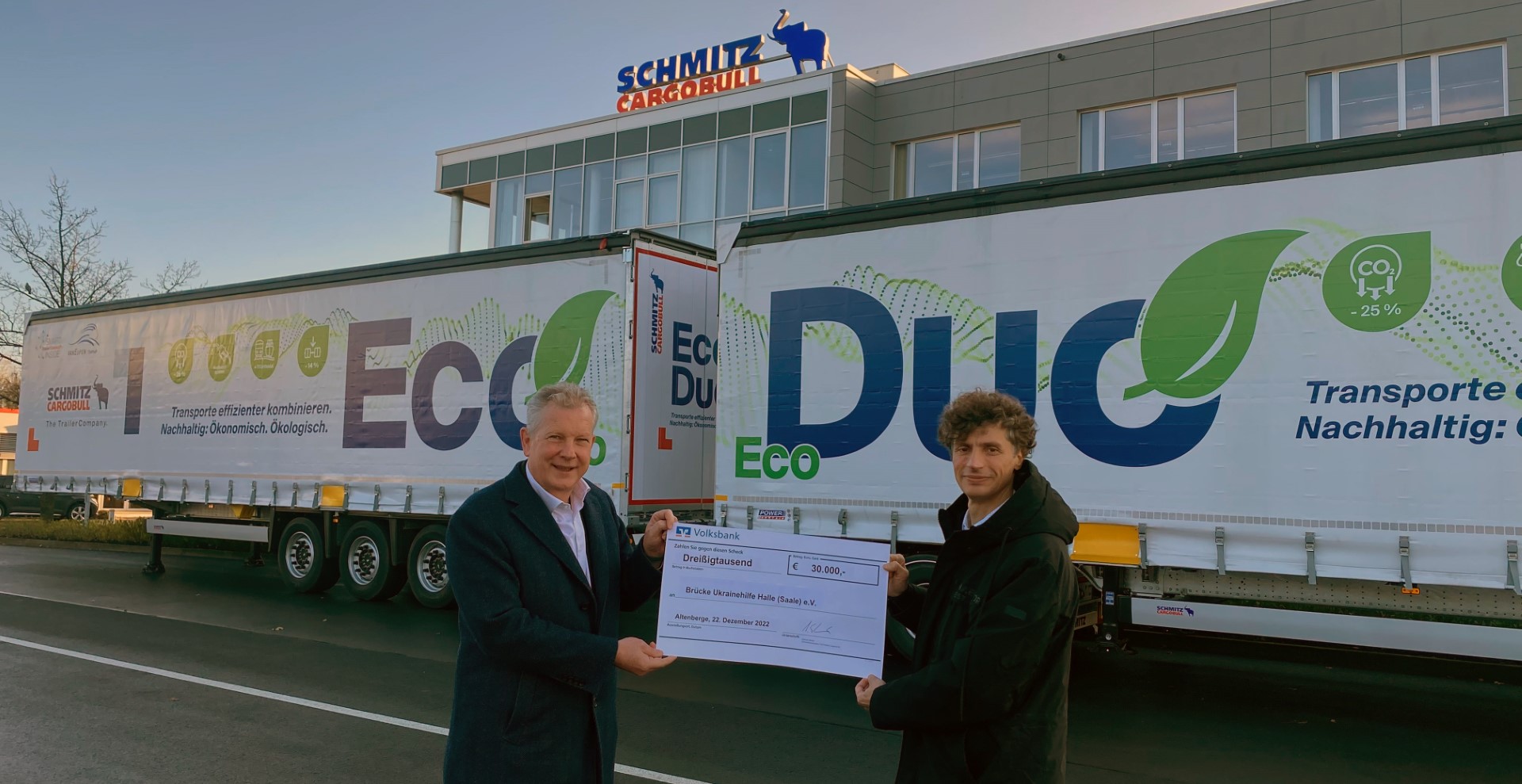 There for each other: Schmitz Cargobull provides concrete help for Ukraine
•

Employee initiative: Schmitz Cargobull employees support their colleagues in Ukraine
•

Company doubles the amount collected and donations received to date for the Ukraine aid organisation Brücke and hands over a further €30,000 in donations
December 2022 - With the internal pre-Christmas initiative 'Give the gift of solidarity', Schmitz Cargobull employees have collected almost €19,000 to support their colleagues in Ukraine during the ongoing war with Russia. Most of the money raised will be used to purchase 'PowerHouses' for the colleagues, which they can use to charge electrical appliances during power cuts.
Schmitz Cargobull AG has been supporting its Ukrainian employees since the beginning of the war and also regularly donates to the aid organisation Brücke, which delivers medical supplies to crisis areas. Donations amounting to more than €11,000 have already been made to Brücke from the Schmitz Cargobull network.
On behalf of Schmitz Cargobull AG, CEO Andreas Schmitz is donating €30,000, thus doubling the support to a total of €60,000. The cheque was handed over to Andriy Leso,
co-founder of the Brücke association, on 22.12.2022 at the Schmitz Cargobull plant in Altenberge.
"Brücke" delivers medical supplies to Ukraine
"Brücke provides great humanitarian aid. Urgently needed medical equipment is delivered directly to the crisis areas. And what Schmitz Cargobull employees have now set up for their colleagues in Ukraine makes us on the Board really proud. We are delighted with the great commitment of our employees. By doubling the donations, we are showing how important to us it is to provide targeted support to ourpeople in Ukraine during this brutal war," says Andreas Schmitz.
Since the beginning of the war, Schmitz Cargobull has supported the Ukrainian employees of its subsidiary in the country and ensured their safety. In addition, the company participated in numerous aid campaigns immediately after the war had started, for example by providing vehicles worth €130,000.
Before Christmas, the employees of Schmitz Cargobull initiated the internal campaign 'Give the gift of solidarity'. Employees from all locations collected money to donate 'PowerHouses' to their colleagues in Ukraine. Due to the systematic destruction of the energy infrastructure throughout Ukraine, electricity is only available for a short period of time. With these large mobile charging batteries, electrical devices can be charged and thus contribute to a certain degree of security.
The association Brücke was founded by eleven German and Ukrainian committed members who have set themselves the goal of delivering urgently needed medical aid quickly and effectively to Ukrainian clinics in the crisis areas.
All donated funds are spent 1:1 on the purchase of the necessary equipment: Medicines, bandages, wheelchairs, electrocardiographs, defibrillators, stretchers, generators and much more. The donations have already financed two ambulances, among other things.
You can find more information about the aid organization Brücke here:
https://www.bruecke-ukrainehilfe.com/
About Schmitz Cargobull:
With an annual production of around 46,100 trailers and with around 5,700 employees, Schmitz Cargobull AG is Europe's leading manufacturer of semi-trailers, trailers, and truck bodies for temperature-controlled freight, general cargo and bulk goods. The company achieved sales of approximately €1.87 billion in the 2019/2020 financial year. As a pioneer in the industry, the North German company developed a comprehensive brand strategy early on and consistently established quality standards spanning every level: from research and development, through production and service contracts, to trailer telematics, financing, spare parts, and used semi-trailers.


The Schmitz Cargobull press team:
| | |
| --- | --- |
| Anna Stuhlmeier: | +49 2558 81-1340 I anna.stuhlmeier@cargobull.com |
| Andrea Beckonert: | +49 2558 81-1321 I andrea.beckonert@cargobull.com |
| Silke Hesener: | +49 2558 81-1501 I silke.hesener@cargobull.com |
Image: Donation handover

Press Release: Schmitz Cargobull provides concrete help for Ukraine