Schmitz Cargobull at transport logistic 2019
June 2019 – Schmitz Cargobull's Smart Trailer World is continuing to evolve.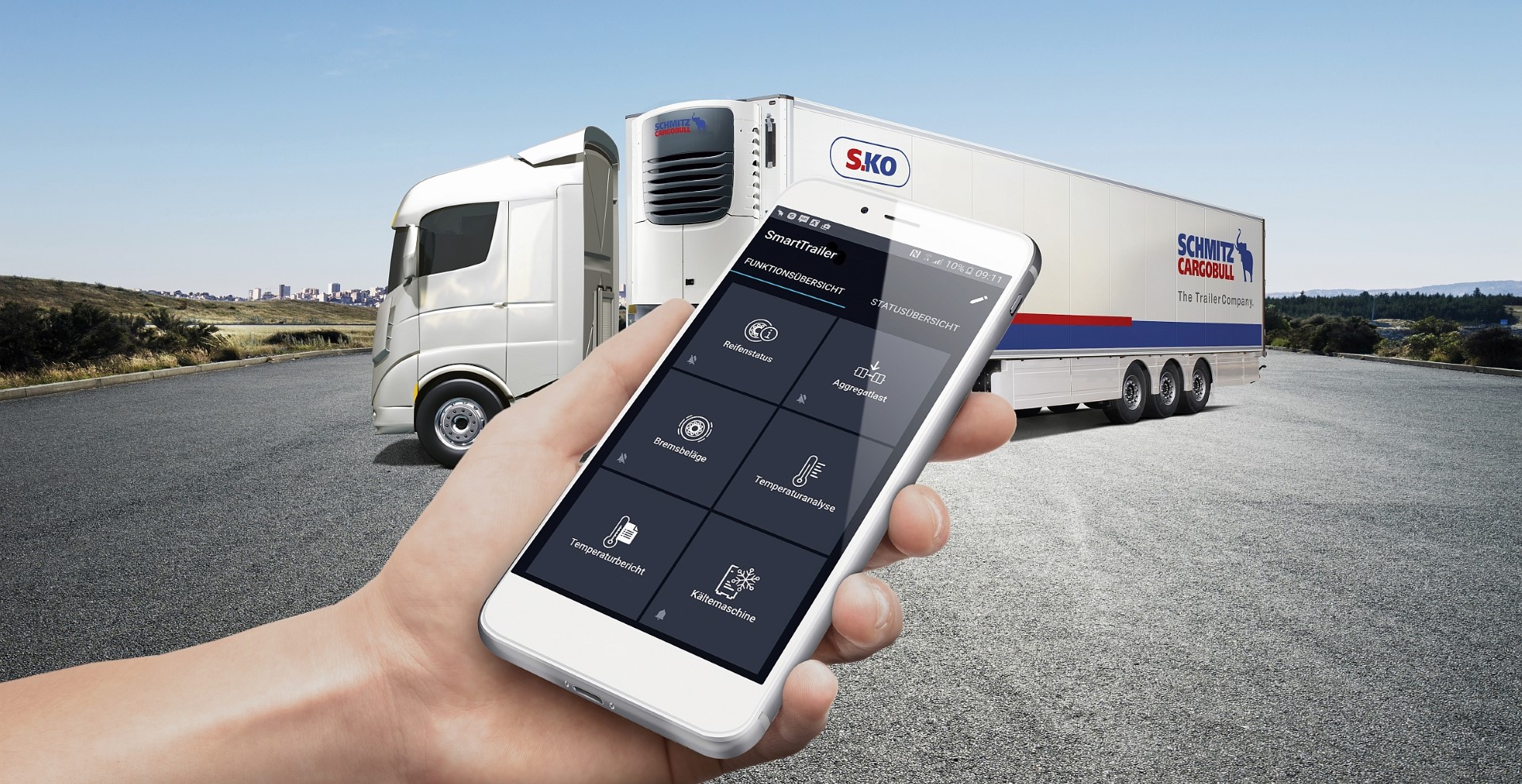 June 2019 – At the transport logistic 2019 trade fair taking place in Munich between 4 and 7 June, the company will be showcasing new and advanced transport solutions to increase efficiency and transparency in vehicle fleets at Stand 301/402 in Hall A6. As well as premièring its new S.CS UNIVERSAL: X-LIGHT curtainsider semi-trailer, it will also present a range of digital assistants, such as the new beUpToDate app, proactive control of the trailer door lock using geofencing and the new key pad.
Schmitz Cargobull's Smart Trailer World is continuing to evolve.
S.CS UNIVERSAL X-LIGHT curtainsider semi-trailer:
Already a success on the market, the light curtainsider semi-trailer's unladen weight has once again been reduced by optimising the weight of the chassis and body. With an unladen weight from 4,975 kg, the X-LIGHT curtainsider offers a higher payload without compromising on quality or strength when compared to its predecessor. As a result, it has a positive impact on both your bank account and carbon footprint.

S.KO COOL SMART refrigerated body with electric S.CUe cooling unit:
The S.KO COOL SMART refrigerated box body has set new standards in the commercial vehicles industry: Equipped with the Schmitz Cargobull TrailerConnect telematics system as standard, its digital temperature recorder and countless innovative functions help to improve both transparency and efficiency in trailer fleets. Schmitz Cargobull has developed an electric cooling unit, the S.Cue, to ensure efficient and environmentally friendly transportation of cooled goods. This operates completely emission-free and is specially designed for use in distribution transport. The S.CUe is suitable for transporting both refrigerated and warm goods.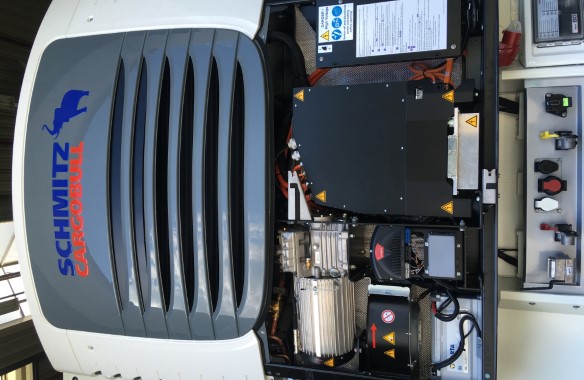 News from the world of Schmitz Cargobull trailer telematics

The experts from Schmitz Cargobull Telematics will also be presenting new developments related to improving cold chain management. With the TL3 key pad on the front of the refrigerated box body, Schmitz Cargobull now provides a third option for opening and locking the rear door. Another function included in Schmitz Cargobull's door locking­ system is the geofencing-based control function. To make sure business owners using lots of different telematics systems in their fleet only have to use one portal, Schmitz Cargobull has added generic data import interface for other telematic provider. These interface enable telematics data from diverse trailer telematics systems to be transferred to and displayed in the TrailerConnect portal 2.0.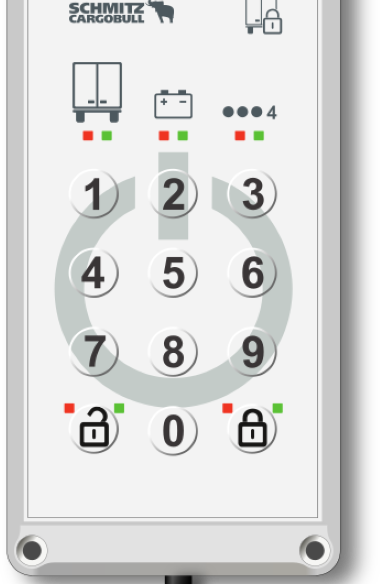 New Schmitz Cargobull apps
Schmitz Cargobull makes monitoring loads and trailers even more efficient and transparent with two new apps. Schmitz Cargobull has advanced the TrailerConnect beSmart app specifically for drivers. By displaying all key measurement values in the beSmart app, the driver is able to manage up-to-date trailer data at any time. Direct control from the cab also helps to improve occupational safety.
The new TrailerConnect beUpToDate app is geared towards the needs of fleet managers and scheduling experts. It keeps all of the telematics portal users informed via smartphone about the current locations of their trailer fleet, downtime and movement data.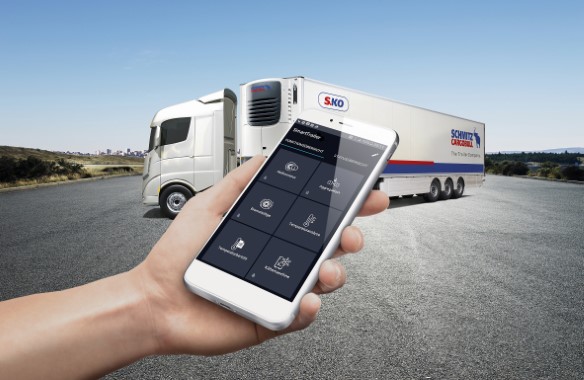 Award-winning!: The EcoDuo vehicle concept
Schmitz Cargobull's EcoDuo concept was designed to be both ecological and economically efficient. In the EcoDuo combination, two standard trailers – connected via a dolly – are coupled to a tractor unit. As well as reducing the fuel consumption and, as a result, the CO2 emissions per transported tonne, this combination also helps to reduce traffic and therefore relieve strain on roads and bridges. HGV drivers can also transport two trailers with one tractor unit. This vehicle combination is also a means to mitigating driver shortages.
À propos de Schmitz Cargobull :
Avec une production annuelle de 63 500 véhicules, et environ 6 500 salariés, la Schmitz Cargobull AG est le leader européen des constructeurs de semi-remorques, remorques et carrosseries de porteurs . Au cours de l'exercice 2018/2019, un chiffre d'affaire d'env. 2,29 milliards d'euros a été réalisé. En tant que précurseur dans ce secteur, l'entreprise du Muensterland a développé très tôt une stratégie de marché globale. Elle mise systématiquement sur les standards de qualité à tous les niveaux : de la recherche et du développement, en passant par la production, jusqu'aux contrats de services, la télématique de semi-remorque, le financement, la fourniture de pièces de rechange et la vente de véhicules d'occasion.


L'équipe de presse de Schmitz Cargobull :
| | |
| --- | --- |
| Anna Stuhlmeier : | +49 2558 81-1340 I anna.stuhlmeier@cargobull.com |
| Andrea Beckonert : | +49 2558 81-1321 I andrea.beckonert@cargobull.com |
| Silke Hesener : | +49 2558 81-1501 I silke.hesener@cargobull.com |
Schmitz Cargobull at transport logistic 2019

Schmitz Cargobull at transport logistic 2019

Schmitz Cargobull at transport logistic 2019_Picture 1

Schmitz Cargobull at transport logistic 2019_Picture 2

Schmitz Cargobull at transport logistic 2019_Picture 3

Schmitz Cargobull at transport logistic 2019_Picture 4