Double victory for Schmitz Cargobull in the Image Awards 'Best Brand' category
Europe's leading trailer manufacturer takes both titles in the Trailer category and also achieves top rankings for cooling units and tippers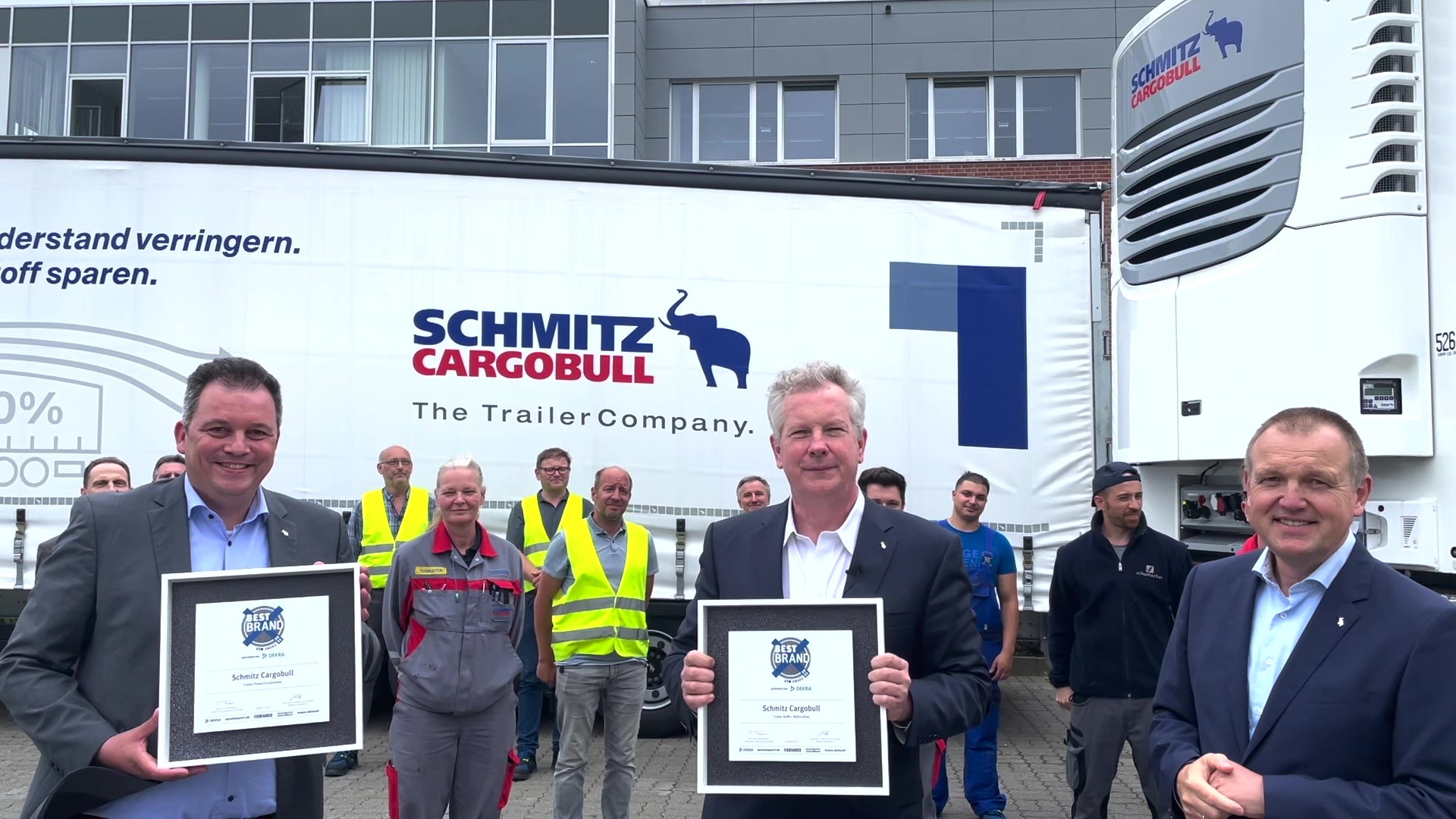 July 2021 – The readers' decision was clear: Schmitz Cargobull won the "Best Brand" award for both refrigerated box body and curtainsider semi-trailer categories. Europe's leading trailer manufacturer thus cemented its top ranking in terms of customer recognition. Almost 7,700 readers of the "Fernfahrer", "lastauto omnibus" and "trans aktuell" trade publications voted on the renowned Image Award from ETM publishing house.

"Winning the award in both categories is an outstanding result, and it fills us with pride. We would like to thank our customers for their trust in us and see this as a clear signal to continue working on our portfolio of reliable and innovative products and services. The awards also acknowledge the dedication of our employees from research and development to production and sales. We are very pleased to receive these awards", stated Andreas Schmitz, Chairman of the Board of Schmitz Cargobull AG, at the award ceremony.

Schmitz Cargobull's in-house development team took second place in the Cooling Units category, repeating the success of the previous years. "The Schmitz Cargobull S.CU transport cooling unit is one of the best performing cooling units on the market, having already sold over 15,000 units. With its intelligent control system and data recording, combined with the web-based monitoring system and unique proactive service management, we can provide reliable temperature-controlled transport. We are also targeting first place with our transport cooling units", Andreas Schmitz continued.

Readers also ranked Schmitz Cargobull highly in the Tipper category with the Group taking second place once again.


Victory in both trailer categories
For the 25th time readers of ETM's trade publications, "lastauto omnibus", "trans aktuell" and "FERNFAHRER" have recognised the best commercial vehicle brands. The winners in the 29 categories were elected from a total of approx. 210 brands in cooperation with DEKRA and under the supervision of a notary. The readers themselves judge the brand image and product quality. These awards represent an important industry barometer, given that the results of the survey provide tangible proof of customer opinions and preferences.
Über Schmitz Cargobull:
Mit einer Jahresproduktion von rund 46.100 Trailern und etwa 5.700 Mitarbeitern ist die Schmitz Cargobull AG Europas führender Hersteller von Sattelaufliegern, Trailern und Motorwagenaufbauten für temperierte Fracht, General Cargo sowie Schüttgüter. Im Geschäftsjahr 2019/2020 wurde ein Umsatz von ca. 1,87 Mrd. Euro erzielt. Als Vorreiter der Branche entwickelte das Unternehmen aus dem Münsterland frühzeitig eine umfassende Markenstrategie und setzte konsequent Qualitätsstandards auf allen Ebenen: von der Forschung und Entwicklung über die Produktion und Service Verträgen bis hin zu Trailer-Telematik, Finanzierung, Ersatzteilversorgung und Gebrauchtfahrzeughandel.


Das Schmitz Cargobull Presse-Team:
| | |
| --- | --- |
| Anna Stuhlmeier: | +49 2558 81-1340 I anna.stuhlmeier@cargobull.com |
| Andrea Beckonert: | +49 2558 81-1321 I andrea.beckonert@cargobull.com |
| Silke Hesener: | +49 2558 81-1501 I silke.hesener@cargobull.com |
Best Brand 2021

Press Release "Double victory for Schmitz Cargobull in the Image Awards 'Best Brand' category"