Working together for increased efficiency and safety in road freight transport
Schmitz Cargobull hands over five new S.CS curtainsiders with POWER CURTAIN bodies for driver training to Mercedes-Benz Trucks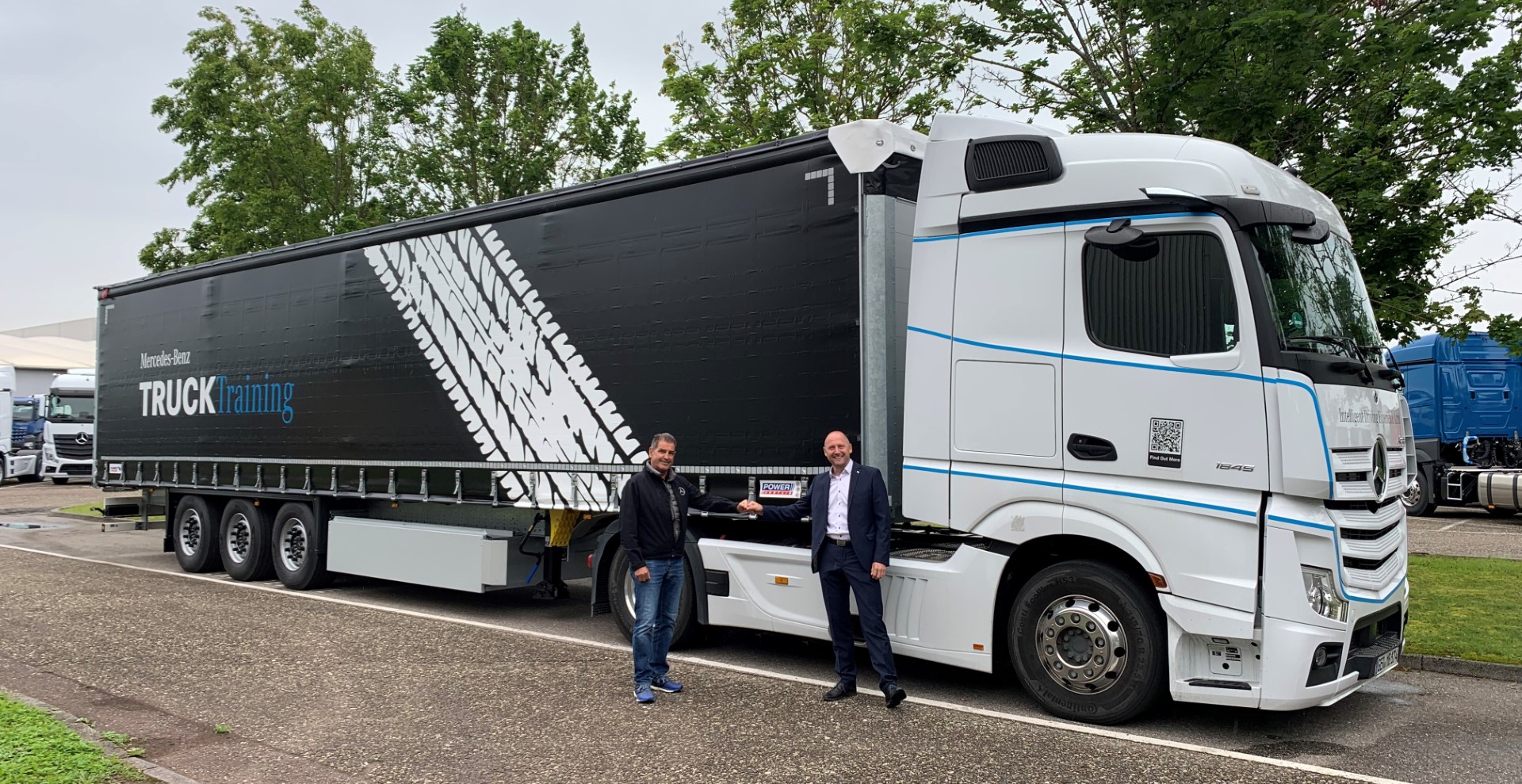 September 2021 – Another five S.CS curtainsiders from Schmitz Cargobull will now be used for driver training courses for professional drivers at Mercedes-Benz Trucks. Mercedes-Benz utilises high-quality and efficient Schmitz Cargobull trailers to accurately mirror the drivers' actual transport work and maximise the effectiveness of the training.

"Our semi-trailers stand for safe and efficient transport solutions. The closer the training reflects the real-world transport conditions, the greater the benefit for everyone involved," emphasises Christian Heilers, Key Account Manager at Schmitz Cargobull.

The tractor-trailer units are equipped the Schmitz Cargobull S.CS curtainsiders with a POWER CURTAIN. The benefits of this lath-free body are held in high esteem within industry, but it is drivers who truly enjoy the advantages of the POWER CURTAIN. The certified structural rigidity according to DIN EN 12642 Code XL is achieved without support laths thanks to aramid belts and steel wire integrated into the tarpaulin. Customers benefit from quicker loading and unloading without time-consuming handling of support laths to secure the load. When the load is fully flush, no further equipment is needed to secure the cargo at the side.


 Drivers enjoy the advantages of the POWER CURTAIN
For the driver, this means that as well as shorter loading and unloading times, work safety also increases, as they no longer need to deal with laths. Furthermore, the high-strength side tarpaulin offers effective anti-theft protection by preventing intentional cutting, and an unladen weight advantage over conventional curtainsiders, as the supporting laths can be omitted while the certification remains unchanged.

The S.CS curtainsider with POWER CURTAIN has the important Code XL and beverage and Daimler certificates, which ensure versatile use of the curtainsider. Anyone who wants to secure the goods at the rear can use the load-securing loops in the tarpaulin. When pulled through the loops, the lashing straps develop blocking forces per row of 2,500 daN.

"The combination of tractor unit and semi-trailer enables the drivers to train under real-world conditions," explains Martin Gairing, Head of Mercedes-Benz Trucks Training. "We are pleased to successfully expand our long-standing and constructive partnership with Schmitz Cargobull with these vehicles."

Über Schmitz Cargobull:
Mit einer Jahresproduktion von rund 46.100 Trailern und etwa 5.700 Mitarbeitern ist die Schmitz Cargobull AG Europas führender Hersteller von Sattelaufliegern, Trailern und Motorwagenaufbauten für temperierte Fracht, General Cargo sowie Schüttgüter. Im Geschäftsjahr 2019/2020 wurde ein Umsatz von ca. 1,87 Mrd. Euro erzielt. Als Vorreiter der Branche entwickelte das Unternehmen aus dem Münsterland frühzeitig eine umfassende Markenstrategie und setzte konsequent Qualitätsstandards auf allen Ebenen: von der Forschung und Entwicklung über die Produktion und Service Verträgen bis hin zu Trailer-Telematik, Finanzierung, Ersatzteilversorgung und Gebrauchtfahrzeughandel.


Das Schmitz Cargobull Presse-Team:
| | |
| --- | --- |
| Anna Stuhlmeier: | +49 2558 81-1340 I anna.stuhlmeier@cargobull.com |
| Andrea Beckonert: | +49 2558 81-1321 I andrea.beckonert@cargobull.com |
| Silke Hesener: | +49 2558 81-1501 I silke.hesener@cargobull.com |
Image: Handover of S.CS Curtainsider for Mercedes Benz Truck Training

Press Release: "Working together for increased efficiency and safety in road freight transport"