Hattrick! Schmitz Cargobull wins "Best Brand 2022
Once again, the readers of the ETM publishing house vote Europe's leading trailer manufacturer into first place, and this time in no less than three categories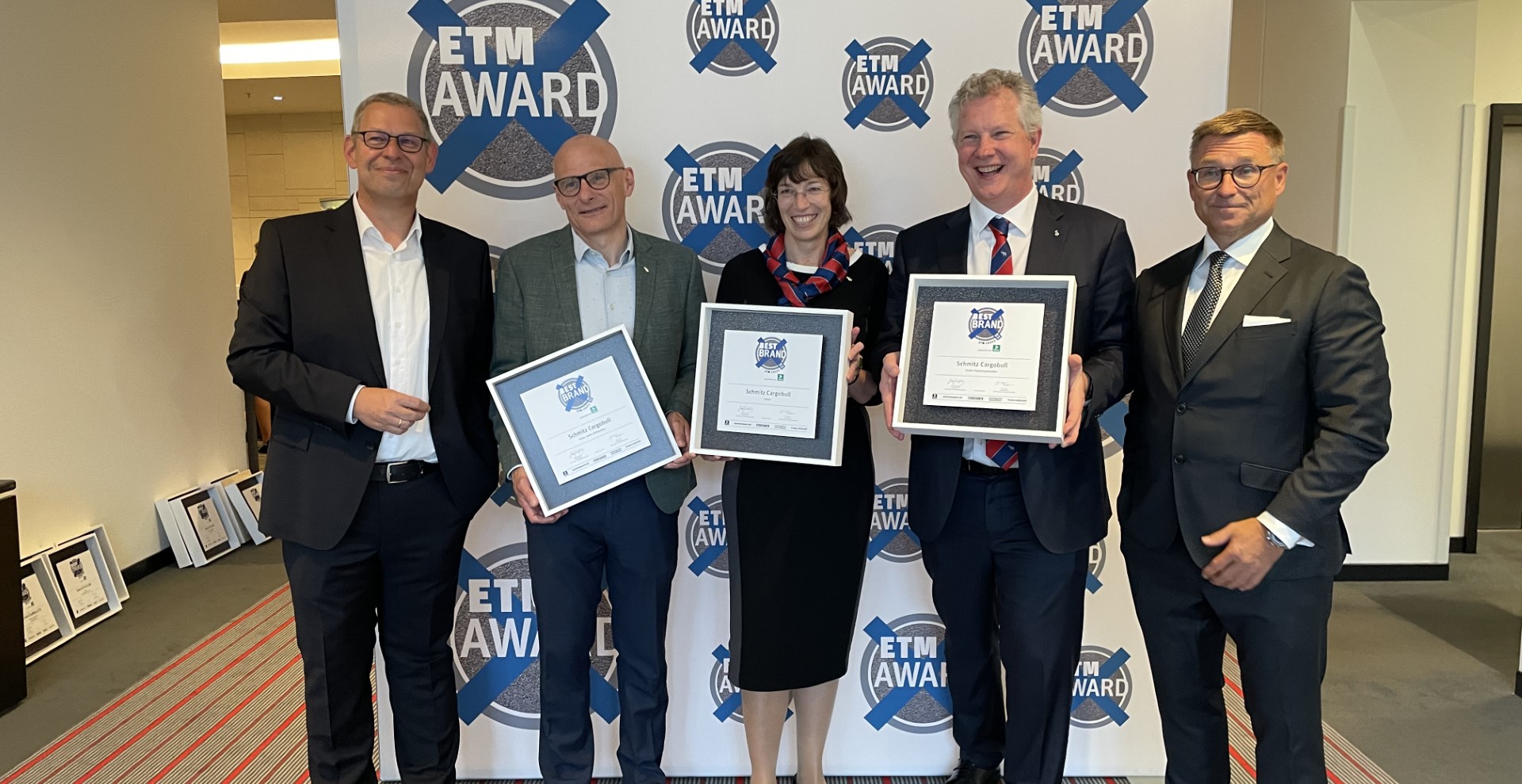 June 2022 - For the first time, Schmitz Cargobull has won the "Best Brand Awards" in the readers' poll of the German ETM publishing house in three categories and is thus the front-runner for semi-trailer Box Body/Reefer, semi-trailer Curtainsider and, for the first time, also the winner in the category semi-trailer tipper.
Almost 6,000 readers of the trade magazines "Fernfahrer", "lastauto omnibus" and "trans aktuell" participated in the voting.

"The fact that we have received the awards in all three semi-trailer categories this year is something special and fills us with pride and joy", said Andreas Schmitz, CEO of Schmitz Cargobull AG at the award ceremony on Wednesday, 1 June 2022 in Berlin. "These awards are not only a confirmation of our customer-oriented products and services, but also of the reliability and innovative strength of our employees, who are always working on solutions for the lowest TCO (Total Cost of Ownership) and thus for the profitability of our customers. Our thanks go to the customers and readers who have remained loyal to the Schmitz Cargobull brand, especially under these difficult circumstances."



Awards in three categories
Schmitz Cargobull remains in second place for refrigeration units, repeating its success from previous years. "We were able to further reduce the gap to the first-place finisher this year and have further extended that to the third-place finisher," says Schmitz. "With our S.CU cooling unit, we are continuing to work towards achieving a top position here as well. Our high-performance cooling unit, the FERROPLAST box body in combination with the web-based monitoring system and the unique proactive service management are a guarantee of success for temperature-controlled transport".
For the 26th time, the readers of the German trade magazines "lastauto omnibus", "trans aktuell" and "Fernfahrer" have chosen the best commercial vehicles.
The winning brands in a total of 29 categories were determined, together with DEKRA, under notarial supervision. Readers evaluate brand image and product quality. The results of the survey provide evidence of customer preferences and are therefore considered an important indicator for the industry.
Über Schmitz Cargobull:
Mit einer Jahresproduktion von rund 46.100 Trailern und etwa 5.700 Mitarbeitern ist die Schmitz Cargobull AG Europas führender Hersteller von Sattelaufliegern, Trailern und Motorwagenaufbauten für temperierte Fracht, General Cargo sowie Schüttgüter. Im Geschäftsjahr 2019/2020 wurde ein Umsatz von ca. 1,87 Mrd. Euro erzielt. Als Vorreiter der Branche entwickelte das Unternehmen aus dem Münsterland frühzeitig eine umfassende Markenstrategie und setzte konsequent Qualitätsstandards auf allen Ebenen: von der Forschung und Entwicklung über die Produktion und Service Verträgen bis hin zu Trailer-Telematik, Finanzierung, Ersatzteilversorgung und Gebrauchtfahrzeughandel.


Das Schmitz Cargobull Presse-Team:
| | |
| --- | --- |
| Anna Stuhlmeier: | +49 2558 81-1340 I anna.stuhlmeier@cargobull.com |
| Andrea Beckonert: | +49 2558 81-1321 I andrea.beckonert@cargobull.com |
| Silke Hesener: | +49 2558 81-1501 I silke.hesener@cargobull.com |
Image: Best Brand 2022 Group photo Schmitz Cargobull

Image: Andreas Schmitz, CEO Schmitz Cargobull with three Best Brand Awards

Image: Three Best Brand Awards 2022

Press Release: "Hattrick! Schmitz Cargobull wins "Best Brand 2022"