Pledge of solidarity and continuity in challenging times
Schmitz Cargobull shareholders affirm long-term commitment to the company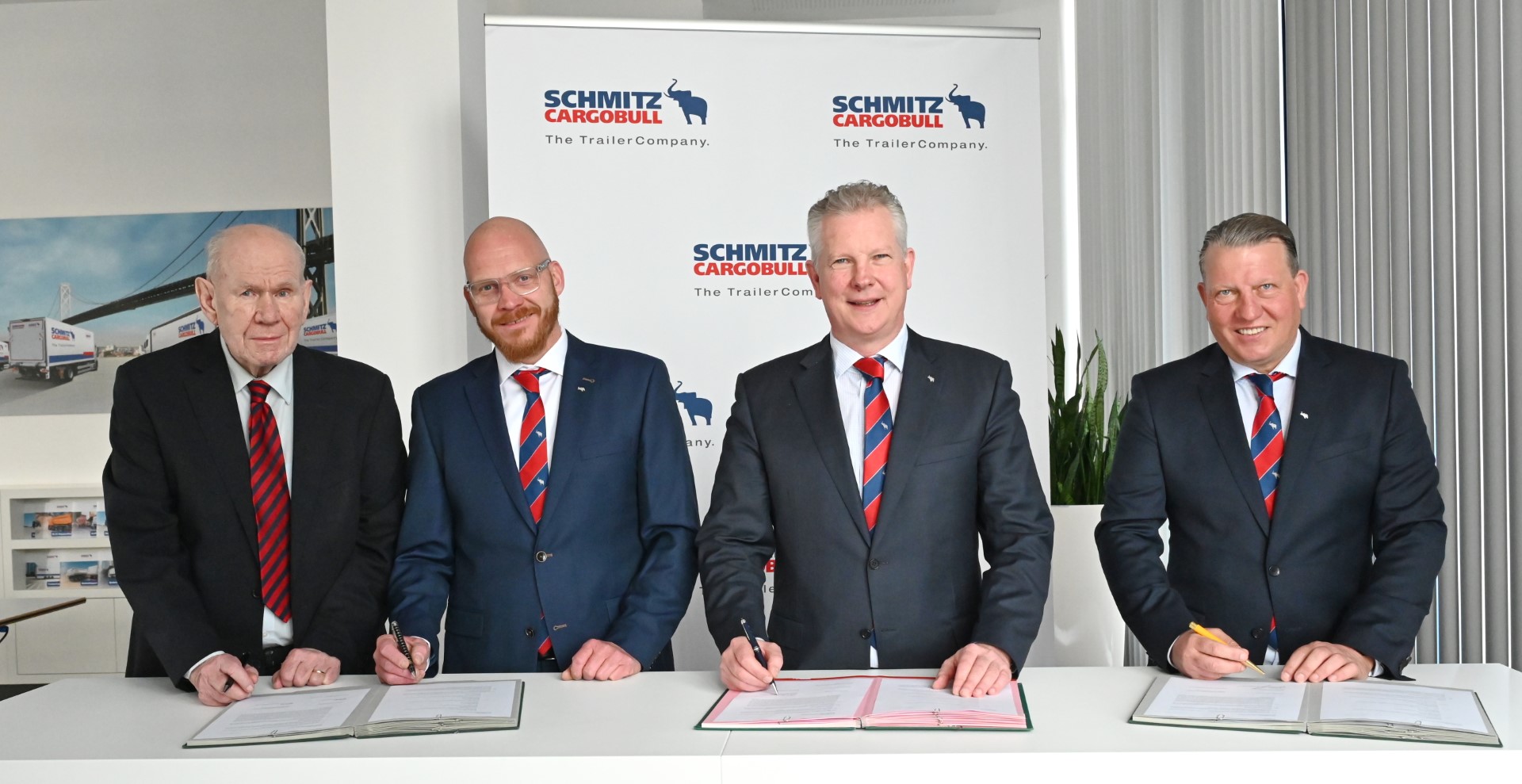 April 2022 – The strain of the corona pandemic and the impact of the war in Ukraine have given rise to a great deal of uncertainty at both a personal and economic level. As a production company, Schmitz Cargobull has been directly affected by the escalation of prices for raw materials and energy, and the deceleration of economic recovery. At the same time, the company stands for continual growth and greater efficiency, and is driving forward transformation in the transport and logistics industry with innovative, digital solutions.
Unity and solidarity to the company
At the start of Schmitz Cargobull AG's new financial year, representatives of the shareholders and owner families met to contractually record their cooperation for the next ten years and to confirm the strategic orientation and continuous development of the family-owned company.
"In these unpredictable times, it is highly important to us that we demonstrate our unity and solidarity to the company and its employees, and at the same time provide orientation going forward," explains Andreas Schmitz, Chairman of the Board of Schmitz Cargobull AG, and one of the three shareholders.
"This powerful signal of long-term continuity endorses the course set by the company's management. Together with their staff, they have successfully overcome the challenges and crises of recent years. This is also an expression of our confidence that the Strategy 2025 sets the right focus for the successful future of the company," adds Dirk Hoffmann, Chairman of the Supervisory Board of Schmitz Cargobull AG, and representative of one of the owner families.
"As shareholders, we are united and think with the future in mind. In the next decade, we will continue the sustainable growth course of the company and together we will push forward the strategic objectives with all our strength," Bernhard Schmitz, member of the family council, is certain.
Schmitz Cargobull AG is owned in equal shares by the three families of Andreas Schmitz and Dr. Heinz Schmitz, Bernhard Schmitz and Peter Schmitz, and Dirk Hoffmann. Representatives of the three owner families meet periodically to determine the strategic framework conditions for Schmitz Cargobull AG, amongst other duties.
Über Schmitz Cargobull:
Mit einer Jahresproduktion von rund 46.100 Trailern und etwa 5.700 Mitarbeitern ist die Schmitz Cargobull AG Europas führender Hersteller von Sattelaufliegern, Trailern und Motorwagenaufbauten für temperierte Fracht, General Cargo sowie Schüttgüter. Im Geschäftsjahr 2019/2020 wurde ein Umsatz von ca. 1,87 Mrd. Euro erzielt. Als Vorreiter der Branche entwickelte das Unternehmen aus dem Münsterland frühzeitig eine umfassende Markenstrategie und setzte konsequent Qualitätsstandards auf allen Ebenen: von der Forschung und Entwicklung über die Produktion und Service Verträgen bis hin zu Trailer-Telematik, Finanzierung, Ersatzteilversorgung und Gebrauchtfahrzeughandel.


Das Schmitz Cargobull Presse-Team:
| | |
| --- | --- |
| Anna Stuhlmeier: | +49 2558 81-1340 I anna.stuhlmeier@cargobull.com |
| Andrea Beckonert: | +49 2558 81-1321 I andrea.beckonert@cargobull.com |
| Silke Hesener: | +49 2558 81-1501 I silke.hesener@cargobull.com |
Schmitz Cargobull AG shareholder_1

Schmitz Cargobull AG shareholder_2

Press release: "Pledge of solidarity and continuity in challenging times"