Sustainable transport solution takes off
First hydrogen-powered motor vehicle chassis from Hyundai with Schmitz Cargobull body approved for road transport in Germany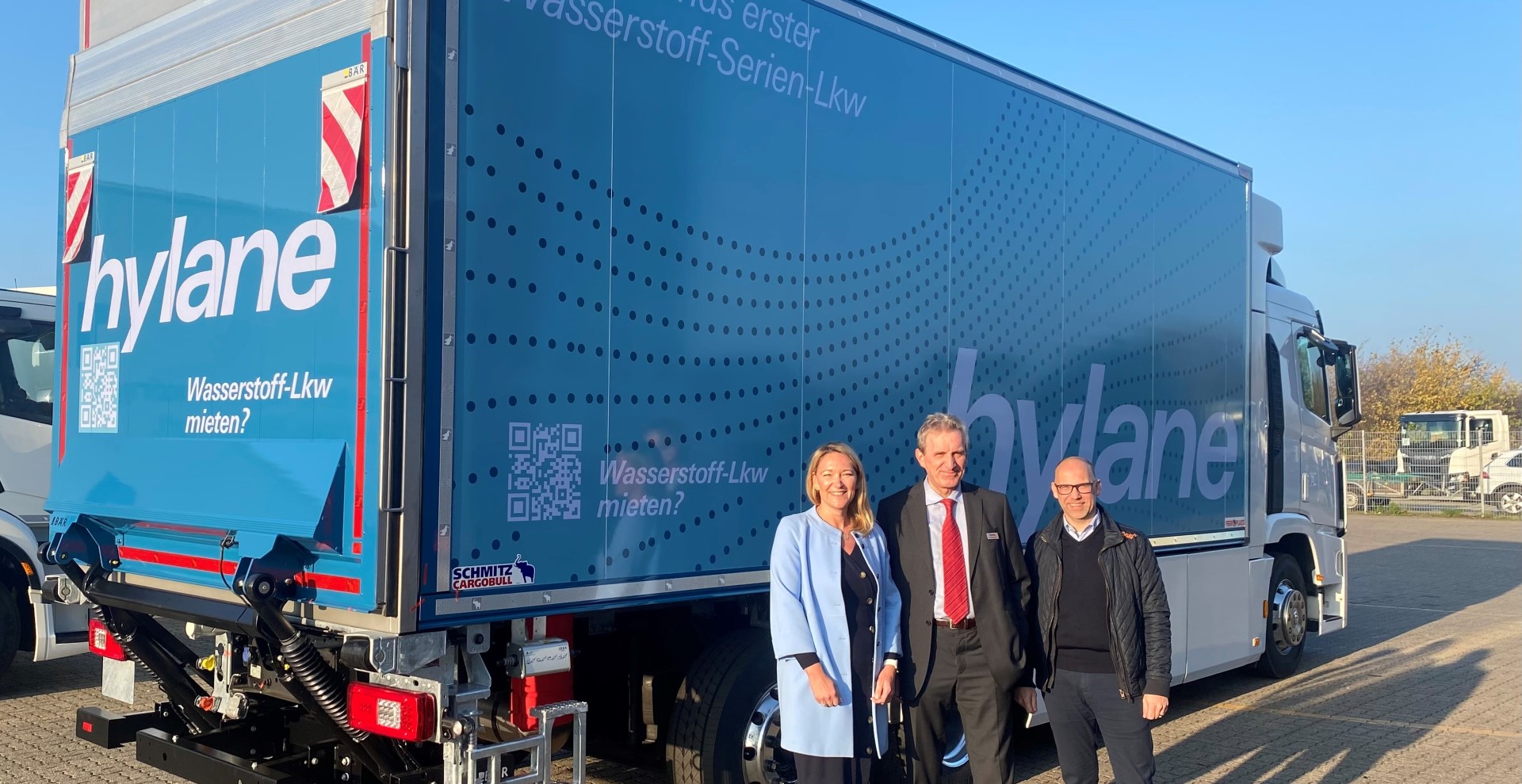 November 2022 - Schmitz Cargobull has delivered the first climate-neutral vehicle combination of M.KO box body and hydrogen-powered motor to its customer hylane.

Manufactured at the Schmitz Cargobull production plant in Lithuania, the body is equipped with a multifunctional floor, two load-securing rails and a tail lift, completing the Hyundai hydrogen-powered vehicle. Assembly of the vehicle and the DEKRA inspection of it took place at the GRW plant in Toddin, where Schmitz Cargobull's project production is also still based. This development makes Schmitz Cargobull the first certified bodybuilder for Hyundai in Germany.


Box bodies are optimally equipped to accommodate the hydrogen tanks
Dirk Nuxoll, Managing Director GRW, Sabine Essmann, International Key Account Manager Logistic/Food Business at Schmitz Cargobull, and Bruno Altenschöpfer, Fleet Manager at hylane, took delivery of the vehicle for its first use on the road.
"I am thrilled at how quickly this concept could be implemented. This vehicle is another step forward for sustainable transport solutions with hydrogen in Germany," says Altenschöpfer.
"Solutions for sustainable freight transport are particularly important to Schmitz Cargobull. We are pleased to realise this great pilot project in such a short time and will complete a total of 17 vehicles in the next few weeks. The box bodies from Schmitz Cargobull are optimally equipped to accommodate the hydrogen tanks on the bulkhead," says Essmann.
" As the first hydrogen series truck to be approved in Germany, we were able to show the vehicle together with Schmitz Cargobull at the BMDV conference "Climate-friendly commercial vehicles" in Berlin. There we were also allowed to present our concept for the practical use of the trucks in detail", says Sara Schiffer, Managing Director, HyLane GmbH. "Vehicles of the type "XCIENT Fuel Cell" will be prepared – depending on customer requirements - for their use on the road. Refrigerated and dry freight boxes are mounted on the motor vehicle chassis in order to be able to safely transport the goods. Some of the vehicles will also be fitted with a refrigerated trailer."
As an exclusive provider of climate-neutral mobility vehicles for rent, hylane offers competitive rates thanks to funding from the Federal Ministry of Digital Affairs and Transport. Customers only pay for the kilometres they actually drive. As a hylane customer, you not only save CO2 - a certificate of the individual CO2 savings is issued - but also costs.
Further information on Hyundai trucks and other rentable hydrogen vehicles is available at
www.hylane.de
Über Schmitz Cargobull:
Mit einer Jahresproduktion von rund 46.100 Trailern und etwa 5.700 Mitarbeitern ist die Schmitz Cargobull AG Europas führender Hersteller von Sattelaufliegern, Trailern und Motorwagenaufbauten für temperierte Fracht, General Cargo sowie Schüttgüter. Im Geschäftsjahr 2019/2020 wurde ein Umsatz von ca. 1,87 Mrd. Euro erzielt. Als Vorreiter der Branche entwickelte das Unternehmen aus dem Münsterland frühzeitig eine umfassende Markenstrategie und setzte konsequent Qualitätsstandards auf allen Ebenen: von der Forschung und Entwicklung über die Produktion und Service Verträgen bis hin zu Trailer-Telematik, Finanzierung, Ersatzteilversorgung und Gebrauchtfahrzeughandel.


Das Schmitz Cargobull Presse-Team:
| | |
| --- | --- |
| Anna Stuhlmeier: | +49 2558 81-1340 I anna.stuhlmeier@cargobull.com |
| Andrea Beckonert: | +49 2558 81-1321 I andrea.beckonert@cargobull.com |
| Silke Hesener: | +49 2558 81-1501 I silke.hesener@cargobull.com |
Image 1: Handover of the hydrogen-powered motor vehicle M.KO to hylane_1

Image 2: Handover of the hydrogen-powered motor vehicle M.KO to hylane_2

Press Release: "Sustainable transport solution takes off"