Schmitz Cargobull S.KOe semitrailer in practical testing
Fully electric refrigerated box trailer with electric transport refrigeration unit and generator axle in practical use: Representatives of the rental company TIP, the logistics service provider Cornelissen and the supermarket chain Albert Heijn take delivery of the S.KOe for emission-free and quiet delivery to Albert Heijn supermarkets in the Netherlands.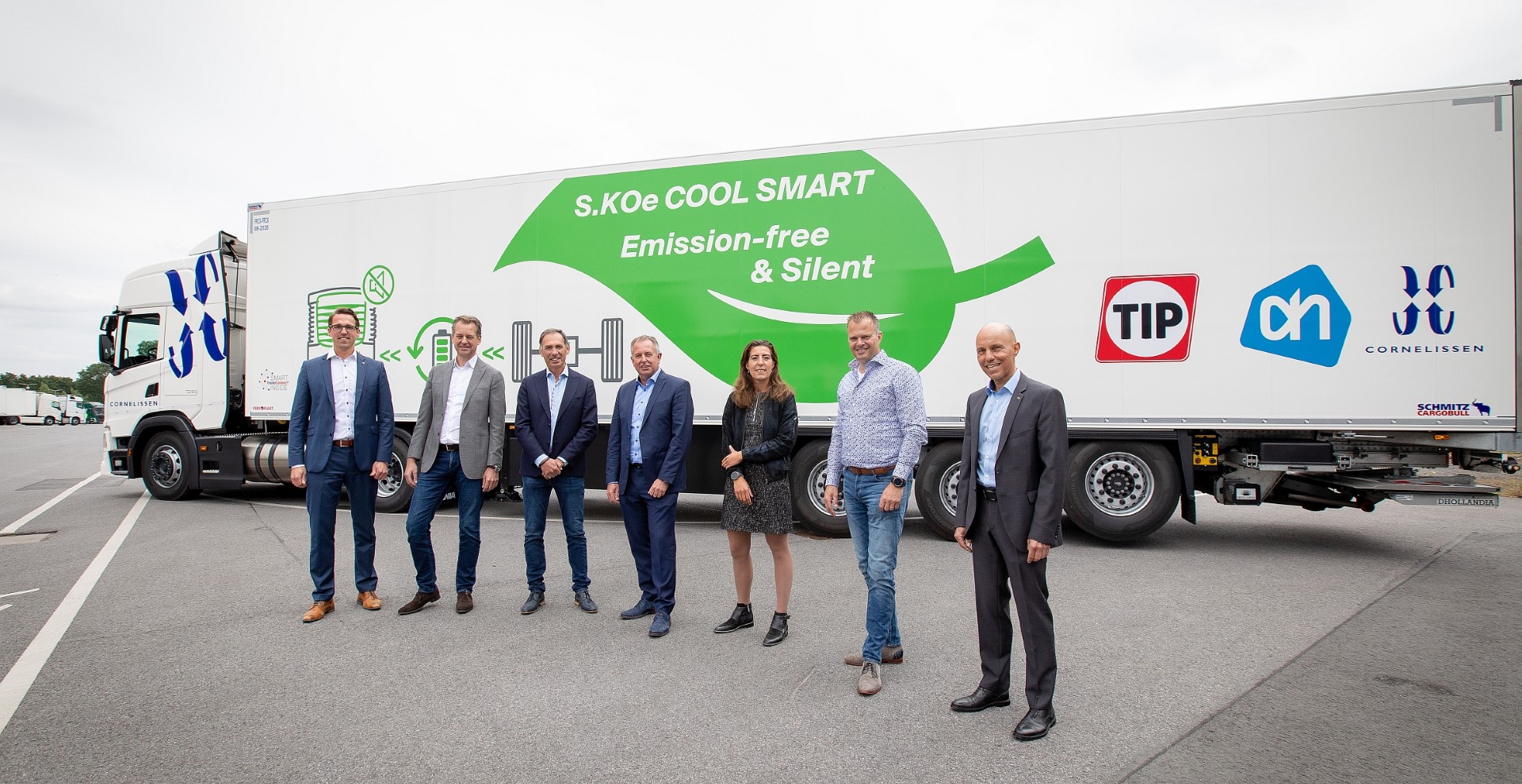 July 2021 - Representatives of the companies TIP, Albert Heijn and the transport logistics provider Cornelissen recently met at Schmitz Cargobull in Vreden for a vehicle handover of a special kind. There, a prototype of the S.KOe electric semitrailer was collected, which will be used to deliver to Albert Heijn supermarkets. When it comes to transport, the Dutch food logistics company, together with the rental company TIP, leaves nothing to chance, so both work closely with Schmitz Cargobull.

"We chose this vehicle because most of our transport takes place in inner-city distribution traffic and we also serve routes between different distribution centres. In many Dutch cities, distribution transport is characterised by "Zero Emission Zones" in the inner cities which will be active from 2025 on. Schmitz Cargobull offers a solution with its all-electric S.KOe refrigerated box, so that we can continue to drive into the inner cities without any problems with the electric refrigerator, in combination with a zero-emission tractor unit," explains Peter Leegstraten, Transport Manager Expertise at Albert Heijn.

The Cornelissen Group takes care of the transport logistics at Albert Heijn and is responsible for the continuous supply of the food markets. "The issue of sustainability is at the forefront for us. We are therefore very excited about the results that the distribution trips will give us. Our driver was made aware of the special features of the vehicle during the pick-up and trained accordingly," says Marco Pikkemaat, Fleet Manager Cornelissen Group.

The vehicle is a S.KOe COOL SMART with an electric axle and an electric refrigeration unit with integrated power electronics and battery system. The all-electric S.CUe refrigeration unit is designed for emission-free cooling and heating of the load. This is reflected in the cooling (up to 15,900 W) and heating capacity (9,100 W) without restriction. Instead of the diesel tank, batteries are installed on the support windmill for this purpose.

In addition, the vehicle is equipped with an electrified Schmitz Cargobull trailer axle which, among other things, recuperates energy during braking processes and thus reduces the recharging times of the battery via the power grid. On a vehicle without an electrified axle, the battery is not recharged during the journey. A vehicle with an electrified axle, however, already recharges the battery during the journey, so that recharging the battery via the mains at the distribution centre can either be omitted or at least minimised. Of course, this also shortens waiting times at the distribution centres.

Schmitz Cargobull's TrailerConnect telematics system is integrated in the vehicle as standard, which can be used to monitor the battery's state of charge, the remaining range and the remaining charging time via the telematics portal.


Handover of the prototype S.KOe COOL SMART
Albert Heijn is part of the global Ahold Delhaize Group and is the market leader in food retailing in the Netherlands. The company has made a name for itself with innovative and sustainable transport solutions in supermarket distribution.

TIP is a manufacturer-independent rental company and integrated service provider for the transport and logistics industry. The offer covers the entire life cycle of a vehicle; from procurement, maintenance and repair to the resale of used units. With over 120 locations in 18 European countries and Canada, as well as a large number of service partners, TIP has a close-knit branch and workshop network.

For more than 90 years, Cornelissen has been offering intelligent and sustainable transport solutions and has thus become an integral part of logistics in the Netherlands. This includes transport, storage, pallets and climate-controlled solutions in both the retail and pharmaceutical sectors.
Despre Schmitz Cargobull:
Cu o producţie anuală de circa 63.500 de semiremorci şi circa 6.500 de angajaţi, Schmitz Cargobull AG este principalul producător de semiremorci frigorifice, semiremorci şi suprastructuri cu caroserie cu automotor pentru încărcături temperate, de tip general cargo şi material vrac. În anul fiscal 2018/2019 s-a obţinut o cifră de afaceri de cca. 2,29 miliarde euro. Fiind un pionier în acest domeniu, compania din regiunea Münster a dezvoltat încă de la început o strategie complexă de marketing şi a stabilit în mod consecvent standarde de calitate la toate nivelurile: de la cercetare şi dezvoltare la producţie şi contracte de service sau sisteme telematice pentru semiremorci, finanţare, aprovizionare cu piese de schimb şi distribuţie de autovehicule rulate.


Echipa de presă Schmitz Cargobull:
| | |
| --- | --- |
| Anna Stuhlmeier: | +49 2558 81-1340 I anna.stuhlmeier@cargobull.com |
| Andrea Beckonert: | +49 2558 81-1321 I andrea.beckonert@cargobull.com |
| Silke Hesener: | +49 2558 81-1501 I silke.hesener@cargobull.com |
S.KOe COOL SMART handover in Vreden to TIP, Albert Heijn and Cornelissen_1

S.KOe COOL SMART handover in Vreden to TIP, Albert Heijn and Cornelissen_2

Press Release: "Schmitz Cargobull S.KOe semitrailer in practical testing"