Aerodynamic cargo transport
Schmitz Cargobull EcoGeneration vehicles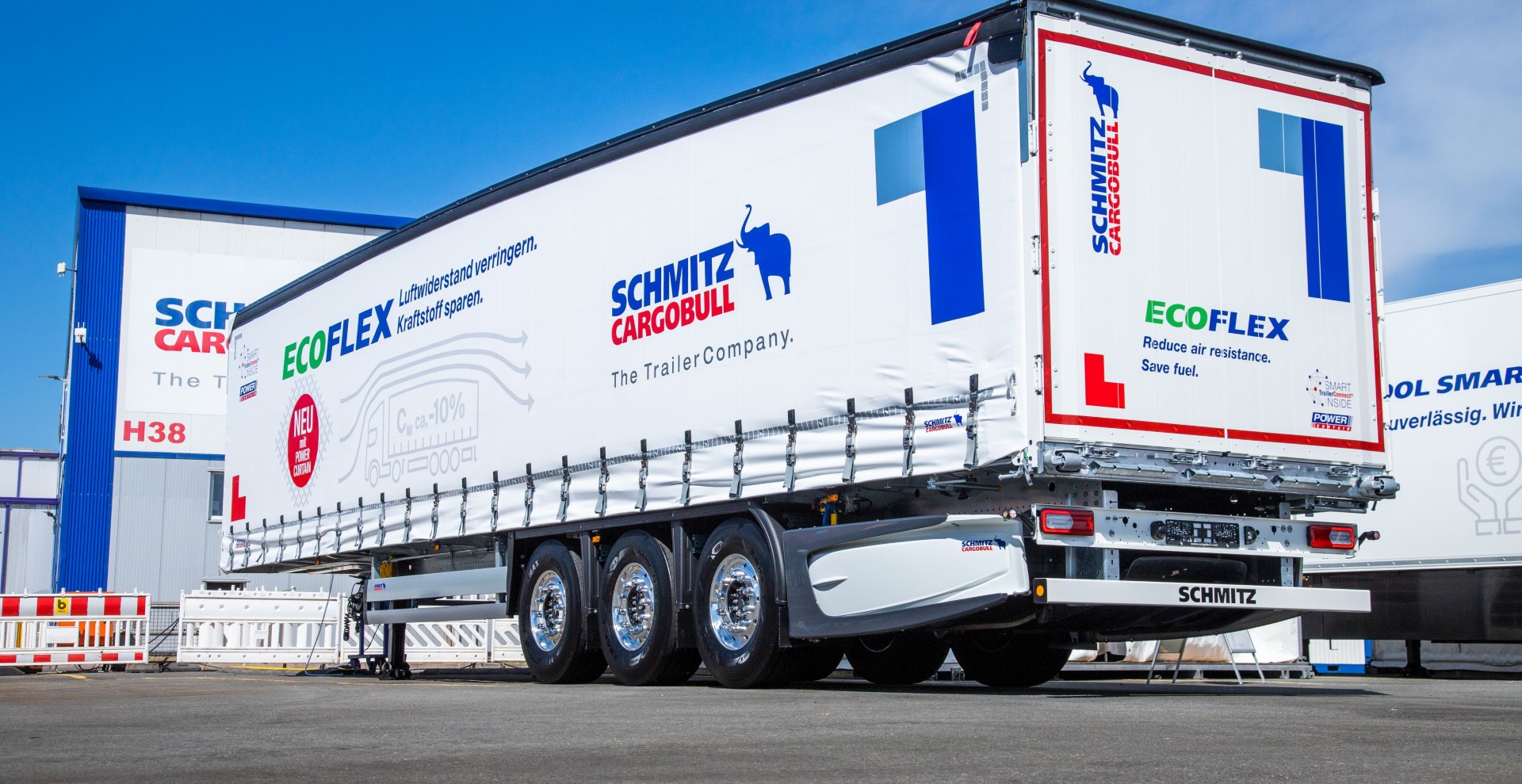 With lathe-free POWER CURTAIN for rapid loading and unloading
New: Sensors detect height adjustments and transfer this data to the telematics system
New: Aerodynamic storage box improves efficiency even further
New: Interior lighting for added occupational safety
Schmitz Cargobull EcoGeneration vehicles
September 2022 – Since Schmitz Cargobull launched its EcoGeneration in early 2021, interest in these vehicles has grown consistently, with demand for the aerodynamic curtainsider semi-trailers becoming a genuine success story. After all – given the high fuel costs – transport and logistics companies are increasingly on the lookout for vehicles and technical solutions that contribute to lower fuel costs and CO2 emissions. With the innovative curtainsiders from the aerodynamic EcoGeneration, Schmitz Cargobull offers an innovative and sustainable vehicle concept, which is both kind to the environment and also reduces costs for the transport sector.

"If only 50% of all trips are made in 'aerodynamic' mode and 50% in 'volume' mode (i.e. not lowered), the burden on the environment will be reduced by 2.3 t of CO2 per year. Based on conservative calculations, the EcoFLEX curtainsider semi-trailer can save approx. EUR 1,000 per year over the trailer's entire service life (approx. 1 million km). For our customers, these are all good reasons to choose the trailer, particularly with regard to total cost of ownership (TCO)," explains Boris Billich, Chief Sales Officer at Schmitz Cargobull AG (see CO2 calculator at www.cargobull.com).

Highlight – The S.CS EcoFLEX
The S.CS EcoFLEX curtainsider semi-trailer is one of the vehicles from the new EcoGeneration and is, of course, 100% SMART, too. This means that it is equipped with the TrailerConnect® trailer telematics system ex works as standard. The aerodynamic trailer with a lifting rear reduces drag, thus lowering fuel consumption and carbon emissions. In practice, users have been able to achieve savings of way above 5% – and sometimes even above 10%. The lifting function for the rear enables the trailer to be raised easily if the entire cargo area is required. Particularly for payload-intensive goods this concept offers high savings potential. And this is achieved without any significant change in trailer functionalities, transport performance and the usual handling. The effectiveness of the aerodynamic body in providing excellent sustainability through maximum fuel savings does not come at the cost of expensive, easily damaged attachments.

New: With POWER CURTAIN
Depending on the specific transport task, the Eco body can be equipped with the standard tarpaulin or the POWER CURTAIN tarpaulin. The EcoGeneration vehicles are an ideal solution in combination with the POWER CURTAIN, which does not require any slats. This further reduces the overall weight and contributes to higher fuel savings. The system impresses with its simple and safe handling and saves time during day-to-day transport tasks. The POWER CURTAIN's structural strength is certified according DIN EN 12642 Code XL. Optionally, the body can also be equipped in compliance with the beverage certificate and DL guideline 9.5. Integrated tarpaulin loops provide a simple means of securing the load at the rear.

New: Telematics system detects changes in height
Thanks to the built-in TrailerConnect® telematics system, users enjoy more transparency in their fleet/vehicle data. This improves the utilisation of vehicle capacity and reduces the number of empty journeys. Another benefit is that the telematics system is also able to monitor the height of the trailer, i.e. sensors can detect whether the roof is raised or set to aerodynamic mode. This reveals specific ways that vehicle use can be optimised.

New: Schmitz Cargobull EcoPack – Aerodynamic storage box for even greater fuel savings
The EcoFLEX is now equipped with a new aerodynamic storage box, known as the EcoPack – a feature currently available exclusively from Schmitz Cargobull. Thanks to the optimised air flow resulting from the special aerodynamic design, this box not only contributes to further fuel savings, but also offers even more storage space, especially for spare wheels. In practical tests, savings of up to 3% have been achieved. As well as the aerodynamic benefits, the EcoPack also impresses with its low unladen weight and quick, easy handling.

New: Improved interior lighting for added occupational safety
Another new feature is the vehicle's interior lighting. The LED lights offer increased brightness and therefore improve safety during loading and unloading.

Schmitz Cargobull offers three different versions of the EcoGeneration:
The EcoFIX body is the ideal solution for transporting horizontal, flat and heavy goods, such as steel and paper rolls. With its reduced weight and fixed rear, the vehicle offers an overall front height of 4 m. Equipped with the right tarpaulin design, the payload-optimised vehicle represents a fuel-saving alternative thanks to its reduced weight and aerodynamic design.

The EcoFLEX features a flexibly adjustable tail end. At maximum extension, it has a total height of 4 m at the front and rear. At the same time, the curtain height adjusts to match the body with the option of flexibly raising the rear when the full loading volume is mood. This body is ideal for general cargo and beverage transport.

The EcoVARIOS is an excellent option for high-volume transports and the automotive industry when transporting three stacked pallet cages, for example. Both the front and rear sections of the body can be flexibly adjusted. This variant offers an interior height of 3 m and an overall height of 4 m.
Despre Schmitz Cargobull:
Cu o producţie anuală de circa 63.500 de semiremorci şi circa 6.500 de angajaţi, Schmitz Cargobull AG este principalul producător de semiremorci frigorifice, semiremorci şi suprastructuri cu caroserie cu automotor pentru încărcături temperate, de tip general cargo şi material vrac. În anul fiscal 2018/2019 s-a obţinut o cifră de afaceri de cca. 2,29 miliarde euro. Fiind un pionier în acest domeniu, compania din regiunea Münster a dezvoltat încă de la început o strategie complexă de marketing şi a stabilit în mod consecvent standarde de calitate la toate nivelurile: de la cercetare şi dezvoltare la producţie şi contracte de service sau sisteme telematice pentru semiremorci, finanţare, aprovizionare cu piese de schimb şi distribuţie de autovehicule rulate.


Echipa de presă Schmitz Cargobull:
| | |
| --- | --- |
| Anna Stuhlmeier: | +49 2558 81-1340 I anna.stuhlmeier@cargobull.com |
| Andrea Beckonert: | +49 2558 81-1321 I andrea.beckonert@cargobull.com |
| Silke Hesener: | +49 2558 81-1501 I silke.hesener@cargobull.com |
Press information + images: Fahrzeuge der EcoGeneration

Press information: Fahrzeuge der EcoGeneration

Image 1

Image 2

Image 3

Image 4

Image 5