Schmitz Cargobull wins the "Best Brand 2020" award
Readers once again vote Europe's leading trailer manufacturer the winner in the Trailer box/refrigerated body category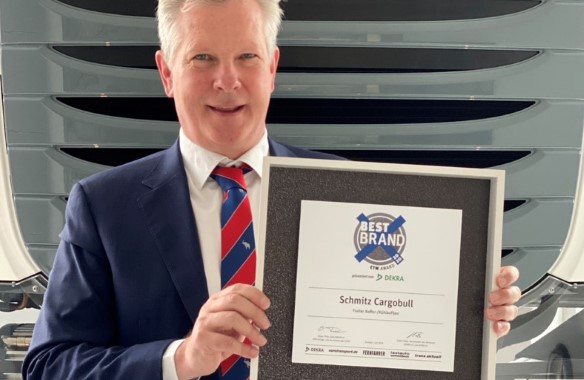 July 2020 - Schmitz Cargobull wins the "Best Brand 2020" vote in the Trailer box/refrigerated body category. In winning the ETM publishing house's prestigious image prize, Europe's leading trailer manufacturer earns another industry-specific award. More than 8,100 readers of the FERNFAHRER, lastauto omnibus and trans aktuell trade publications cast their votes in the ETM image award reader poll.

"The readers made a truly smart decision by voting for the S.KO COOL SMART box body semi-trailer. We are very proud to have been recognised as the best brand for the ninth time now. This award is an endorsement not only of our customer-oriented products and services, but also of the reliability and innovative strength of our employees, who are constantly developing solutions for the lowest possible TCO (Total Cost of Ownership), and thus for the profitability of our customers", said Andreas Schmitz, CEO of Schmitz Cargobull AG.
Schmitz Cargobull's own transport cooling unit S.CU also took second place in the Cooling units category, repeating the success of the previous years. "Own new S.CU raises our technological advantage, and remains the only device on the market that is equipped with a state-of-the-art direct injection common rail engine. The new cooling unit generation reduces fuel consumption by up to 10% in comparison with our extremely efficient predecessor. This not only makes it possible to provide an extremely quick cool-down and accurate temperature control, but we were also one of the first to meet to Stage V emission regulations," adds Schmitz. "Our high-performance cooling unit, combined with the web-based monitoring system and unique proactive service management provides continuously reliable control when transporting temperature-controlled freight. That is SMART!"
Readers also voted the transport solution provider from North Germany into second place in the Curtainsider category and third place in the Tipper category.
For the 24th time readers of ETM's trade publications, lastauto omnibus, trans aktuell and FERNFAHRER have recognised the best commercial vehicles.
The winning brands were determined in 26 different categories in collaboration with DEKRA and under notary supervision. The readers themselves judge the brand image and product quality. These awards represent an important indicator for the industry, given that the results of the poll provide tangible proof of customer opinions and preferences.
About Schmitz Cargobull:
With an annual production of around 46,100 trailers and with around 5,700 employees, Schmitz Cargobull AG is Europe's leading manufacturer of semi-trailers, trailers, and truck bodies for temperature-controlled freight, general cargo and bulk goods. The company achieved sales of approximately €1.87 billion in the 2019/2020 financial year. As a pioneer in the industry, the North German company developed a comprehensive brand strategy early on and consistently established quality standards spanning every level: from research and development, through production and service contracts, to trailer telematics, financing, spare parts, and used semi-trailers.


The Schmitz Cargobull press team:
| | |
| --- | --- |
| Anna Stuhlmeier: | +49 2558 81-1340 I anna.stuhlmeier@cargobull.com |
| Andrea Beckonert: | +49 2558 81-1321 I andrea.beckonert@cargobull.com |
| Silke Hesener: | +49 2558 81-1501 I silke.hesener@cargobull.com |
Schmitz Cargobull wins the "Best Brand 2020" award

Schmitz Cargobull wins the "Best Brand 2020" award