The pressure is on
Schmitz Cargobull offers its own tyre pressure monitoring system (TPMS)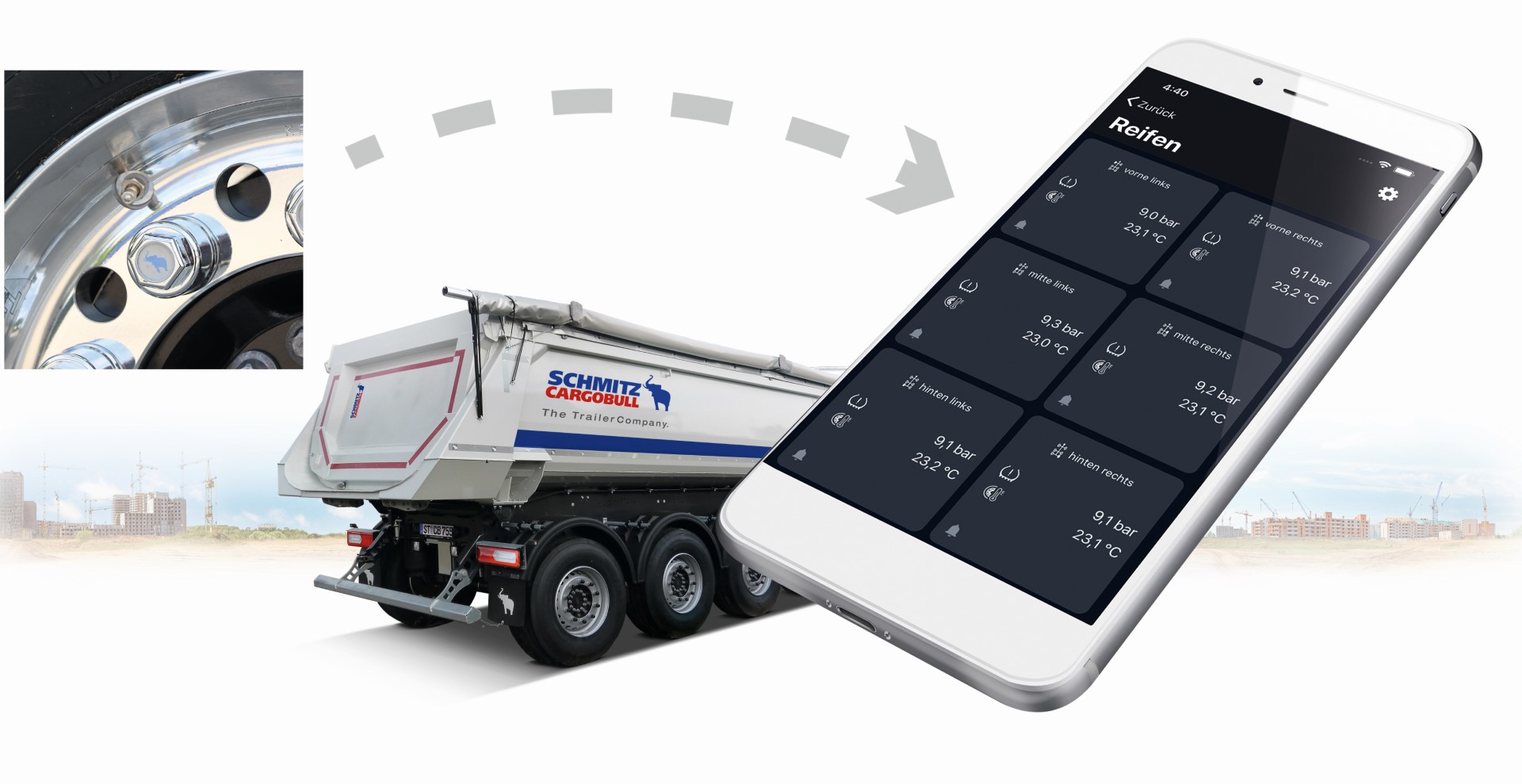 December 2020 – The right tyre pressure plays an important role when it comes to increasing fuel economy and transport safety. To help you keep an eye on this, Schmitz Cargobull offers its own tyre pressure monitoring system (TPMS). The right tyre pressure plays a decisive role in extending tyre service life, reducing fuel consumption and carbon emissions, and increasing fuel economy. The right level of tyre pressure makes it easier to control tyre technology, significantly improves the vehicle response, and also considerably increases driving safety.


• Sales campaign for TPMS in the S.KI tipper trailer
• Promoting safe and CO2-reducing equipment in tipper trailers
In 2021, the German Federal Government also intends to promote investments in modern trailer technologies as part of the "Fleet Renewal Programme for Commercial Vehicles". Subsidies are planned for technologies that contribute to reducing CO2 emissions in road transport. "With our TPMS for tipper trailers, our customers can already invest in an option that contributes to CO2 reduction and will most probably be promoted and subsidised as part of the German government's planned subsidy programme," explains Boris Billich, Chief Sales Officer at Schmitz Cargobull.
In addition, according to current assessments, it is thought that TPMS will be mandatory for all newly registered trailers from 2022. Schmitz Cargobull already offers its tyre pressure monitoring system for all three-axle S.KI tipper trailers in the S.KI 24 SL 7.2-10.5 and S.KI 24 SG 9.6 and 10.5 versions.
As part of a new sales campaign, customers now have the chance to have their S.KI tipper trailers equipped with the new telematics platform TrailerConnect® CTU3 including WiFi, the tyre pressure monitoring system sensors, and a 24-month alert tariff. This campaign is open to customers in all countries where Schmitz Cargobull offers its TrailerConnect® telematics system.
Tyre damage is a particularly big issue for tipper trailers. With the help of TPMS sensors, which measure both the pressure and temperature of your tyres, you can actively prevent flat tyres. Thanks to a permanent flow of real-time information and warnings about tyre pressure and tyre temperature levels, dispatchers or drivers can respond immediately and help to prevent flat tyres, breakdowns or even accidents.
The sensor is mounted directly to the wheel with a fabric strap and secured with a hook-and-loop fastening. The sensor is not visible from the outside, which offers optimum protection against manipulation. The protected mounting point on the wheel also prevents damage caused by external factors during tyre changes or transport jobs. Another advantage is that the mounting solution makes the sensors quick to install in the event of a tyre change and enables them to be used on the new tyre without any hassle. The tyre pressure sensors can be mounted on 19.5" as well as on 22.5" rims.
The tyre pressure monitoring system is managed via the Schmitz Cargobull trailer telematics system TrailerConnect® CTU3. The tyre pressure and temperature for each individual tyre can be viewed on the TrailerConnect® Portal and beSmart app by simply specifying the position of the wheel.
The TrailerConnect® portal can also be used to adjust the tyre pressure reference values. If any tyres deviate from these values, the stored contacts can be informed in real time via a portal notification, e-mail and/or SMS. Warnings are also displayed with an exclamation mark in the beSmart app. At the customer's request, this information can also be transferred to third-party systems via a standardised interface. The data can also be transferred to the tractor unit. However, the individual requirements must also be checked in advance in this case. Thanks to the extensive range of OEM-standard equipment fitted at the factory, no retrofitting work is required for the trailer telematics system or TPMS sensors.
The tyre pressure monitoring system can be combined with a tyre pressure refilling function, which Schmitz Cargobull can integrate at the customer's request. The tyre pressure refilling function keeps the inflation pressure in the individual tyre constant, warns in event of gradual air loss and with smaller defects, enables further travel to a workshop by refilling.
About Schmitz Cargobull:
With an annual production of around 46,100 trailers and with around 5,700 employees, Schmitz Cargobull AG is Europe's leading manufacturer of semi-trailers, trailers, and truck bodies for temperature-controlled freight, general cargo and bulk goods. The company achieved sales of approximately €1.87 billion in the 2019/2020 financial year. As a pioneer in the industry, the North German company developed a comprehensive brand strategy early on and consistently established quality standards spanning every level: from research and development, through production and service contracts, to trailer telematics, financing, spare parts, and used semi-trailers.


The Schmitz Cargobull press team:
| | |
| --- | --- |
| Anna Stuhlmeier: | +49 2558 81-1340 I anna.stuhlmeier@cargobull.com |
| Andrea Beckonert: | +49 2558 81-1321 I andrea.beckonert@cargobull.com |
| Silke Hesener: | +49 2558 81-1501 I silke.hesener@cargobull.com |
Image Tyre pressure monitoring system

Press Release Tyre pressure monitoring system