"Together for a better future"
Vion Food Group relies on aerodynamically optimised articulated vehicle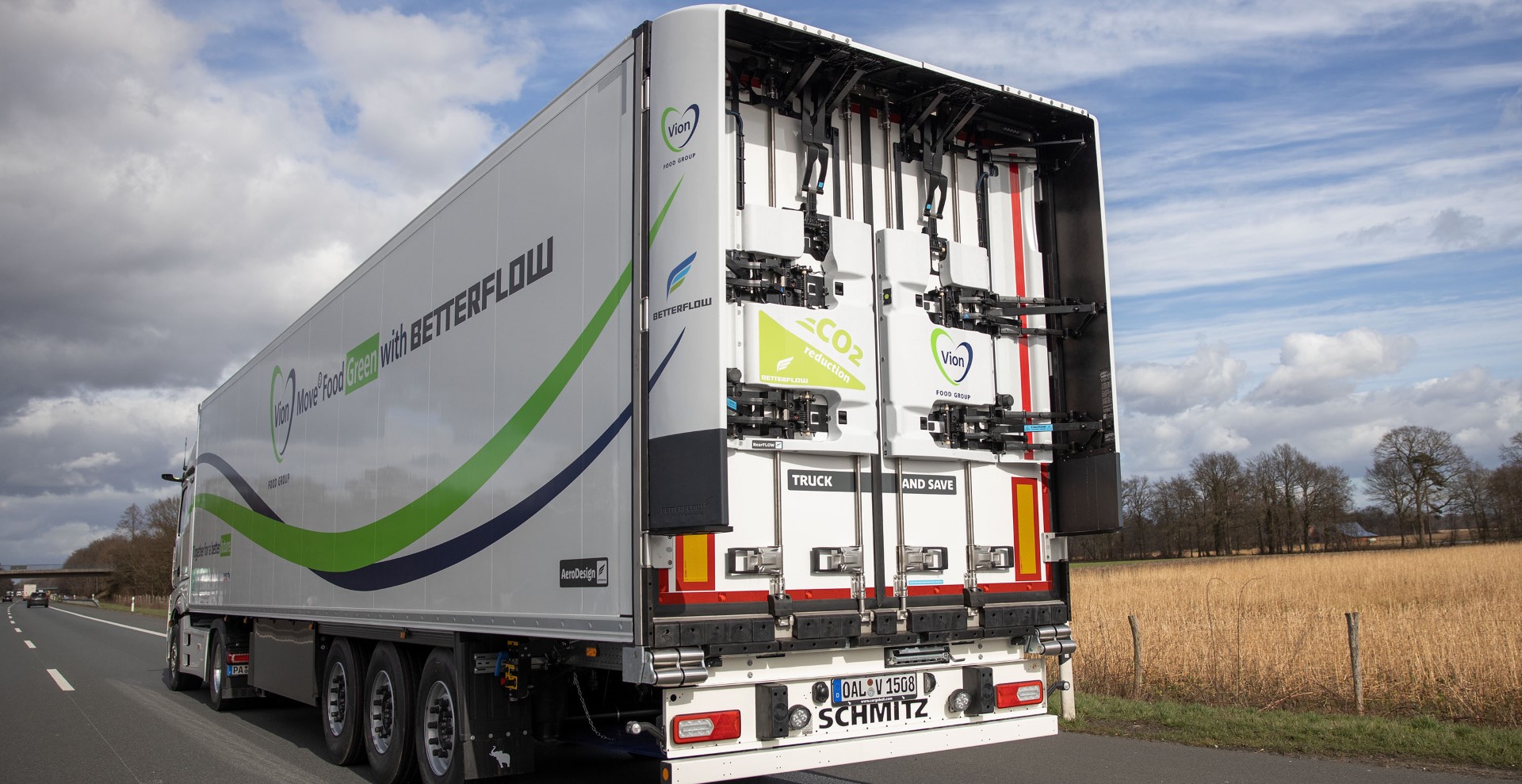 •
Aerodynamically optimised articulated vehicle (truck & trailer) in use at Vion is expected to reduce fuel consumption by 8%
•
The Vion Food Group, Mercedes-Benz Trucks, Schmitz Cargobull and Betterflow present highly efficient articulated vehicle together
Highly efficient articulated vehicle reduces fuel consumption and CO2 emissions
The international food producer Vion aims to reduce its fuel consumption and CO2 emissions by 8% in the coming years. To achieve this goal, Vion has launched a pilot project in cooperation with renowned partners from the logistics industry. In the presence of representatives from Schmitz Cargobull, Mercedes-Benz Trucks and the aerodesign specialist Betterflow, the first optimised articulated vehicle was handed over to Vion in mid-March under the motto "Together for a better future".
Saving fuel and the related CO2 emissions is one of the greatest challenges in road freight transport. "For the implementation of the project, Vion consciously opted for the latest-generation Schmitz Cargobull S.KO COOL box body semi-trailer containing the S.CU2 cooling unit with a high-efficiency common rail drive. This trailer concept reduces fuel consumption and CO2 emissions, and is supplemented by the aerodynamic components of the Betterflow system for enhanced sustainability in road freight transport," explains Frank Reppenhagen, Sales Manager Western Europe at Schmitz Cargobull.
To optimise the vehicle even further, Vion's other cooperation partners include the Aachen-based start-up Betterflow. The aerodesign specialists come from the aerospace industry and have set themselves the goal of optimising the air resistance of articulated vehicles. The Aachen engineers are adding three components to the trailer: an underbody membrane (LowFLOW), a spoiler on the bulkhead of the trailer (HighFLOW), and a rear wing system (RearFLOW), which opens automatically at a speed of 60 km/h and has been approved in the EU since last year.
To make the complete road train as efficient as possible, Vion uses a fuel-efficient Mercedes-Benz Actros 1848 LS 4x2 tractor unit.
"With this pilot test for future-oriented foodstuff logistics, we will now accumulate experience with the aim of gradually retrofitting our complete tubular track transport fleet in meat logistics," asserts Sven Janßen, Logistics Director at Vion. With around 300 trailers in Germany and the Netherlands, each with an annual average mileage of 100,000 km, Vion should consume far more than half a million litres less diesel, and thus reduce CO2 emissions by around 1,500 tonnes. "Anyone – like us at Vion – who wants to take responsibility for sustainable value creation along their entire supply chain cannot ignore the subject of mobility and logistics," explains the logistics director. "As a pioneer in the meat industry, we are thus taking the next logical step in the future-oriented supply of foodstuffs."
About Schmitz Cargobull:
With an annual production of around 46,100 trailers and with around 5,700 employees, Schmitz Cargobull AG is Europe's leading manufacturer of semi-trailers, trailers, and truck bodies for temperature-controlled freight, general cargo and bulk goods. The company achieved sales of approximately €1.87 billion in the 2019/2020 financial year. As a pioneer in the industry, the North German company developed a comprehensive brand strategy early on and consistently established quality standards spanning every level: from research and development, through production and service contracts, to trailer telematics, financing, spare parts, and used semi-trailers.


The Schmitz Cargobull press team:
| | |
| --- | --- |
| Anna Stuhlmeier: | +49 2558 81-1340 I anna.stuhlmeier@cargobull.com |
| Andrea Beckonert: | +49 2558 81-1321 I andrea.beckonert@cargobull.com |
| Silke Hesener: | +49 2558 81-1501 I silke.hesener@cargobull.com |
Image "Aerodynamic trailer" Vion

Image "Aerodynamic Trailer" Handover Vion

Press Release 2021-114 Vion

ZIP_Press Release 2021-114 Vion