The right curtainsider for every transport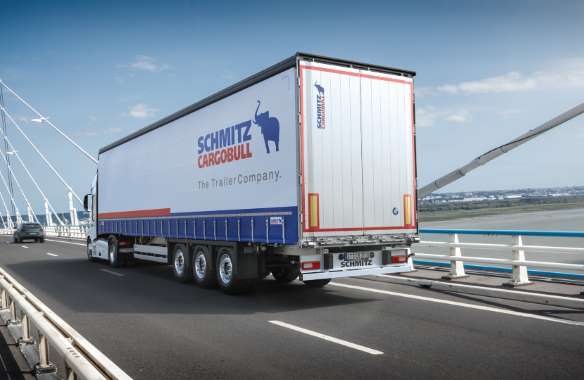 September 2020 - In keeping with the motto 100% SMART, the new curtainsider semi-trailer is now also factory fitted with Schmitz Cargobull trailer telematics as a standard feature. As a consistent continuation of its standardisation strategy Schmitz Cargobull now fits its new TrailerConnect® CTU trailer telematics hardware on S.CS curtainsider semi-trailers and the S.KO EXPRESS dry freight boxes as standard. All S.KO COOL SMART semi-trailers have been factory fitted with the TrailerConnect® CTU3 trailer telematics since 2018. The next step into the world of smart Schmitz Cargobull trailers is now being taken with the introduction of on-going product and service innovations. As a consequence, Schmitz Cargobull is the first and only trailer OEM to install standardised telematics even in non-refrigerated trailers.

The right curtainsider for every transport
• 100% SMART: New TrailerConnect® CTU trailer telematics now also available for curtainsiders
• S.CS X-LIGHT curtainsider semi-trailers are the lightweight design for high payloads from the Schmitz Cargobull modular system
• The especially strong POWER CURTAIN: fully certified for tyre transport
• 10-year warranty against rust-through on galvanised chassis
New: The S.CS X-LIGHT curtainsider semi-trailer from the Schmitz Cargobull modular system
Schmitz Cargobull offers its customers trailer solutions from sophisticated modular system that can efficiently handle any transport task. Every trailer is based on the galvanised and bolted chassis with roll-formed crossbeams for configured to match the customer's individual requirements with the highest industry standard: from the weight-optimised chassis for especially high payload requirements to the heavy-duty chassis for extreme road and usage conditions. The chassis can be combined with diverse body variants such as MEGA, COIL or PAPER bodies as well as a range of equipment options such as the lath-free POWER CURTAIN or the quick-opening SPEED CURTAIN tarpaulin.
The latest product highlight from Schmitz Cargobull's modular system is the S.CS UNIVERSAL X-LIGHT curtainsider semi-trailer. This 'lightweight' with an unladen weight starting at 4,975 kg enables maximum payload combined with proven Schmitz Cargobull robustness and value retention due to optimum corrosion protection. The X-LIGHT chassis design has been converted to the weight-optimised, galvanised and bolted chassis with roll-formed longitudinal beams.
The X-LIGHT chassis can be optimally combined with the POWER CURTAIN body, which does not require any laths unlike the standard body. The POWER CURTAIN's structural strength is certified according DIN EN 12642 Code XL. Optionally, the body can also be equipped in compliance with the beverage certificate and DL guideline 9.5. Integrated tarpaulin loops provide a simple means of load securing at the rear.
Tyre certificate for the POWER CURTAIN
The lath-free POWER CURTAIN body with tyre certificate is also new. The POWER CURTAIN has been enhanced to enable the transport of tyres and other bulk goods to meet the special requirements regarding side wall stability and load securing. As a result, the POWER CURTAIN body is fully certified for any type of transported goods, in particular loose goods that place heavy demands on the stability of the side walls, with form-fitting loading. This makes the lath-free body a practical, universal transport solution in the curtainsider semi-trailer sector.
Schmitz Cargobull offers a 10-year warranty on all galvanised parts of the chassis. Schmitz Cargobull launched the galvanised chassis in 2002 and has delivered around 500,000 semi-trailers since then. The galvanisation makes the chassis corrosion-resistant and offers optimum protection against rust-through. Recent years have shown that the hot-dip galvanised crossbeams offer even greater stability and load-bearing capacity, as the roll-formed crossbeams are manufactured in a single piece using a cold-formed design. As the properties of the steel are not mechanically altered by welding processes during this process, this significantly improves the robustness. Possible cracks or adhesive defects in welds can no longer occur and this approach guarantees high manufacturing precision for the subsequent industrial production process. The bolted technology also makes the chassis easier to repair and maintain. Galvanising offers the optimum surface protection for commercial vehicles, as the conventional mechanical stresses of everyday transport, such as loading and unloading with forklift trucks or due to stone chipping, do not have any permanent impact.
Acerca de Schmitz Cargobull:
Con una producción anual de aprox. 61,000 semirremolques y con cerca de 6,900 empleados, Schmitz Cargobull AG es el principal fabricante europeo de semirremolques, tráileres y carrocerías para camión rígido para mercancías refrigeradas, carga general y material a granel. En el ejercicio 2021/2022 se alcanzó una facturación de aprox. 2.300 millones de euros. Como pionera del sector, la empresa de Münsterland, Alemania desarrolló desde el primer momento una estrategia integral de mercado y definió estándares de calidad coherentes a todos los niveles: desde la investigación y el desarrollo, pasando por la producción y los contratos de servicio técnico, hasta telemática para semirremolques, financiación, suministro de piezas de repuesto y vehículos de ocasión.
El equipo de prensa de Schmitz Cargobull:
| | |
| --- | --- |
| Luis Bonasa: | +34 976 613 200 - 5230 I luis.bonasa@cargobull.com |
| Raquel Villarroya: | +34 976 613 200 - 5229 I raquel.villarroya@cargobull.com |
| Anna Stuhlmeier: | +49 2558 81-1340 I anna.stuhlmeier@cargobull.com |
The right curtainsider for every transport 

The right curtainsider for every transport 1