City campaign
The S.KO CITY box body semi-trailer for food distribution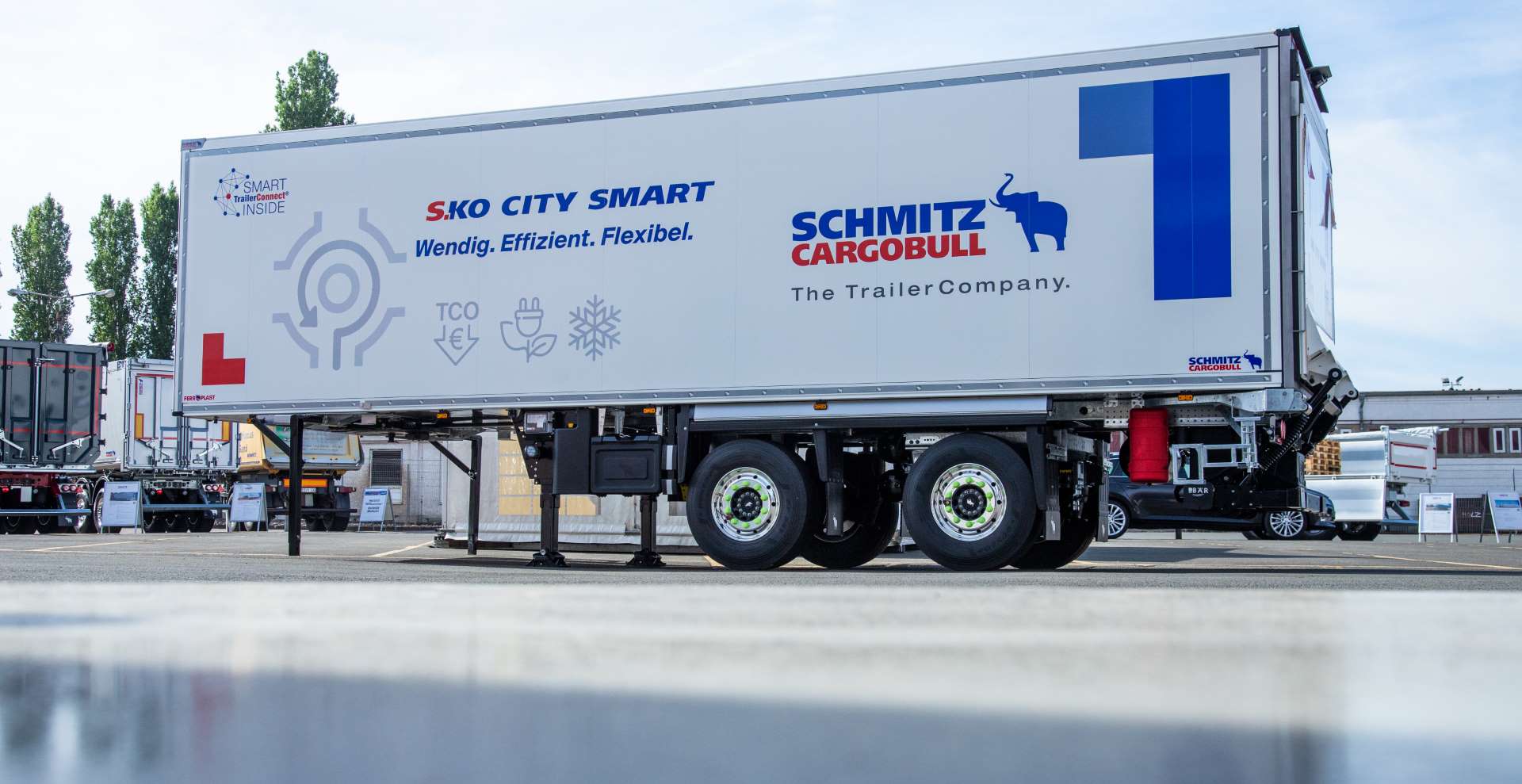 Twin-axle, force-steered body
With electric cooling unit S.CUe
100% SMART thanks to TrailerConnect® telematics system fitted as standard

The S.KO CITY box body semi-trailer for food distribution
June 2022 – The twin-axle S.KO CITY box body semi-trailer fitted with FERROPLAST® panels and manoeuvrable, low-maintenance forced steering system, as well as an axle lift on the first axle is especially suited to town centres and urban areas, regardless of whether it is being used to transport fresh or frozen goods. Thanks to the TrailerConnect® telematics system, which is fitted as standard, this vehicle is also a member of Schmitz Cargobull's SMART generation.
The vehicle was developed especially for distributing food in urban areas, where transport work is characterised by a wide range of products, frequent loading and unloading, and driving in a busy city environment. Thanks to the forced steering system, the vehicle is extremely easy to manoeuvre, thus enabling it tackle even narrow streets, entrances, courtyards or mini roundabouts without wasting any time. The S.KO CITY is primarily used to distribute goods for discount chains and full-range suppliers, but is also used by a wide range of logistics companies. Another important decision-making criterion is compliance with the strict sound emission regulations that apply in residential areas. The S.KO CITY is well below the 60 dB loading and unloading limit applicable during the early morning and night hours, significantly reducing noise levels in commercial areas that border on residential areas.
Flexible equipment packages give transport firms the chance to adapt the trailer to their transport and logistics needs. For example, they have the option to order longitudinal and lateral partitions for trailers in the multi-temp sector. What is more, a wide array of vertical and horizontal load securing options are also available, along with various securing elements for containers and pallets in conjunction with an airline or multifunction floor.
The S.KO CITY is equipped with an electric S.CUe cooling unit, meaning that no carbon emissions are generated from refrigeration. The power for the electric cooling unit is generated by a hydraulic generator in the tractor unit.
The FERROPLAST® body improves insulation by 10%. New panels also improve the K-value (thermal transmittance) which opens up the flexibility for ATP solutions. Compared to the previous generation, the body is around two percent lighter, while still delivering the same level of insulation.
Thanks to the modular chassis, damaged components can be replaced quickly and easily. This helps to save time and costs in the event of damage, helping to improve the TCO, total cost of ownership.
The S.KO CITY is equipped with Dynamic Ramp Protection DRP 3.0, which provides ideal protection from damage when the vehicle is on a ramp. Nearly 60 kg of weight could be saved, which has a positive effect on the payload potential. The modular rear body enables individual parts to be retrofitted where necessary. This reduces both downtime and costs in the event of repairs.
Further cost savings are achieved with the lifting front axle. If the trailer is not fully loaded, the axle is lifted, which not only helps to reduce tyre wear, but also improves the drive axle's traction on the road.
The central electrics box contains all electrical connections in one easy-to-access location. So, when it comes to retrofitting new electrical options and functions, all electrical connections can be found in one location with complete documentation. This allows for flexible access, maintenance and servicing for all electrical components.
The new swivelling access ladder is yet another safety feature. With two steps on both sides, it provides convenient and safe access to the vehicle. The larger, height-adjustable rungs feature an anti-slip surface. The ladder is made from galvanised steel, is bolted in place, durable and also easy to repair thanks to its solid design. Safety is enhanced even further with the "Safety Start" option. When the ladder is folded out, the brake is activated at the same time. So if the vehicle drives off with the ladder still folded out, the trailer is automatically braked.
Acerca de Schmitz Cargobull:
Con una producción anual de aprox. 61,000 semirremolques y con cerca de 6,900 empleados, Schmitz Cargobull AG es el principal fabricante europeo de semirremolques, tráileres y carrocerías para camión rígido para mercancías refrigeradas, carga general y material a granel. En el ejercicio 2021/2022 se alcanzó una facturación de aprox. 2.300 millones de euros. Como pionera del sector, la empresa de Münsterland, Alemania desarrolló desde el primer momento una estrategia integral de mercado y definió estándares de calidad coherentes a todos los niveles: desde la investigación y el desarrollo, pasando por la producción y los contratos de servicio técnico, hasta telemática para semirremolques, financiación, suministro de piezas de repuesto y vehículos de ocasión.
El equipo de prensa de Schmitz Cargobull:
| | |
| --- | --- |
| Luis Bonasa: | +34 976 613 200 - 5230 I luis.bonasa@cargobull.com |
| Raquel Villarroya: | +34 976 613 200 - 5229 I raquel.villarroya@cargobull.com |
| Anna Stuhlmeier: | +49 2558 81-1340 I anna.stuhlmeier@cargobull.com |