Smart equipment for securing vehicles and their cargo
Protect vehicle and goods safely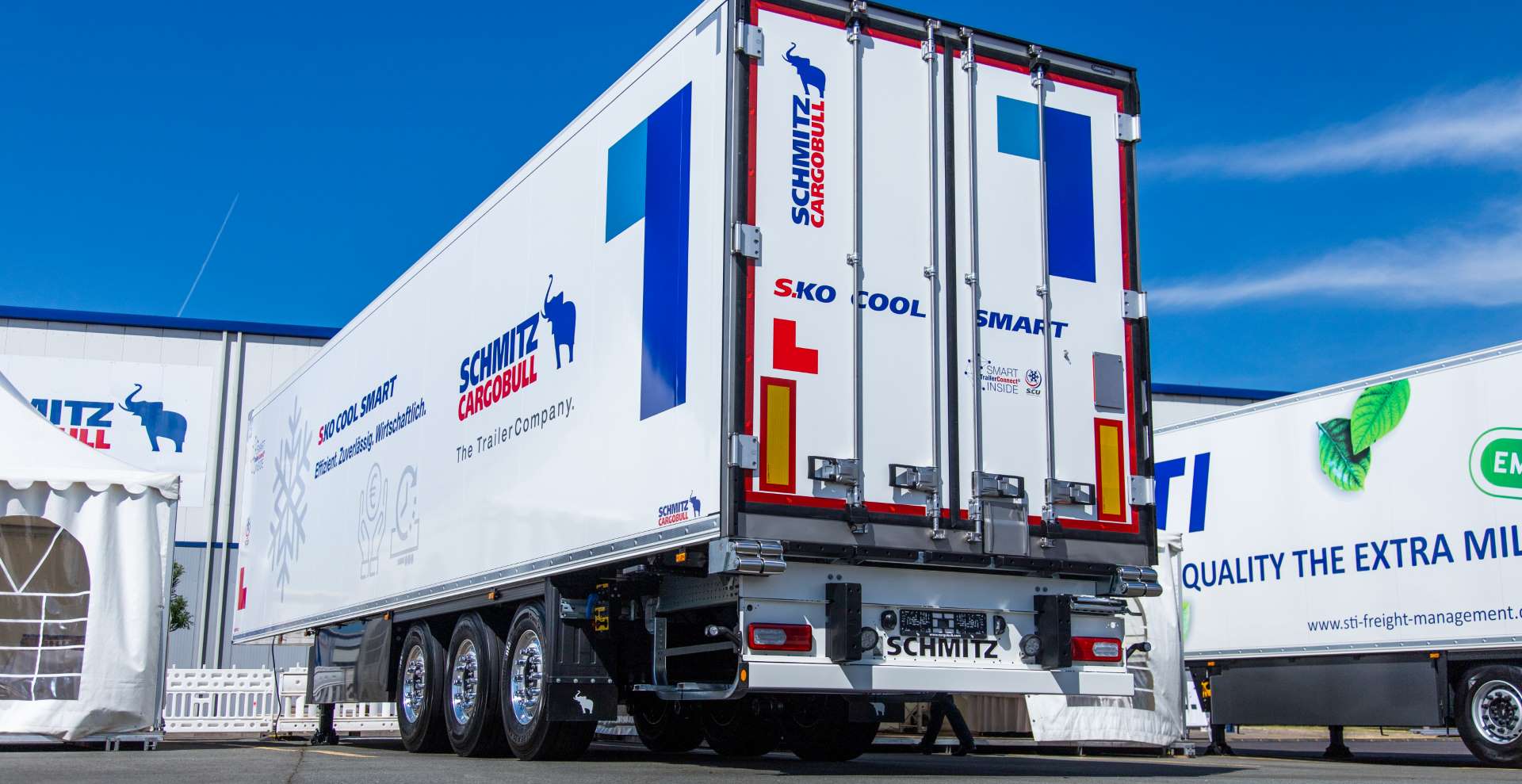 June 2022 – Schmitz Cargobull offers additional equipment to support the security of vehicles and their cargo

Smart equipment for securing vehicles and their cargo 
Flashing side marking lights
Schmitz Cargobull equips vehicles with flashing side marking lights as standard to enable turning manoeuvres to be detected at an early stage. These are designed primarily to help prevent accidents that occur while turning. For example, cyclists riding next to the trailer can become aware of the turning manoeuvre much earlier thanks to the flashing side marking lights, enabling them to respond accordingly.
Dynamic ramp protection
Almost 40% of all Schmitz Cargobull customers have now opted for the dynamic rear ramp protection (DRP). In the new 3.0 version, the conical roller bumpers cushion the impact with the ramp continuously and more gently. Nearly 60 kg of weight could be saved, which has a positive effect on the payload potential. Thanks to the modular rear body,
individual components can also be retrofitted if necessary. This reduces both downtime and costs in the event of repairs.
"Pharma" utility package
Schmitz Cargobull box body semi-trailers are certified for the transportation of pharmaceutical products.
Refrigerated trailers automatically receive all relevant pieces of equipment with this package. When transporting pharmaceutical products temperature reliability has the highest priority. Transporters are required to adhere strictly to the defined temperature ranges. To enable any fluctuations to be detected at an early stage, hidden data loggers are installed for added observation and continuous monitoring of the cargo. In addition to uninterrupted,long-term temperature monitoring, good air and temperature distribution are also important, as is adherence to the special hygiene requirements that apply to the S.KO COOL box body semi-trailer. The cooling unit is another important piece of equipment. The Schmitz Cargobull Transport Cooling Unit S.CU features a powerful cooling and heating performance with two or four specially calibrated temperature sensors that are suitable for pharmaceuticals, a temperature recorder and an optional Schmitz Cargobull multi-temp partition wall (without a fan) plus a circulation wall for verified air and temperature distribution in the body. Here, Schmitz Cargobull not only offers its own transport cooling unit, but also all conventional third-party models.
CIS Cargobull Interface System
The CIS is used to monitor data such as the charge level of the cooling unit's battery. To help ensure that operation of the cooling unit is not interrupted and, in turn, that goods are kept at the right temperature, the cooling unit's battery is monitored. If the charge level is critical or if a pre-set threshold is reached, periphery devices are switched off first, followed by the TrailerConnect® unit to help maintain the cooling performance as long as possible.
The CIS is also used for tractor unit recognition. If the tractor unit is equipped with a corresponding RFID tag, the built-in receiver can identify the tractor via radio signal.
This information is displayed in the TrailerConnect® Portal. The CIS has a wireless LAN repeater for this purpose, which ensures an optimum range and stability of the CTU-3 wireless LAN. The increased availability and stability of the wireless LAN offers the driver much more convenient use of the CTU-3 functions, particularly via the beSmart app on their smartphone.
Solar panel
A solar panel on the Schmitz Cargobull S.CU transport cooling unit helps to prevent deep discharging of the cooling unit's starter battery. Due to long idle times, especially in winter, or through additional loads such as a temperature recorder, discharging of the starter battery can occur. If deep discharging does occur, the battery will be damaged and have to be replaced. With the new S.CU solar panel, such complicated and costly situations can be avoided. Using the solar panel, the starter battery for the S.CU transport cooling unit is charged, keeping it ready for action for an extended period. The S.CU's solar module is installed directly on the cooling unit. This has the advantage that the trailer's overall height is not affected. Thanks to the tilt angle of the panel, soiling as well as snow and ice accumulation is minimised, which means that its efficiency is not affected even in winter. Another advantage is that the solar module can also be retrofitted on existing S.CU transport cooling units. Schmitz Cargobull has put together a special retrofit kit that customers can order from their Schmitz Cargobull service partner and then have it installed.
Acerca de Schmitz Cargobull:
Con una producción anual de aprox. 61,000 semirremolques y con cerca de 6,900 empleados, Schmitz Cargobull AG es el principal fabricante europeo de semirremolques, tráileres y carrocerías para camión rígido para mercancías refrigeradas, carga general y material a granel. En el ejercicio 2021/2022 se alcanzó una facturación de aprox. 2.300 millones de euros. Como pionera del sector, la empresa de Münsterland, Alemania desarrolló desde el primer momento una estrategia integral de mercado y definió estándares de calidad coherentes a todos los niveles: desde la investigación y el desarrollo, pasando por la producción y los contratos de servicio técnico, hasta telemática para semirremolques, financiación, suministro de piezas de repuesto y vehículos de ocasión.
El equipo de prensa de Schmitz Cargobull:
| | |
| --- | --- |
| Luis Bonasa: | +34 976 613 200 - 5230 I luis.bonasa@cargobull.com |
| Raquel Villarroya: | +34 976 613 200 - 5229 I raquel.villarroya@cargobull.com |
| Anna Stuhlmeier: | +49 2558 81-1340 I anna.stuhlmeier@cargobull.com |