The aerodynamic S.CS EcoFLEX trailer wins the European Transport Award for Sustainability 2022
The award-winning vehicle is part of the Schmitz Cargobull EcoGeneration, and won the award in the Semi-trailers category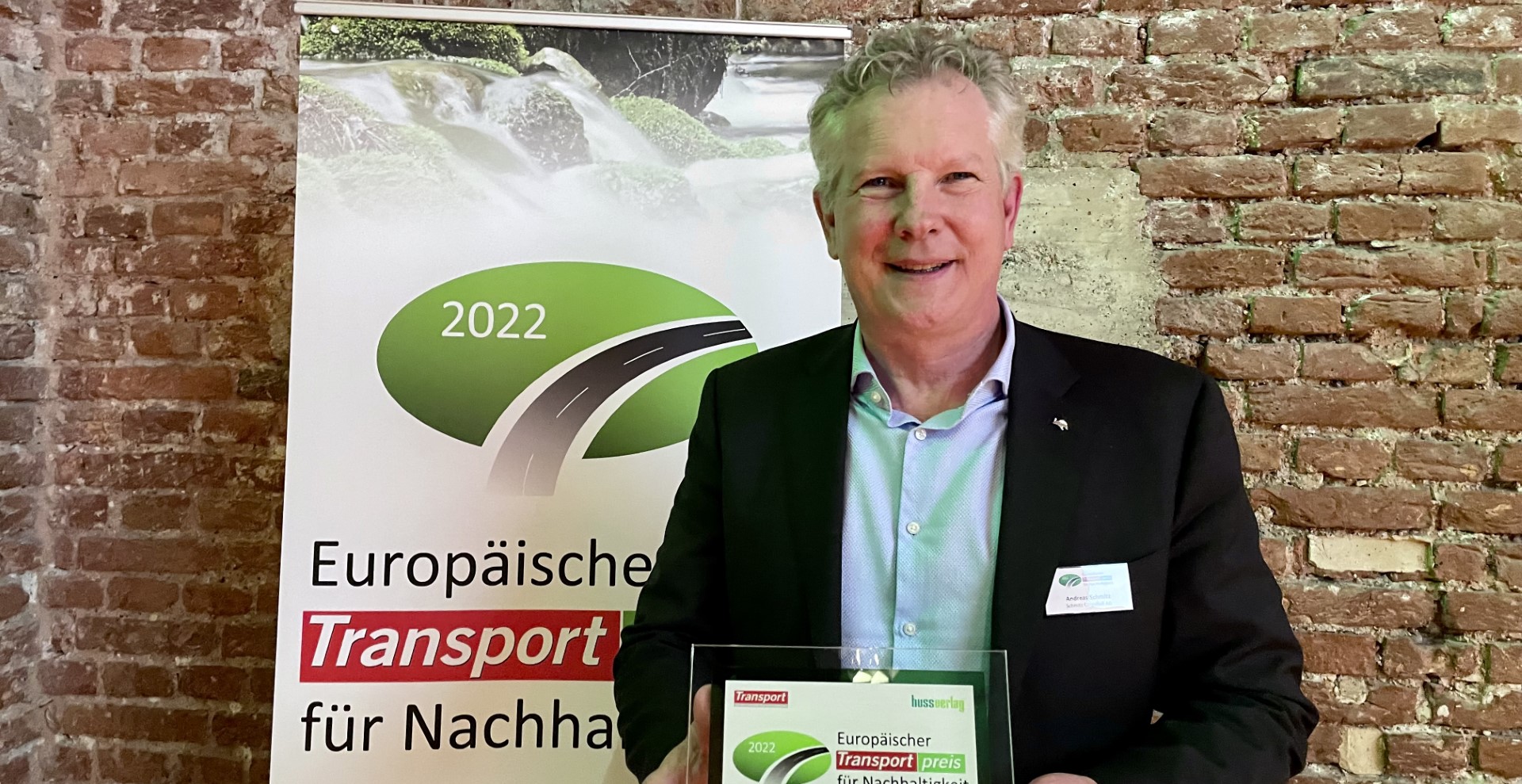 November 2021 – Schmitz Cargobull has again been awarded one of the coveted sustainability awards presented by Huss-Verlag. This year, the aerodynamic S.CS EcoFLEX curtainsider semi-trailer convinced the jury in the Semi-trailers category. The vehicle is part of the Schmitz Cargobull EcoGeneration.

"The European Transport Award for Sustainability confirms both our efforts and our mission to continue offering customers practical and sustainable transport solutions," explains Andreas Schmitz, CEO of Schmitz Cargobull AG, with pleasure. "When used on the road, the EcoFLEX achieves fuel savings of up to 10%. In view of rising diesel prices and the necessity of reducing CO2 emissions, decreasing fuel consumption through practical measures is becoming increasingly important. The EcoGeneration curtainsiders are capable of significantly reducing both fuel costs and the vehicle's carbon footprint. Thanks to the aerodynamic trailer, freight forwarders can save real money, without having to resort to expensive and damage-prone attachments. The higher purchase price pays off after only two years," adds Schmitz.


 Fuel savings of up to 10%
The EcoFLEX curtainsider semi-trailer concept represents another innovative contribution by Schmitz Cargobull to even greater fuel savings and CO
2
reduction for road freight transport. The sustainable concept is as simple as it is effective: The body of the EcoFLEX slopes to the rear, drastically reducing aerodynamic drag. This concept offers huge potential savings, particularly for heavy transport jobs that do not require the full height of the cargo area.
If the full loading volume is required, the rear of the EcoFLEX can be raised flexibly. The height of the tarpaulin can be adjusted to match the body height, and always fulfils the legal total height. By raising rear of the aerodynamic body, freight forwarders can flexibly react to changing transport tasks.
The European Transport Award for Sustainability is awarded every year in a number of categories by an independent panel of experts. The award aims to encourage companies in the transport and commercial vehicle sector and help to more strongly anchor the principles of sustainable development. The jury consists of renowned experts in the commercial vehicle sector from industrial and scientific fields, trade associations and the media. Over the years, Schmitz Cargobull has repeatedly won these awards with the last one in the Concept + Initiative category for the EcoDuo transport combination in 2019.
About Schmitz Cargobull:
With an annual production of around 46,100 trailers and with around 5,700 employees, Schmitz Cargobull AG is Europe's leading manufacturer of semi-trailers, trailers, and truck bodies for temperature-controlled freight, general cargo and bulk goods. The company achieved sales of approximately €1.87 billion in the 2019/2020 financial year. As a pioneer in the industry, the North German company developed a comprehensive brand strategy early on and consistently established quality standards spanning every level: from research and development, through production and service contracts, to trailer telematics, financing, spare parts, and used semi-trailers.


The Schmitz Cargobull press team:
| | |
| --- | --- |
| Anna Stuhlmeier: | +49 2558 81-1340 I anna.stuhlmeier@cargobull.com |
| Andrea Beckonert: | +49 2558 81-1321 I andrea.beckonert@cargobull.com |
| Silke Hesener: | +49 2558 81-1501 I silke.hesener@cargobull.com |
Andreas Schmitz receives the European Transport Award for Sustainability for the S.CS EcoFLEX

Press Release: The aerodynamic S.CS EcoFLEX trailer wins the European Transport Award for Sustainability 2022