New dry freight box S.BO PACE from Schmitz Cargobull
Now available across Europe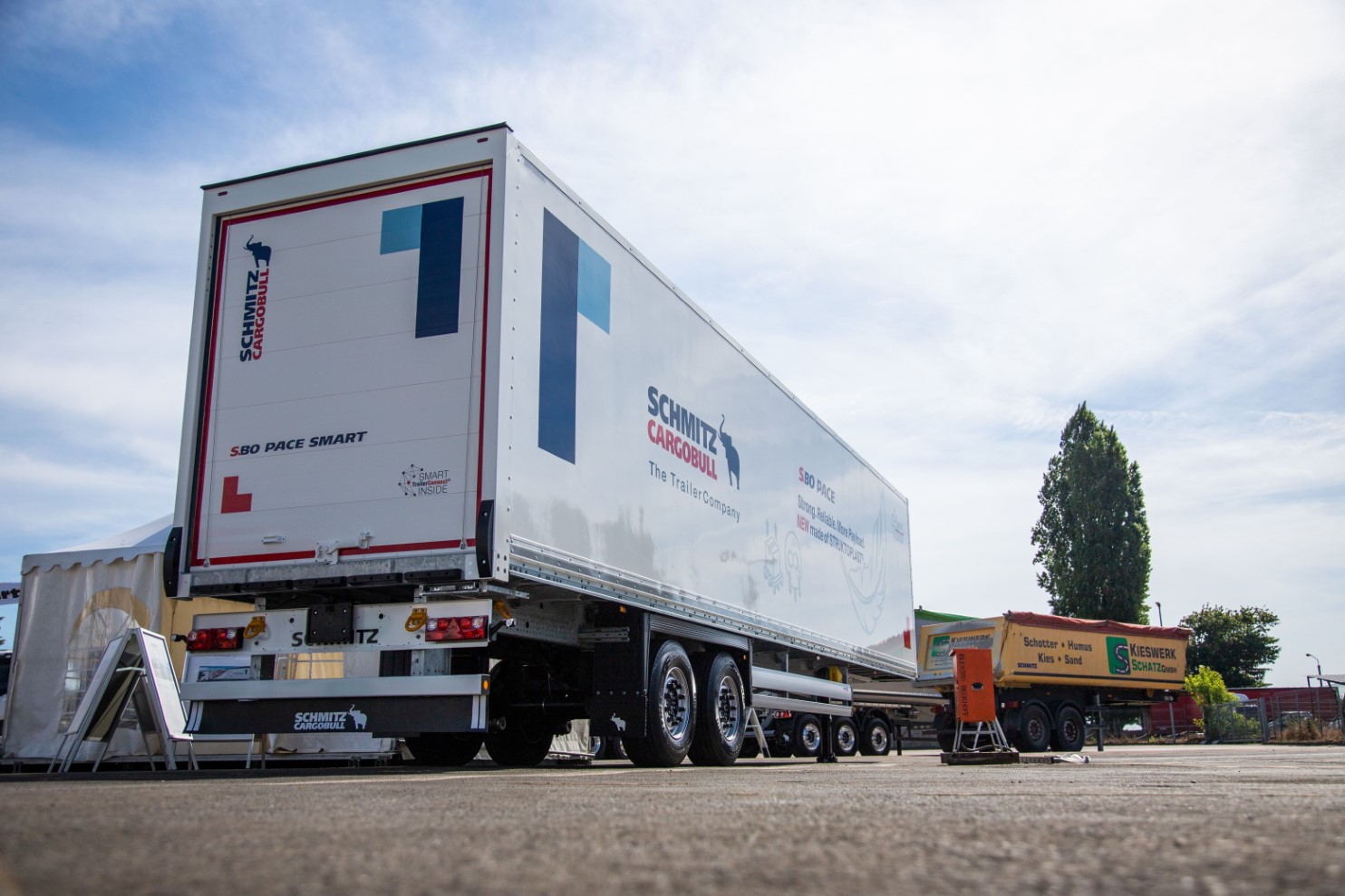 New Schmitz Cargobull dry freight box body S.BO PACE now available across Europe

S.BO PACE produced in Manchester factory for the UK and in Spain for the mainland European market

Stable, lightweight body made from STRUKTOPLAST

S.BO is Schmitz Cargobull's new product name for dry freighters

Now available across Europe
June 2022 – The new S.BO PACE dry freight box body is now also coming to the continental European market and will be manufactured at the Schmitz Cargobull production plant in Zaragoza, Spain. Back in late 2021, Schmitz Cargobull presented the new S.BO PACE box body for dry freight and CEP transport made in its British plant for Great Britain and Ireland. Featuring a fully modular design, the dry freight box body is 100% SMART, which means it is equipped with TrailerConnect® trailer telematics as standard. The body is made from innovative STRUKTOPLAST panels. Thanks to the light, honeycomb-shaped panels, each trailer weighs around 600 kg less than similar vehicle models in this segment.
The S.BO PACE is primarily geared towards transport companies in the package and dry freight sector. It is certified to DIN EN 12642 code XL and offers a wide range of options, such as load securing rails, a translucent roof, a tail lift and two different door options: a tailgate or aluminium doors. Furthermore, the ROTOS running gears come with a warranty for 1,000,000 km or six years*.
The vehicle can be equipped with a number of load securing components, such as package securing nets or gates at the rear. The floor load capacity is 5.5 t as standard or there is the option to increase it to 7.1 t or 8.0 t in vehicles that have to transport heavy loads or floor conveyors. Schmitz Cargobull's standard TrailerConnect® telematics system delivers intelligent connectivity and supports swift diagnostics and the rapid processing of data collected from all components.
To coincide with its new trailer, Schmitz Cargobull is also launching a new name for vehicles in its Dry Freight product line: As has always been the case, S.KO is used for all vehicles that transport temperature-controlled freight, while S.BO (= semi-trailer box) is the new name for dry freighters. In addition to the new S.BO PACE, Schmitz Cargobull offers other vehicles in this segment, such as the proven S.BO EXPRESS with FERROPLAST panels or the robust S.BO Steel steel box body.
* Depending on which arises first
About Schmitz Cargobull:
With an annual production of around 46,100 trailers and with around 5,700 employees, Schmitz Cargobull AG is Europe's leading manufacturer of semi-trailers, trailers, and truck bodies for temperature-controlled freight, general cargo and bulk goods. The company achieved sales of approximately €1.87 billion in the 2019/2020 financial year. As a pioneer in the industry, the North German company developed a comprehensive brand strategy early on and consistently established quality standards spanning every level: from research and development, through production and service contracts, to trailer telematics, financing, spare parts, and used semi-trailers.


The Schmitz Cargobull press team:
| | |
| --- | --- |
| Anna Stuhlmeier: | +49 2558 81-1340 I anna.stuhlmeier@cargobull.com |
| Andrea Beckonert: | +49 2558 81-1321 I andrea.beckonert@cargobull.com |
| Silke Hesener: | +49 2558 81-1501 I silke.hesener@cargobull.com |
Press Release + Pictures: Dry Freight S.BO PACE

Press Release: Dry Freight S.BO PACE - DE

Press Release: Dry Freight S.BO PACE

Pictures: Dry Freight S.BO PACE