Rubetrans Logistics drives the first type-approved 100% fully electric Schmitz Cargobull semi-trailer in Germany
Market leader in the refrigerated box sector hands over the zero-emission vehicle to the food logistics company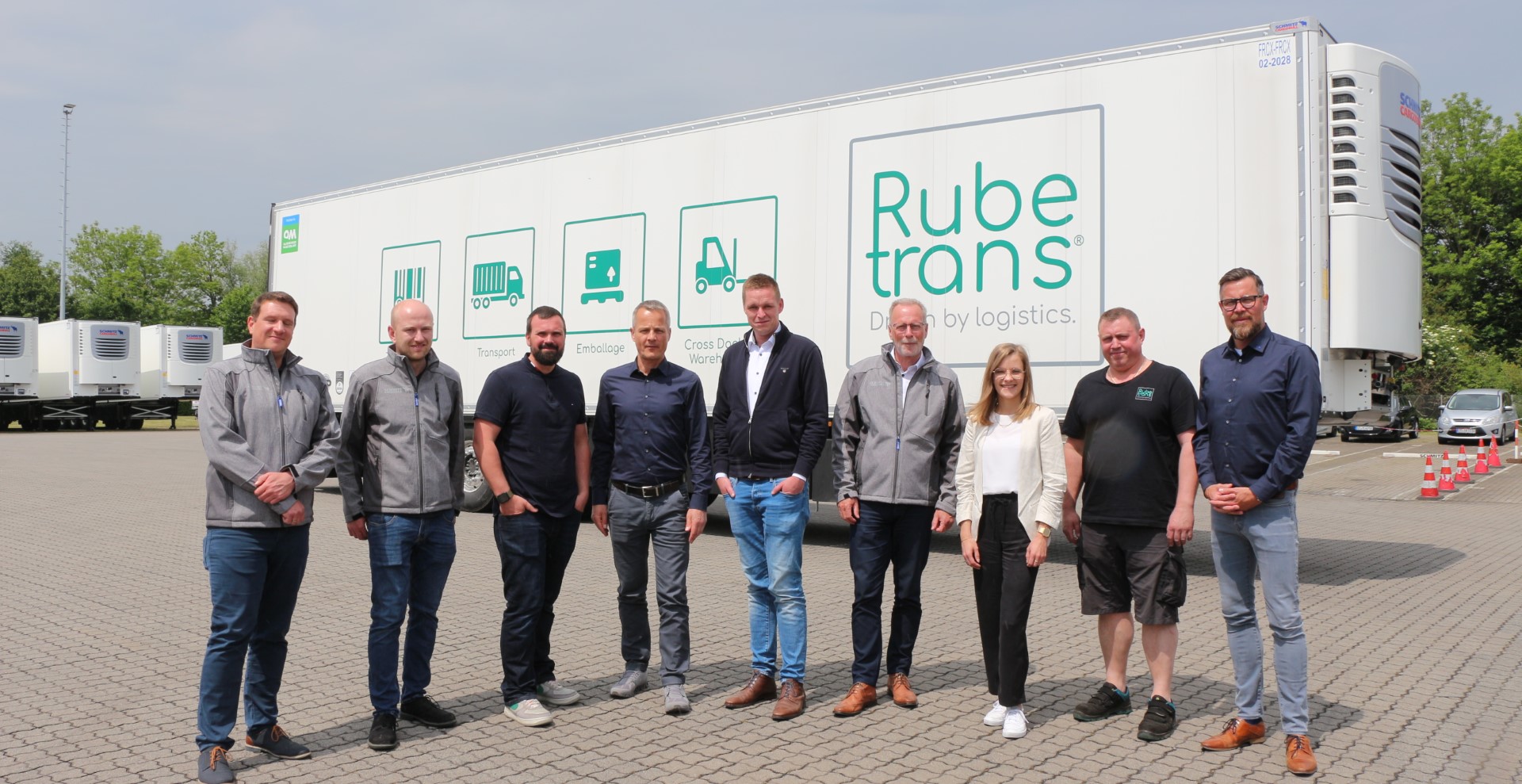 July 2023 - Another step towards sustainable freight transport in Europe has been taken! After Schmitz Cargobull delivered an all-electric semi-trailer to Romania a few weeks ago, Fabian Diekmann, Fleet Manager at Rubetrans Logistics GmbH & Co. KG, has taken delivery of his fully electric refrigerated semi-trailer from Frank Reppenhagen, Head of Sales for Germany and Western Europe at Schmitz Cargobull.
Before the handover at the Schmitz Cargobull site in Altenberge, an in-depth and detailed demonstration and practical application of the vehicle was on the agenda.
The all-electric refrigerated box is used in hub-to-hub transport to the food distribution centres of major food logistics companies.

The all-electric S.KOe COOL stands for innovation and sustainability
"Fuel and CO2 savings are the main reasons for purchasing this vehicle. Sustainability is very important to us as a family business and it is also important in many other areas of our company. We are happy to be able to further advance the electrification of freight transport with this vehicle and to act as a trend-setter for the entire transport industry," says Diekmann.
Reppenhagen says: "The business partnership between Rubetrans Logistics and Schmitz Cargobull is characterised by a long-standing and trusting collaboration. We are particularly pleased to be able to provide Rubetrans Logistics with an efficient and sustainable vehicle for temperature-controlled transport in the form of the S.KOe COOL all-electric refrigerated box. For us, it is always very important to get insights from practical experience. Rubetrans Logistics can reliably provide us with this."

The all-electric S.KOe COOL stands for innovation and sustainability. Schmitz Cargobull has now become the first trailer manufacturer to officially include the electric generator axle of the S.KOe COOL semi-trailer in its overall vehicle type approval, making it a pioneer in the trailer industry as a commercial vehicle manufacturer. The approval has been officially granted by the German Federal Motor Transport Authority.

Equipped with state-of-the-art electric technology, including the powerful S.CU ep85 refrigeration unit with integrated power electronics, a high-voltage battery and e-axle, it enables zero-emission refrigerated transport and contributes to reducing the environmental footprint in transport. The emission-free refrigeration machine also operates extremely quietly. This means that in urban areas deliveries can be made in the early morning hours as well as in the late evening. The electrically powered S.CU ep85 refrigeration unit is designed for emission-free cooling and heating of the load and offers a cooling capacity of up to 15,800 watts and a heating capacity of 10,500 watts. Batteries at the support winch replace the diesel tank and offer the possibility to install a pallet box with space for 36 pallets. The electrified Schmitz Cargobull trailer axle recuperates energy during braking processes, extending the operating time of the refrigeration machine and reducing the recharging times of the battery via the power grid.

From trucker to sustainability specialist
Rubetrans Logistics is known for its reliable and sustainable transport of foodstuffs in Germany and neighbouring countries. Since 1992, the medium-sized and family-run company has operated in all areas of logistics and has also implemented the system of crossdocking as well as establishing itself as a manufacturer of packaging solutions. In order to continue offering sustainable and environmentally friendly transport solutions in the future, Rubetrans Logistics has adapted its strategy based on the EU Green Deal. Through the use of BIO-LNG, the extensive testing of full electric tractor units, establishment of sustainable electrified vehicles as well as source area crossdocking, the logistics processes are made as sustainable as possible - for the benefit of customers and the environment. www.rubetrans.eu


Caption: Representatives of Schmitz Cargobull and Rubetrans at the handover of the first type-approved all-electric S.KOe COOL semi-trailer in Germany.
About Schmitz Cargobull:
With an annual production of around 46,100 trailers and with around 5,700 employees, Schmitz Cargobull AG is Europe's leading manufacturer of semi-trailers, trailers, and truck bodies for temperature-controlled freight, general cargo and bulk goods. The company achieved sales of approximately €1.87 billion in the 2019/2020 financial year. As a pioneer in the industry, the North German company developed a comprehensive brand strategy early on and consistently established quality standards spanning every level: from research and development, through production and service contracts, to trailer telematics, financing, spare parts, and used semi-trailers.


The Schmitz Cargobull press team:
| | |
| --- | --- |
| Anna Stuhlmeier: | +49 2558 81-1340 I anna.stuhlmeier@cargobull.com |
| Andrea Beckonert: | +49 2558 81-1321 I andrea.beckonert@cargobull.com |
| Silke Hesener: | +49 2558 81-1501 I silke.hesener@cargobull.com |
Image: Handover of the the zero-emission vehicle to Rubetrans Logistics

Press Release: "Rubetrans Logistics drives the first type-approved 100% fully electric Schmitz Cargobull semi-trailer in Germany"