Expansion of the product portfolio
The new A.WF trailer swap chassis and Z.WF central axle swap chassis from Schmitz Cargobull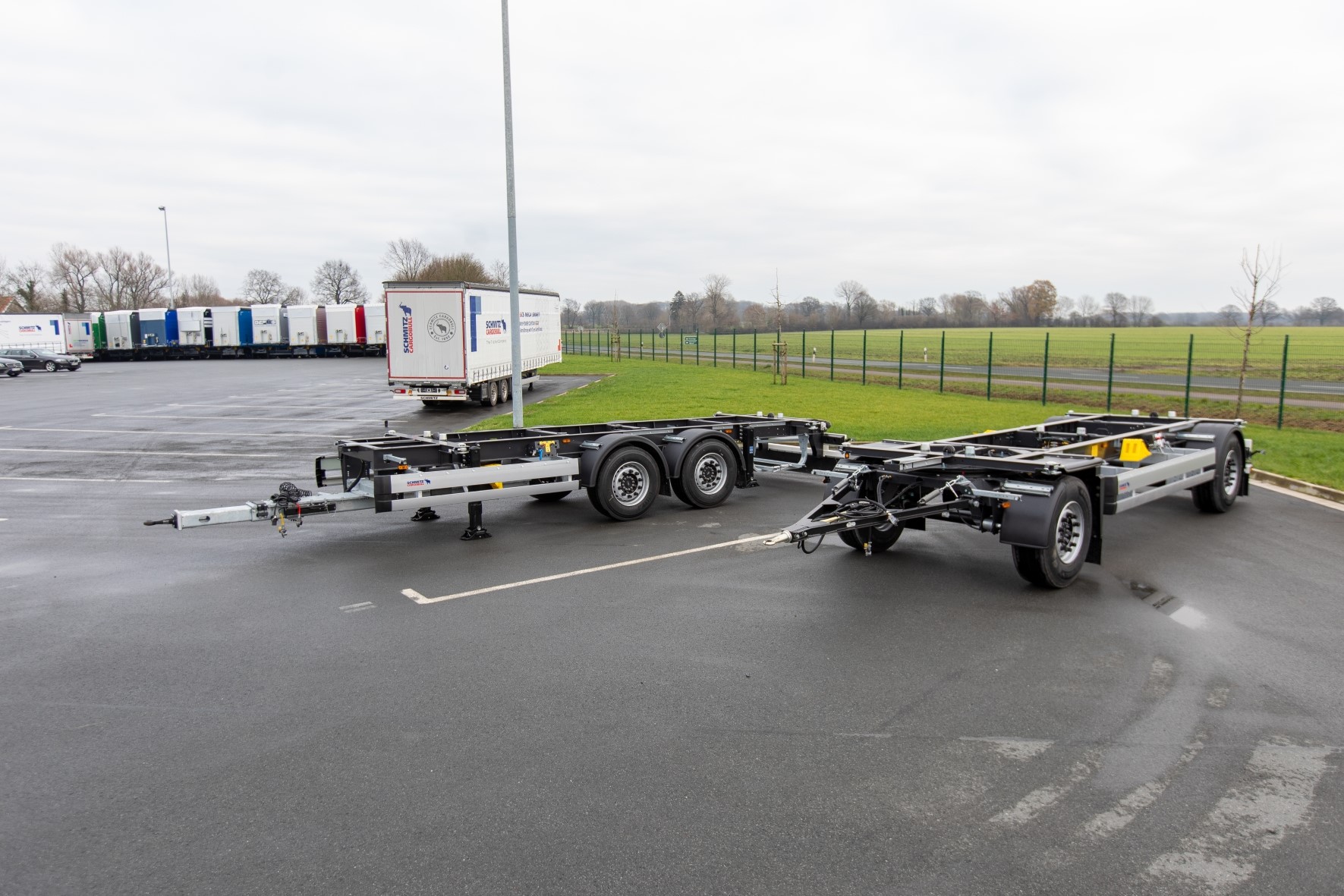 January 2021 – Multimodal transport for general cargo transport tasks is becoming increasingly important within Europe as a result of rising traffic density, the associated carbon dioxide emissions, and due to requirements from many shippers for sustainable logistics. Fast swapping between road and rail, the safety of the freight and the flexibility of the trailers needed for this place stringent demands on vehicle producers.
The new A.WF trailer swap chassis, Z.WF central axle swap chassis and W.BO swap box
Thanks to its proven modular system, Schmitz Cargobull provides optimum trailer solutions and equipment for multimodal transport, which is not limited to S.KO box semi-trailers and S.CS curtainsider semi-trailers. Schmitz Cargobull is expanding its product portfolio again by reintroducing the A.WF and Z.WF swap chassis for transporting short swap containers, as well as a brand-new W.BO swap box, for an effective multimodal solution.

The swap chassis are developed, designed and produced by Schmitz Cargobull in Slovakia at Schmitz Cargobull's new location in Michalovce. The new W.BO swap chassis in the Schmitz Cargobull range will be produced to order by the trailer specialist, Kerex.
These trailers for swap body operations have a large range of ground clearances, making them especially adaptable, and they are distinguished by their simple and sturdy design. They are optimally equipped to ease the rough swap operations and enable economical handling of swap containers. Optionally, the chassis are also available as hot-dip galvanised versions.
With its robust two-axle steel chassis and container locks for 1 x 20', the A.WF trailer swap chassis provides the optimum equipment for securing and supporting swap containers.
To flexibly transport interchangeable modules and containers, it has been optimally adapted to the demands of multimodal transport.
The Z.WF central axle swap chassis is also designed to flexibly transport interchangeable modules and containers. Designed and tested for every type of transport task with a payload of approximately 14.5 tonnes, both chassis are suitable for transporting containers and swap bodies with standardised ISO container mountings (20').
The optional hot-dip galvanised chassis is resistant to corrosion, and offers optimum protection against rust-through. A 10-year warranty against rust-through applies to all galvanised parts in the chassis. This contributes to a high value stability and the value retention of the chassis, which is clearly reflected in the resale value. Galvanising offers optimum surface protection for commercial vehicles, as the conventional mechanical stresses of everyday transport do not leave any permanent impact.
The W.BO swap box is a new addition to the Schmitz Cargobull product range as a multimodal transport solution. Instead of losing time during loading and unloading, swap containers can be set down and immediately replaced by another swap container ready for further transport. In addition to saving time, this helps the transport vehicle to be used more efficiently. Furthermore, the driving times per driver are reduced and empty runs are avoided.
The Schmitz Cargobull W.BO swap box for dry freight transport is a smooth-walled box with a steel construction featuring a wide range of equipment options, such as a double-decker system, roller door or standard keyhole system.
Schmitz Cargobull offers three different swap box models, which are designed to handle a wide range of transport tasks. These are available in steel with 7.45 m length and either smooth or beaded walls, as well as 7.82 m length with smooth walls.
Informazioni su Schmitz Cargobull:
Con una produzione annua di circa 46.100 semirimorchi e circa 5.700 dipendenti, Schmitz Cargobull AG è il produttore leader in Europa di semirimorchi, rimorchi e carrozzerie per autoveicoli per merci a temperatura controllata, merci generiche e merci sfuse. Nell'esercizio 2019/2020 sono state realizzate vendite per circa 1,87 miliardi di euro. In qualità di pioniere nel settore, l'azienda della regione del Münsterland ha sviluppato una strategia globale del marchio in una fase iniziale e ha fissato costantemente standard di qualità a tutti i livelli: dalla ricerca e sviluppo ai contratti di produzione e assistenza, alla telematica per rimorchi, al finanziamento, alla fornitura di pezzi di ricambio e commercio di veicoli usati.
La squadra stampa di Schmitz Cargobull:
| | |
| --- | --- |
| Anna Stuhlmeier: | +49 2558 81-1340 I anna.stuhlmeier@cargobull.com |
| Andrea Beckonert: | +49 2558 81-1321 I andrea.beckonert@cargobull.com |
| Silke Hesener: | +49 2558 81-1501 I silke.hesener@cargobull.com |