City campaign
The S.KO CITY box body semi-trailer for food distribution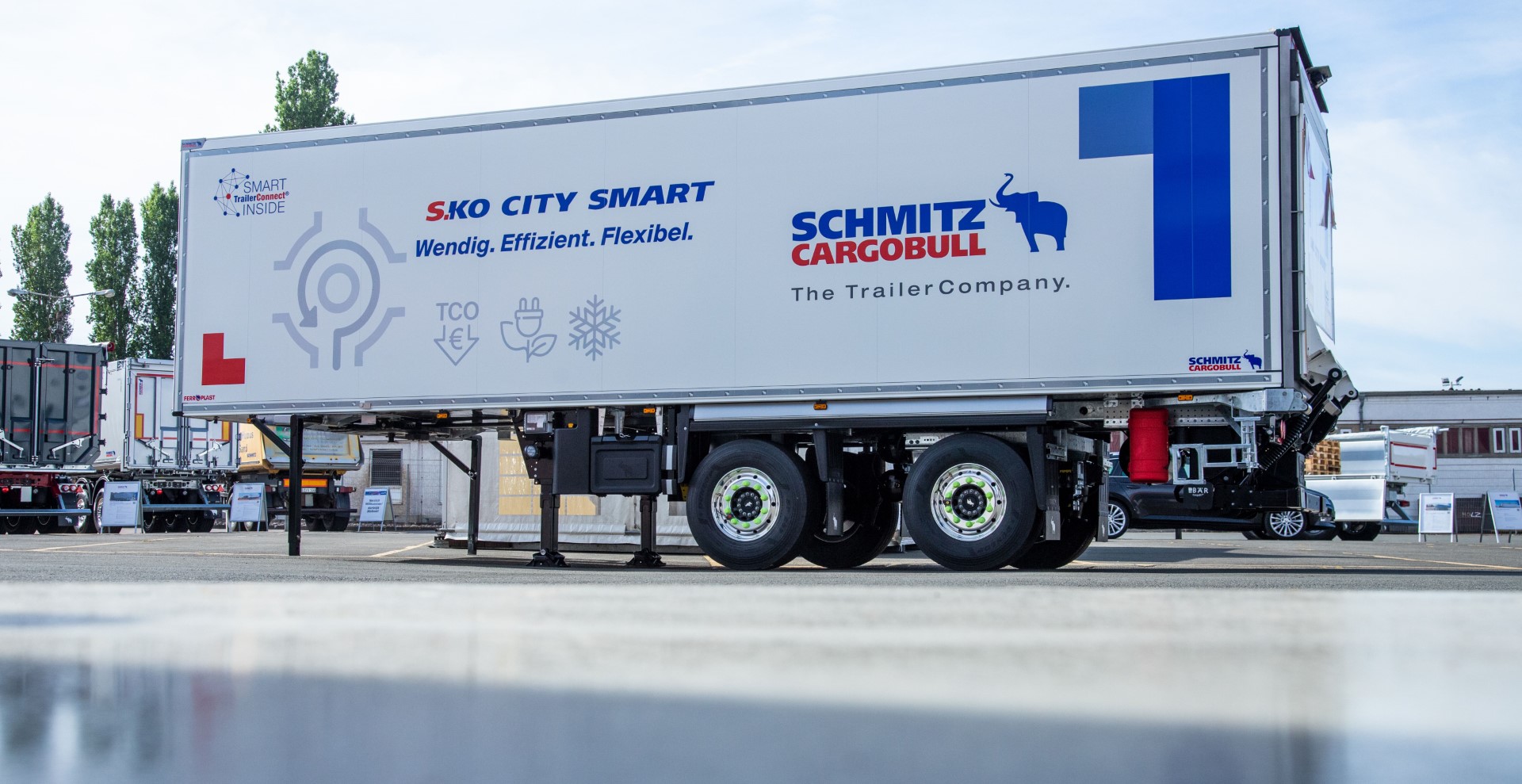 With steering axle system
With electric cooling unit S.CU e85
100% SMART thanks to TrailerConnect® telematics system fitted as standard
The S.KO CITY box body semi-trailer for food distribution
September 2022 – The twin-axle S.KO CITY box body semi-trailer fitted with FERROPLAST® panels and manoeuvrable, low-maintenance mechanically steered rear axle system, as well as an axle lift on the first axle is especially suited to town centres and urban areas, regardless of whether it is being used to transport fresh or frozen goods. Thanks to the TrailerConnect® telematics system, which is fitted as standard, this vehicle is also a member of Schmitz Cargobull's SMART generation.

The vehicle was developed especially for distributing food in urban areas, where transport work is characterised by a wide range of products, frequent loading and unloading, and driving in a busy city environment. Thanks to the steering axle system, the vehicle is extremely easy to manoeuvre, thus enabling it tackle even narrow streets, entrances, courtyards or mini roundabouts without wasting any time. The S.KO CITY is primarily used to distribute goods for discount chains and full-range suppliers, but is also used by a wide range of logistics companies. Another important decision-making criterion is compliance with the strict noise emission regulations that apply in residential areas. Equipped with an electric refrigeration unit, the S.KO CITY falls below the 60 dB(A) limit during loading and unloading in the night and morning hours and thus significantly reduces noise in sales zones with adjacent residential areas. The S.CU e85 electric refrigeration unit reduces CO2 emissions and the power for the electric refrigeration machine is generated by a hydraulic generator on the tractor unit.

Flexible equipment packages give transport firms the chance to adapt the trailer to their transport and logistics needs. For example, they have the option to order longitudinal and traverse partitions for trailers in the multi-temp sector. What is more, a wide array of vertical and horizontal load securing options are also available, along with various securing elements for containers and pallets in conjunction with an airline or multifunction floor.

The FERROPLAST® body improves insulation by 10%. New body panels improve the K-value (thermal transmittance) which opens up the flexibility for ATP solutions. Compared to the previous generation, the body is around two percent lighter, which allows more payload.
Thanks to the modular chassis, damaged components can be replaced quickly and easily. This helps to save time and costs in the event of damage, helping to improve the TCO, total cost of ownership.

The S.KO CITY is equipped with Dynamic Ramp Protection DRP 3.0, which provides ideal protection from damage when the vehicle is on a ramp. Further cost savings are achieved with the lifting front axle. If the trailer is not fully loaded, the axle is lifted, which not only helps to reduce tyre wear, but also improves the drive axle's traction on the road.

The central electrics box contains all electrical connections in one easy-to-access location. So, when it comes to retrofitting new electrical options and functions, all electrical connections can be found in one location with complete documentation. This allows for flexible access, maintenance and servicing for all electrical components.

The S.KO CITY offers many options that contribute to safety. These consist of a rear view camera and a work light on the top of the rear frame. There are also two units of LED reversing lights and other safety lights at the rear. Flashing side marker lights are also fitted on the right and left. Snow and ice profiles rain bar on the roof protects the other traffic participants and the load, and acoustic warning system reduces the risk of accidents when reversing.

The new swivelling access ladder has two steps on both sides and provides convenient and safe access to the vehicle. The larger, height-adjustable rungs feature an anti-slip surface. The ladder is made from galvanised steel, is bolted in place, durable and also easy to repair
thanks to its solid design. Safety is enhanced even further with the "Safety Start" option. When the ladder is folded out, the brake is activated at the same time. So if the vehicle drives off with the ladder still folded out, the trailer is automatically braked.
Informazioni su Schmitz Cargobull:
Con una produzione annua di circa 46.100 semirimorchi e circa 5.700 dipendenti, Schmitz Cargobull AG è il produttore leader in Europa di semirimorchi, rimorchi e carrozzerie per autoveicoli per merci a temperatura controllata, merci generiche e merci sfuse. Nell'esercizio 2019/2020 sono state realizzate vendite per circa 1,87 miliardi di euro. In qualità di pioniere nel settore, l'azienda della regione del Münsterland ha sviluppato una strategia globale del marchio in una fase iniziale e ha fissato costantemente standard di qualità a tutti i livelli: dalla ricerca e sviluppo ai contratti di produzione e assistenza, alla telematica per rimorchi, al finanziamento, alla fornitura di pezzi di ricambio e commercio di veicoli usati.
La squadra stampa di Schmitz Cargobull:
| | |
| --- | --- |
| Anna Stuhlmeier: | +49 2558 81-1340 I anna.stuhlmeier@cargobull.com |
| Andrea Beckonert: | +49 2558 81-1321 I andrea.beckonert@cargobull.com |
| Silke Hesener: | +49 2558 81-1501 I silke.hesener@cargobull.com |
Press information + Images: S.KO CITY

Press information: S.KO CITY

Images 1

Images 2

Images 3

Images 4

Images 5