Schmitz Cargobull reefer semi-trailers are TAPA-ready
Certificate handed over at IAA Commercial Vehicles 2022 trade fair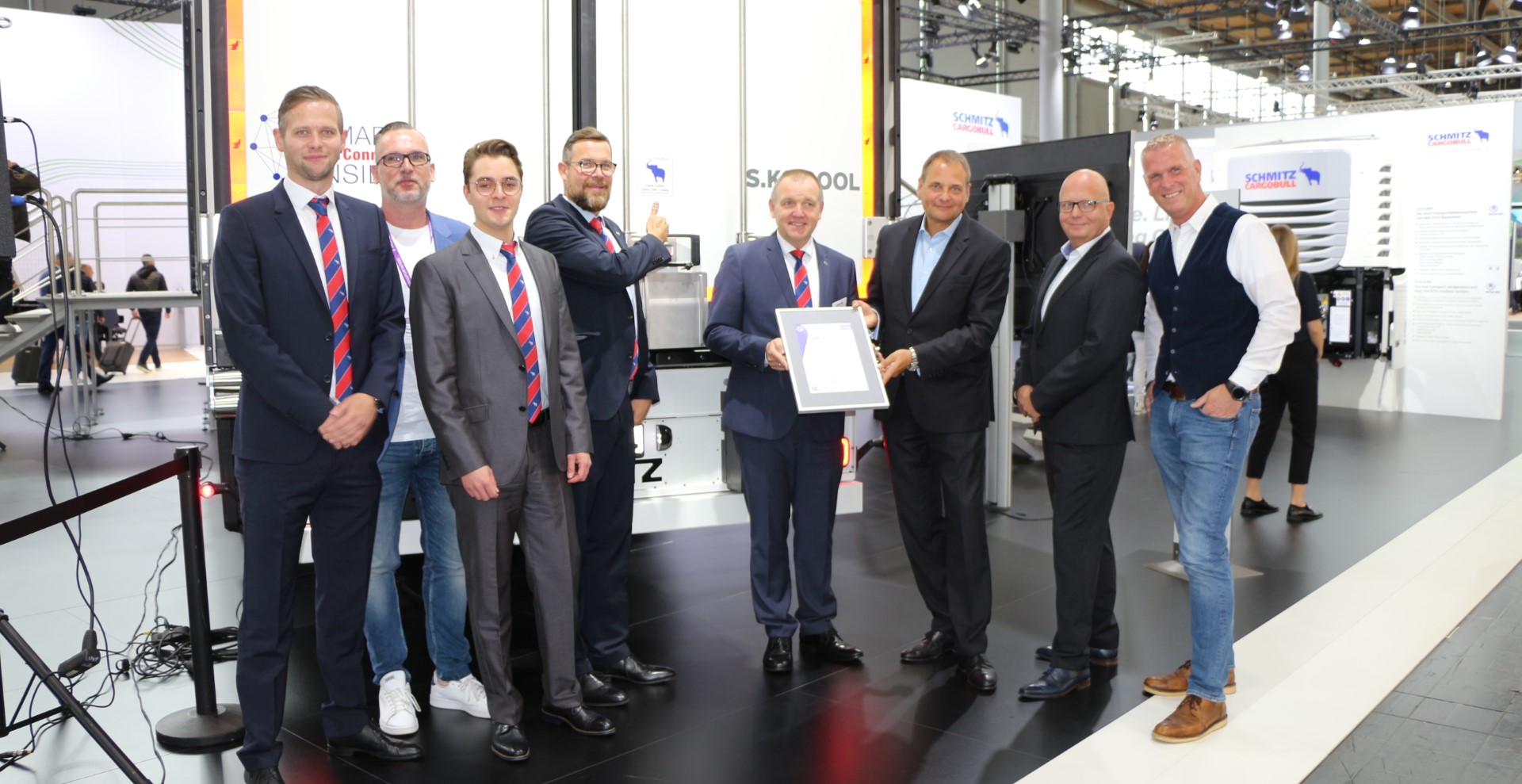 September 2022 – Schmitz Cargobull has expanded its S.KO COOL reefer semi-trailer product portfolio with a factory-fitted equipment package certified for TAPA TSR1 transport operations. This makes the European market leader the first OEM to offer this equipment for secure transport ex works and to incorporate it into its trailers. Following confirmation of conformity by the independent testing institute DQS, the certificate was officially handed over at the IAA Transportation trade fair in Hanover. Representatives of the companies met on Tuesday, 20/09/2022 at the Schmitz Cargobull trade fair stand (Stand F26 in Hall 27) for the presentation of the certificate. This confirmed that the Schmitz Cargobull semi-trailers are TAPA-ready for the requirements of the TAPA TSR1 standard. The security equipment of the Schmitz Cargobull S.KO COOL reefer semi-trailer meets the requirements of the TAPA TSR1 standard, the highest requirement level according to TAPA, for high-value goods.

The Transported Asset Protection Association (TAPA) is an organisation made up of manufacturers, logistics service providers, freight forwarders and law enforcement authorities that applies proven methods and procedures to improve the security of valuable assets around the world. Its goal is to reduce losses in the supply chain.



Box body semi-trailer equipped in accordance with highest requirement level
In order to meet the TAPA TSR1 requirements a networked acoustic alarm system has been integrated into TrailerConnect®. This triggers an alarm if the trailer is accessed by an unauthorised third party. TrailerConnect® is the 100% integrated telematics infrastructure from Schmitz Cargobull. Alongside this acoustic alarm system, the new TL4 electronic door locking system ensures that goods are protected from unauthorised access. These smart and innovative products increase process and transport security.

"This can only be achieved with the networked infrastructure of the TrailerConnect® telematics solution from Schmitz Cargobull," says Volker Flatau, Head of Product Line Cool Freight, Schmitz Cargobull. "We are pleased to be able to offer our customers a reefer semi-trailer equipped to the highest TAPA safety standard ex works and to contribute to greater supply chain security. We will remain in close contact with the TAPA organisation and also continue to help shape future enhanced security requirements, so as to provide the highest level of security to our customers at all times."
From left: Philipp Ostendarp, Technical Project Manager E/E Systems Engineering, Schmitz Cargobull; Thorsten Neumann, President & CEO TAPA EMEA; Fabian van den Boom, Requirements Engineer E/E Systems Engineering, Schmitz Cargobull; Carsten Krieger, Product Management Product Line S. KO, Schmitz Cargobull; Volker Flatau, Head of Product Line Cool Freight, Schmitz Cargobull; Markus Bleher, Managing Director DQS; Andreas Völkerding, Senior Auditor DQS; Markus Prinz, Senior Manager Standards & Training, TAPA EMEA


Informazioni su Schmitz Cargobull:
Con una produzione annua di circa 46.100 semirimorchi e circa 5.700 dipendenti, Schmitz Cargobull AG è il produttore leader in Europa di semirimorchi, rimorchi e carrozzerie per autoveicoli per merci a temperatura controllata, merci generiche e merci sfuse. Nell'esercizio 2019/2020 sono state realizzate vendite per circa 1,87 miliardi di euro. In qualità di pioniere nel settore, l'azienda della regione del Münsterland ha sviluppato una strategia globale del marchio in una fase iniziale e ha fissato costantemente standard di qualità a tutti i livelli: dalla ricerca e sviluppo ai contratti di produzione e assistenza, alla telematica per rimorchi, al finanziamento, alla fornitura di pezzi di ricambio e commercio di veicoli usati.
La squadra stampa di Schmitz Cargobull:
| | |
| --- | --- |
| Anna Stuhlmeier: | +49 2558 81-1340 I anna.stuhlmeier@cargobull.com |
| Andrea Beckonert: | +49 2558 81-1321 I andrea.beckonert@cargobull.com |
| Silke Hesener: | +49 2558 81-1501 I silke.hesener@cargobull.com |