Schmitz Cargobull S.KI tipper trailer at the MATEXPO trade fair
• Exhibition vehicle: New S.KI tipper trailer – Proven reliability • New generation of the body and frame: Up to 280 kg of weight savings • Digital on-board weighing system • Tyre pressure monitoring system (RDKS)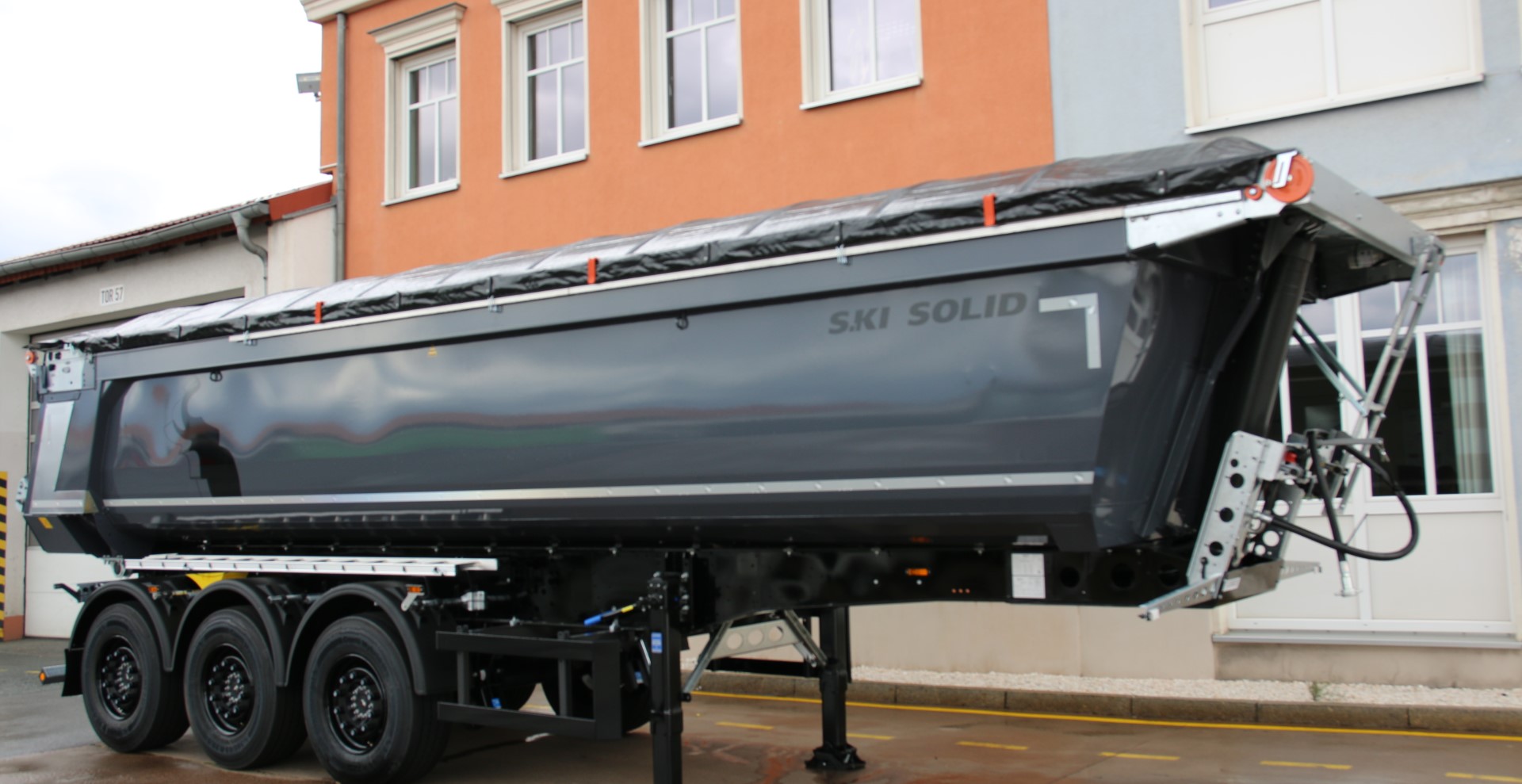 August 2023 – Schmitz Cargobull will be appearing at the MATEXPO trade show in Kortrijk with its S.KI tipper trailer with a rounded steel body. The vehicle impresses with its robust and reliable vehicle design and was produced in Schmitz Cargobull's tipper centre of competence in Gotha, Germany. Equipped with the new generation of chassis frame, it is configured with Schmitz Cargobull's tried-and-tested rounded steel body, which features a hydraulically operated tailgate. In addition to the tipper trailer, new digital equipment options will also play a key role at the trade fair as these make an increasingly important contribution to both cost efficiency and occupational safety.

Alongside its new generation of frames, Schmitz Cargobull has also launched a new generation of bodies. With this new design, the new Schmitz Cargobull S.KI tipper semi-trailer not only impresses with its improved payload capacity of up to 280*kg (50 kg chassis, 180 kg body, 50 kg frame), but also wins customers over with its improved ease of operation and both enduring and reliable product quality. The weight of the new rounded steel body with a loading volume of 24 m³ has been optimised for use on building sites. Weight savings of up to 180 kg* have been achieved here. The wide flat floor ensures a lower centre of gravity, helping to deliver optimum handling and even wear. The upper lips have been redesigned with an enhanced cross-section to increase vertical and horizontal rigidity, which makes the rounded steel body even more stable. Lateral deformation of the upper lips as a result of load pressure has been significantly reduced, meaning they run a lot better and sliding-tarpaulin-style body covers are now even safer.

The S.KI tipper semi-trailer's steel chassis frames have always been characterised by an ideal balance between weight optimisation, robust durability and tipping stability in daily use. The fundamental redesign of the modular frame has enabled weight savings of 53 to 110 kg to be achieved depending on the length and frame design. The new modular frame system for all trailer lengths is available in a Standard, Light or Heavy-Duty design depending on the level of use. Use of the new chassis results in further weight savings of 50 kg.

Schmitz Cargobull grants customers a ten-year warranty against rust-through for the S.KI frame generation in a galvanised design. Painted frames now also offer better protection against corrosion. Customers benefit from a high resale value thanks to lower loss of value. Four different frame lengths are available (system lengths 7.2, 8.2, 9.6, 10.5), depending on the application, load level and desired body volume. In addition to the STANDARD version, a LIGHT version for especially high payload or a HEAVY-DUTY version for particularly heavy-duty use are also available.

The standard tail light position has been modified for transporting bulk goods and asphalt. It is now available as a version that is 140 mm higher and 80 mm set back, which creates a greater distance to the bulk cargo (e.g. asphalt) during unloading. As a result, the risk of damage to the underride guard bracket is reduced, while taking legal regulations into account.

* Reference vehicle (S.KI Solid 7.2 with dropside height of 1,460 mm and floor/side wall combination of 5/4 mm with external tailgate)



Equipped with the new chassis frame and tried-and-tested rounded steel body
New digital on-board weighing system
For faster and more efficient handling and for future prevention of overloading, Schmitz Cargobull has introduced a new optional on-board weighing system for tipper vehicles. Trailers, as well as roads, are thus subject to less wear and tear, while also saving fuel costs and reducing CO2 emissions. The on-board weighing system allows the driver to determine and document the vehicle's payload directly at the location where the vehicle is loaded. As such, it is no longer necessary to drive to a stationary weighing system, saving time. Improved driving dynamics thanks to the avoidance of overloading increases driving and road safety. The equipment and make of the towing vehicle are irrelevant for the functioning of the weighing system. The on-board weighing system, which can be calibrated (calibration class 4: Bulk material), uses the factory-installed pneumatic suspension systems with electronic control and hydraulic cylinders to determine the current loading weight (payload) of the trailer. This makes the weighing system, which is calibrated ex works, more economical for the customer than other systems with additionally attached sensors, and also more robust to withstand the tough operating conditions of a tipper semi-trailer. Operation is intuitive, whether via the supplied screen or via smartphone in the beSmart app. The calculated cargo data can be called up by the driver immediately after weighing. The Schmitz Cargobull telematics allow the data to then be transferred and processed further in the TrailerConnect® portal.

Spotlight on economic efficiency and safety with the Schmitz Cargobull tyre pressure monitoring system (RDKS) for smart trailers
The right tyre pressure plays an important role when it comes to increasing economic efficiency and safety. To help you keep an eye on this, Schmitz Cargobull offers its own tyre pressure monitoring system (TPMS). The automatic monitoring function makes it easier to maintain the right level of pressure, which in turn significantly improves vehicle response and safety. The right tyre pressure also plays a decisive role in extending tyre service life, reducing fuel consumption and carbon emissions, and increasing fuel economy. After all, vehicles stuck with a flat tyre cost time and money.
Ahead of the new TPMS requirements coming into force in 2024, Schmitz Cargobull is already helping customers to prepare with its innovative solutions. The TrailerConnect® telematics system, which is installed ex works as standard as part of the 100% Smart strategy, is equipped with a TPMS receiver module, meaning that sensors only need to be added to the wheel and calibrated once. In this way, the state of the trailer and tyres can be monitored easily and conveniently in real time via the TrailerConnect® platform and warnings can be issued in the case of deviations. The vehicle is therefore future-proof, helping customers to avoid costly retrofitting work.

TyreManager app: Smart app for tyre sensor positioning
Schmitz Cargobull is also continuing to enhance its range of vehicle services. With the TrailerConnect® TyreManager app, the tyre sensors can be easily configured by customers or service partners after a tyre change or tyre replacement, and all relevant tyre data is immediately available again in the TrailerConnect® portal. Time-consuming workshop visits are minimised and trailer availability and safety are increased.

beSmartApp: Status monitoring for the driver
With the beSmart app, drivers are able to check and monitor the tyre pressure status for their trailers at any time. Alarm messages in the event of deviations enable the driver to react at an early stage, thus minimising downtime. Tyre pressure data is also transferred to the tractor unit, enabling permanent monitoring and quick intervention by the driver.
Informazioni su Schmitz Cargobull:
Con una produzione annua di circa 46.100 semirimorchi e circa 5.700 dipendenti, Schmitz Cargobull AG è il produttore leader in Europa di semirimorchi, rimorchi e carrozzerie per autoveicoli per merci a temperatura controllata, merci generiche e merci sfuse. Nell'esercizio 2019/2020 sono state realizzate vendite per circa 1,87 miliardi di euro. In qualità di pioniere nel settore, l'azienda della regione del Münsterland ha sviluppato una strategia globale del marchio in una fase iniziale e ha fissato costantemente standard di qualità a tutti i livelli: dalla ricerca e sviluppo ai contratti di produzione e assistenza, alla telematica per rimorchi, al finanziamento, alla fornitura di pezzi di ricambio e commercio di veicoli usati.
La squadra stampa di Schmitz Cargobull:
| | |
| --- | --- |
| Anna Stuhlmeier: | +49 2558 81-1340 I anna.stuhlmeier@cargobull.com |
| Andrea Beckonert: | +49 2558 81-1321 I andrea.beckonert@cargobull.com |
| Silke Hesener: | +49 2558 81-1501 I silke.hesener@cargobull.com |
Image 1: Tipper trailer S.KI SOLID at the MATEXPO

Image 2: Tipper trailer S.KI SOLID at the MATEXPO - rear view

Image 3: Tipper trailer S.KI SOLID at the MATEXPO - foldable underride guard

Press release: Schmitz Cargobull S.KI tipper trailer at the MATEXPO trade fair