A good connection guaranteed – 500 Schmitz Cargobull dolly trailers already delivered
Rising demand especially for EcoDuo combination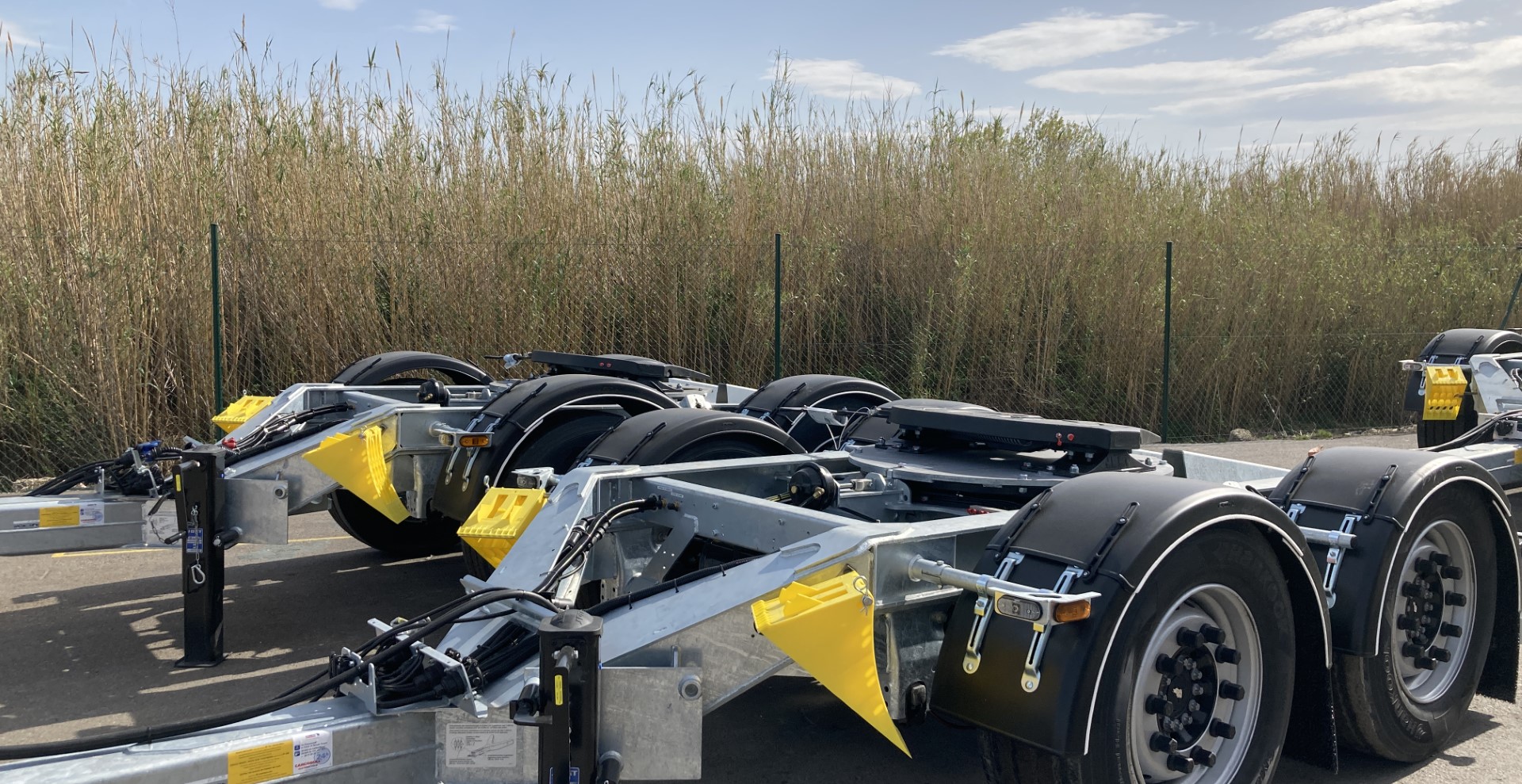 August 2021 – Schmitz Cargobull's dolly trailer is a success story. The current version is produced at the Altenberge site and is becoming increasingly popular, particularly as a connecting element for 25.25-metre long trucks or especially for the 31.5-metre EcoDuo combinations in other European countries. So far, a total of 500 units have been ordered and delivered to a range of customers.
Like the semi-trailers, the twin-axle dolly trailer is based on Schmitz Cargobull's popular modular system. When the variable air suspension, established ROTOS running gear system and Multi Ride Height system are combined with different tyres, it can be used for both standard and MEGA fifth wheel heights. Thanks to the range of drawbar options, the dolly trailer can also be used for low underfloor couplings and with all coupling positions and versions. To ensure an optimum ride response, dolly trailers are equipped with a swivelling fifth wheel.
The dolly trailer is used both for 25.25-metre combinations as well as for full vehicles with a length of 31.5 metres. In Schmitz Cargobull's preferred EcoDuo combination, two standard semi-trailers are connected via the dolly trailer and coupled to a tractor unit. This flexible concept – based on standard trailers – has a number of plus points. In conventional long truck concepts, the length of the load carriers used can differ, meaning they cannot be combined for flexible use, requiring fleets to invest additional money. And because there are no standardised European regulations, it is difficult to conduct unbroken cross-border transport jobs. The concept has already been approved in Scandinavia and is currently being tested in Spain and the Netherlands.
The dolly trailer is used both for 25.25-metre combinations as well as for full vehicles with a length of 31.5 metres.
The two trailers in the EcoDuo trailer combination can easily be split between two tractor units at border points or in specific areas. When compared to conventional tractor units and one trailer with a 40t total tractor-trailer weight, the EcoDuo concept offers several advantages. For instance, fuel consumption per transported tonne is reduced along with CO2 emissions, there is less strain on the road network thanks to fewer tractor units in use, and roads and bridges are better protected because axle loads and trailer numbers are lower. The entire vehicle combination is sustainable and kind to the environment. It also helps to counter the lack of drivers as just one driver can transport two trailers with one tractor unit over long distances.
With the EcoDuo concept, Schmitz Cargobull is advocating the Europe-wide introduction of a transport concept that reduces the burden on the existing infrastructure, reduces CO2 emissions, takes into account current transport industry standards – particularly for multi-modal transport jobs – and can ideally be used for extra-urban transport.
Over Schmitz Cargobull:
Met een jaarproductie van ongeveer 61.000 trailers en ongeveer 6.900 medewerkers is Schmitz Cargobull AG Europa's toonaangevende fabrikant van opleggers, trailers en motorwagenopbouwsystemen voor temperatuurgecontroleerde lading, general cargo en stortgoederen. In het boekjaar 2021/2022 werd een omzet van ca. 2,3 miljard euro bereikt. Als pionier in de sector ontwikkelde het bedrijf uit Münsterland al vroeg een alles omvattende merkstrategie en hanterde het hoge kwaliteitsnormen op alle niveaus: van onderzoek en ontwikkeling tot productie en servicecontracten, trailertelematica, financiering, levering van onderdelen en handel in gebruikte voertuigen.


Het Schmitz Cargobull pers-team:
| | |
| --- | --- |
| Anna Stuhlmeier: | +49 2558 81-1340 I anna.stuhlmeier@cargobull.com |
| Andrea Beckonert: | +49 2558 81-1321 I andrea.beckonert@cargobull.com |
| Silke Hesener: | +49 2558 81-1501 I silke.hesener@cargobull.com |
Schmitz Cargobull Dolly_1

Schmitz Cargobull Dolly_2

Schmitz Cargobull EcoDuo combination

Press release: "A good connection guaranteed – 500 Schmitz Cargobull dolly trailers already delivered"