A smart and secure route to your destination with TrailerConnect
The Austrian specialist for secure transport jobs, All Fresh Logistics, uses telematics and a special door locking system from Schmitz Cargobull to make sure its valuable cargo arrives reliably at the customer without sustaining any damage.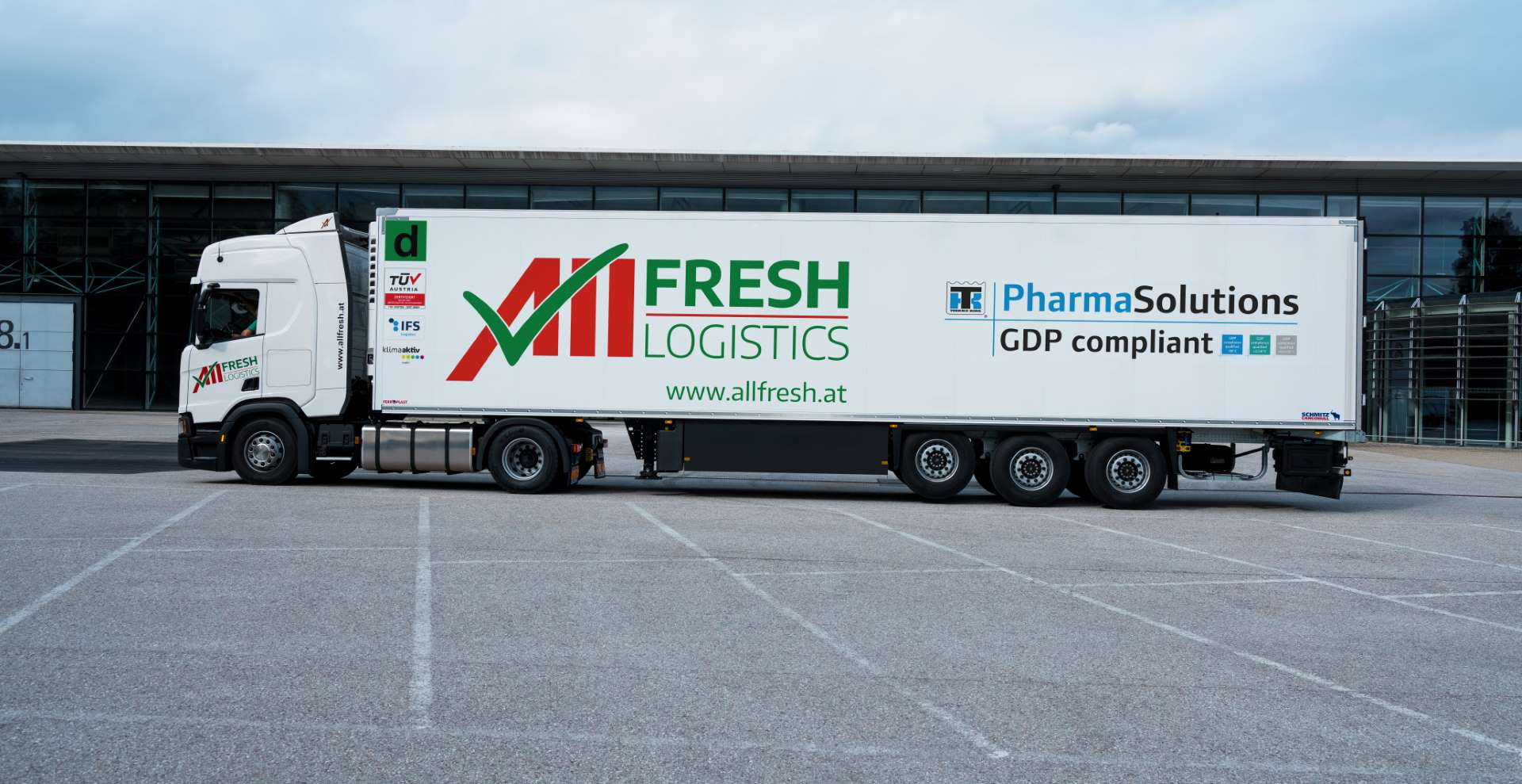 A smart and secure route to your destination with TrailerConnect
Expensive cargo requires individual support and the best possible protection. This is the principle followed by All Fresh Logistics from the Austrian
town of Puch bei Hallein. When it was set up in 2004, the purchasing logistics expert focused exclusively on the transportation of highly sensitive goods, which remains one of the basic services on offer to this day. Over the years, the company has expanded its portfolio to include monitored specialist transportjobs, pharmaceutical
transport and event logistics. To make sure it can meet its own quality requirements, All Fresh Logistics always ensures that its fleet is equipped with the latest technology. At the same time, the company makes sure that the customers' goods are protected as comprehensively as possible. For high-security transport jobs, this includes having two drivers, GPS systems including a geo-fencing tool, a panic button in the vehicle,and special security locks.
The overall package also includes S.KO COOL SMART reefer semi-trailers by Schmitz Cargobull. All Fresh Logistics recently ordered 15 new trailers, equipped with the telematics-controlled TL3 door locking system. This function can prevent the cargo from being accessed from the outside without authorisation, to make sure it stays safe. The TL3 door locking system is based on a rear door locking system that is invisible from the outside. When it is locked, a sword-shaped pin moves out of the roof beam and reliably prevents unauthorised access to the cargo area.
The unlocking function in the TL3 door locking system is protected by a PIN and can be activated manually at any time via the TrailerConnect® portal, the "beSmart App", the display on the S.CU cooling unit or the Schmitz Cargobull key pad on the trailer's bulkhead.
The TrailerConnect® telematics system, which is fitted as standard, includes a digital temperature recorder, and helps fleet schedulers to track and manage the trailers. As a result, fleet managers always know where their trailers and cargo are and what condition they are in. With the "beSmart App", the driver receives alarms while en route should any of the sensors detect deviations from the previously defined standards. As a result, the reefer semi-trailer'stemperature is monitored on a
permanent basis, with brakes and other wear parts equipped with sensors also delivering data on an ongoing basis. Drivers and schedulers at All Fresh Logistics can access this data straight away if needed.