The history of Schmitz Cargobull
The future needs to start somewhere. Schmitz Cargobull's history as a family-owned company has been shaped by successful innovations.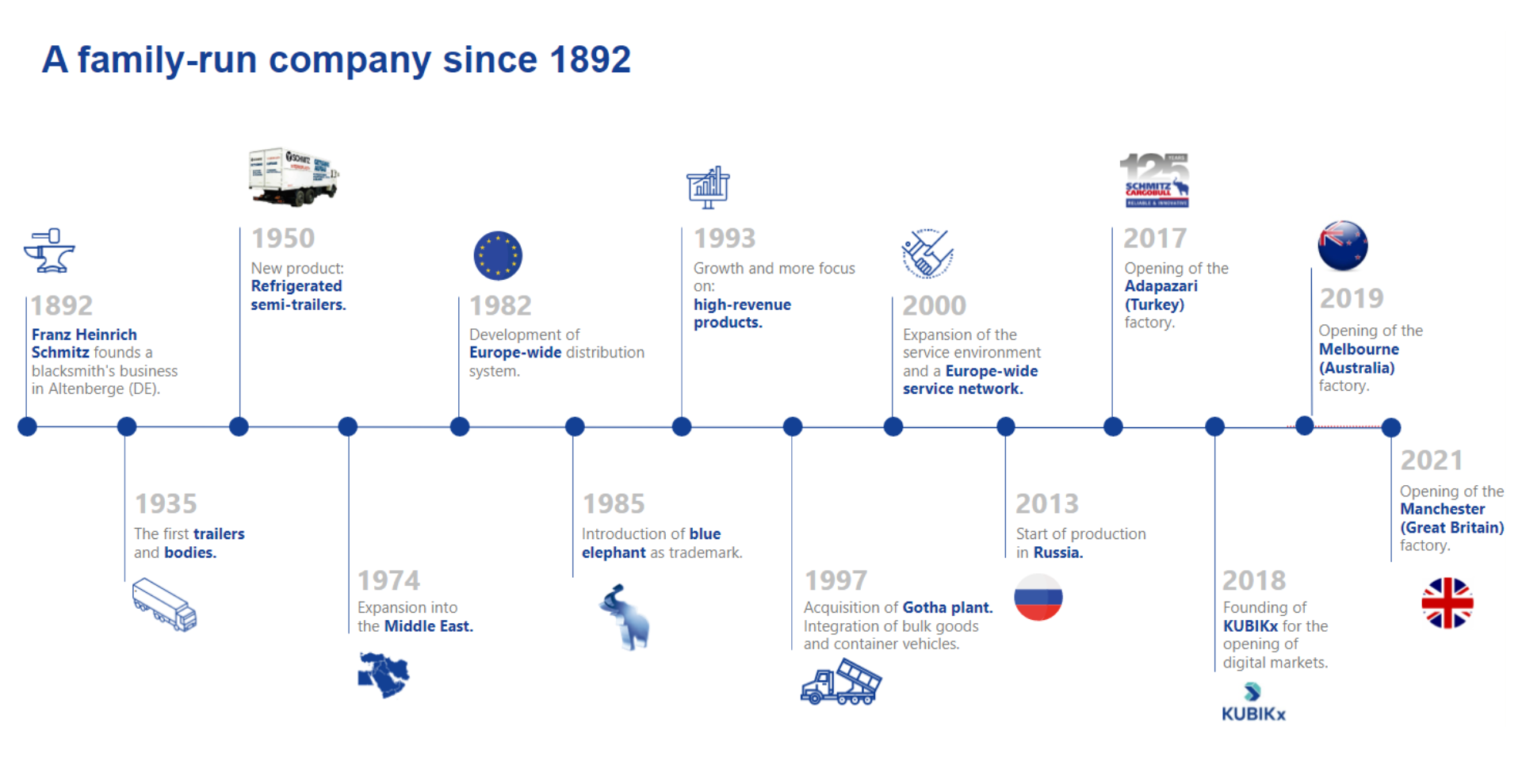 1892 - Company founder Franz Heinrich Schmitz


In 1892, Franz Heinrich Schmitz took over the small smithy in Altenberge in Münsterland from his father, thus laying the foundation for todays European trailer manufacturer. The town of Altenberge, with a customs post, lay on the "Dutch Chaussee" route. Bumpy roads led up and down hills. Today, these obstacles to trade would be the nightmare of every logistics specialist. They were very convenient for the original forebear of all "Schmitz Cargobull". Travellers had to rest and Franz Heinrich Schmitz - who was very service and customer-orientated even then - concerned himself with horseshoes and damaged iron tyres for the wooden wheels of horse carts.

1935 - Start of trailer production


Schmitz builds its first trailer in 1935. The commercial vehicle industry becomes increasingly important in Germany and Schmitz-Anhänger concentrates entirely on the rapid development of the body and trailer sector.

1940s - Josef and August Schmitz


Sons Josef and August Schmitz take over the helm in the 1940s. Josef Schmitz heads up production, invents solutions for the most complicated problems and continually broadens the product range. August Schmitz takes care of sales and travels to appointments with customers and suppliers.

1970s - Schmitz and Hoffmann families


The third generation of the family plots the course at the start of the 1970s. Dr. Heinz Schmitz and Peter Schmitz run the company at first, the former as merchandiser and the latter as engineer and designer. For their ambitious company they require an expert for sales and marketing. It is at this point, in 1974, that Bernd Hoffmann joins the company and takes over sales.

1980 - Move to Altenberge Industrial Zone


The sales strategy is successful, sales figures are rising and so a larger production area is needed. The manufacturing capacity of the Altenberge parent plant is no longer sufficient. Production is relocated in 1980. Schmitz-Anhänger builds new production facilities to modern standards in the Altenberge industrial zone.


The company's sales figures are growing strongly and Schmitz-Anhänger becomes international. The German word 'Anhänger' is not understandable in other languages and is difficult to pronounce due to the Umlaut 'ä'. It is therefore replaced by the invented word 'Cargobull'. 'Cargo' denotes a load and 'bull' stands for the blue elephant. In December 1998, Schmitz-Anhänger officially changed its name to the new, internationally recognised brand name, Schmitz Cargobull.
The Story of Schmitz Cargobull
1950s - Rise of the "thermos trailer"

The 1950s herald in a dynamic decade.

The economic miracle brought rapid growth and strong sales figures to Schmitz-Anhänger. New product: refrigerated vehicles for the transport of temperature-controlled freight, known as thermos trailers.

1955 - Start of series production

At an early stage, it is essential to respond to customer requirements with innovative solutions, while constantly modernising production. One of the first large orders comes from Deutsche Bundespost and immediately requires new capabilities from Schmitz-Anhänger. Schmitz-Anhänger takes up series production for the first time with this order. The special trailers for the transport of telegraph poles are designed so that the poles can be stacked upright in pairs and assembled in railway wagons for onward transport.

1973 - The tank vehicle era

Schmitz-Anhänger records double-digit growth year on year as the oil-producing countries order large fleets of vehicles from 1973 onwards. Hundreds of tankers, as well as refrigerated bodies, are ordered by companies in the Middle East. Series production is continuously extended. Up to the late 1980s, the Schmitz-Anhänger product range included tankers.

1984 - The great man-made river project

Schmitz-Anhänger is one of the few manufacturers to deliver low-loaders for the construction of the 4,000 km long water pipeline in Libya. People living in the bigger cities in Libya urgently require clean drinking water. Equipped with almost 300 Schmitz low-loaders, Libya completes the construction of the water pipeline in good time, through which 6 million km³ of water will flow per day, and provide the population with drinking water. The project is also called the 8th wonder of the world.

1994 - Boxes, tippers, curtainsiders, containers

The 'Growth through sacrifice' strategy is implemented. The trailer manufacturer focuses on the four top-selling designs: curtainsider semi-trailers, box body semi-trailers, tipper semi-trailers and container chassis. This enables the company to cover 80% of the market with 20% of its original product range.

1999 - Schmitz Cargobull in Lithuania

Schmitz Cargobull takes over the factory in Panevezys, Lithuania. This acquisition means that the company is now also represented in Eastern Europe. Panevezys is Schmitz Cargobull's largest site outside Germany. With 325 employees, the company produces box body semi-trailers, curtainsiders and FERROPLAST panels.

2002 - Schmitz Cargobull in Spain

Schmitz Cargobull sends out a clear signal with its new factory in Zaragoza (Spain) following significant sales growth in the Spanish and Portuguese markets. We are there, wherever our customers are. Currently Schmitz Cargobull in Spain has a workforce of 161, producing box body semi-trailers and curtainsider semi-trailers.

2017 - Schmitz Cargobull in Turkey

Curtainsider semi-trailer production begins in Adapazari, Turkey in April. Box body semi-trailer and tipper semi-trailer production follows in the same year. The official opening of the multi-production plant takes place in October of the companies anniversary year. With its modern production line and comprehensive range of services, Schmitz Cargobull is now also represented in South-East Europe.

2019 - Schmitz Cargobull Australia

In 2019, our factory in Melbourne (Australia) was opened. Here we have been producing our cooling units and box bodies.

2021 - Schmitz Cargobull Great Britain

In 2021, our factory in Manchester (Great Britain) was opened. In addition to our curtainsider semi-trailers, we have also been producing the S.KO PACE SMART since November 2021. The fully modular dry freight semi-trailer is particularly suitable for our British and Irish customers and has been adapted to their customer needs.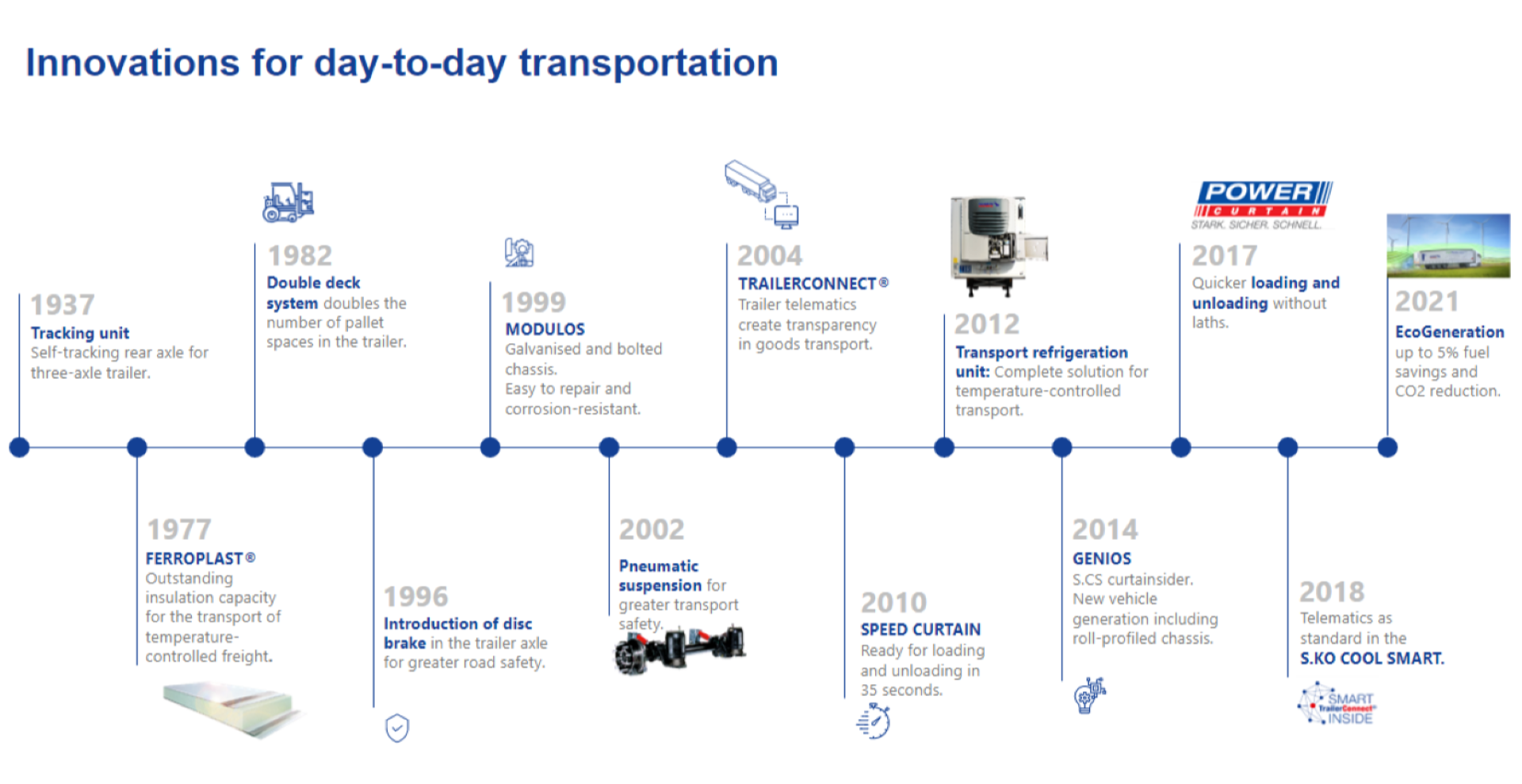 Company founder Heinrich Schmitz celebrates his 80th birthday surrounded by the collected workforce. The company now employs around 75 people. In the meantime, his sons, August and Josef Schmitz, have taken over as managers of the business.

1936-2017 - Steady growth of employees

The Schmitz Cargobull workforce grows almost continuously. Having begun as a small family-run business, today Schmitz Cargobull is one of the largest employers in the Münsterland region of Germany.

2017 - Schmitz Cargobull AG Family Council

The Schmitz and Hoffmann families are currently represented in the company by the follow people: Andreas Schmitz, Bernhard Schmitz and Dirk Hoffmann. The Family Council is the most important decision-making body in the company. It defines the strategic framework of Schmitz Cargobull AG.

2021 - Schmitz Cargobull expands its Board of Management

The Schmitz Cargobull AG Supervisory Board has appointed Dr. Günter Schweitzer as an additional new member of the Management Board with effect from 01.09.2021.
1937 - The Schmitz tracking unit

One of the companys first and most successful patents was the Schmitz tracking unit.

In 1937, Schmitz-Anhänger attracts attention nationwide with its technical innovations. The Schmitz tracking unit, the self-tracking rear axle for three-axle trailers, is showcased for the first time at the International Motor Show (IAA) in Berlin in 1937. The new development helps Schmitz-Anhänger gain a reputation for innovation among experts and plays a decisive role in the companys rise.

1978 - Pioneering semi-trailer insulation

In 1978, Schmitz-Anhänger patents FERROPLAST panels, which provide outstanding insulation capabilities for refrigerated box bodies. Schmitz-Anhänger solves a number of challenges affecting refrigerated semi-trailer manufacturers with this ground-breaking technology. The economic success of the vapour diffusion-tight panels, compared to traditional glass-fibre reinforced plastic, is clearly reflected in the sales figures. As a result, Schmitz Cargobull boy body semi-trailers increase market share in Germany to more than 70 percent.

1993 - The height-adjustable body

FLEXOS - Variable trailer heights for changing coupling heights..

Different countries generally require different transport solutions. With its FLEXOS technology, Schmitz Cargobull offers a height-adjustable body that can adapt to the particular requirements of different countries.

1999 - End of the welded chassis era

The welded chassis era comes to an end with the launch of the innovative MODULOS modular system.

From now on, chassis are no longer welded, riveted or screwed together, but joined by locking eyebolts in a strong force- and form-fitting way. With this joining technology, the individual parts can be prefabricated, coated and joined together in segments without damaging the corrosion protection.

2004 - Trailer telematics

Trailer telematics breaks through into freight transport. Schmitz Cargobull is one of the first trailer manufacturers to introduce its own telematics system. This stand-alone operating system reports all trailer operating data: location transmission, mileage (km), brake condition and tyre pressure, and even maintenance costs incurred. TRAILERCONNECT delivers maximum data transparency throughout the entire trailer fleet.

2010 - Fast - Durable - Low-maintenance

The SPEED CURTAIN tarpaulin system can be opened or closed in just 35 seconds, making it faster than all previous tarpaulin systems.

Unlike traditional sliding tarpaulins, the SPEED CURTAIN is guided at the top and bottom, making it very fast and robust, producing a system that requires little maintenance. There is no longer any need for cumbersome tarpaulin fasteners, and power is transferred more smoothly due to the top and bottom fixing, which also assists load securing. The SPEED CURTAIN saves valuable minutes, providing more flexibility and efficiency in fleet scheduling, while also contributing to safety at work. Drivers do not have to climb onto the loading surface during loading and unloading, and the integrated micro stanchions prevent the risk of injury from falling stanchions and support laths.

2012 - Complete solution for temperature-controlled transport

Schmitz Cargobull becomes the only trailer manufacturer to have developed its own cooling unit, offering a reliable complete system for refrigerated transport. Schmitz Cargobull sets a new standard for the refrigerated transport sector with this in-house development. Low energy consumption, maximum temperature control precision and the durable design of all components are the fundamental characteristics behind the Schmitz Cargobull cooling unit.

2014 - Greater modularity, flexibility and safety

A new generation of trailers sets the standard in stability and handling. The high quality of the chassis, body and equipment ensures that transport is completed without any problems, helping those in the logistics sector to succeed. GENIOS represents a perfectly coordinated modular system, which can be combined across different types of trailers. The various running gear, chassis and body modules can be configured to create a diverse range of versions, all manufactured with the precision and speed of a state-of-the-art production system.

Low total operating costs make the S.KO COOL SMART box body semi-trailer highly economical across its lifetime. It offers maximum freight security, ensures the safe handling of temperature-controlled freight and short turnaround times at the ramp. The TrailerConnect telematics system, fitted as standard, provides for transparency and end-to-end documentation of the refrigeration chain.

Rethinking sustainability – this is the motto of Schmitz Cargobull's new EcoGeneration vehicle concept.