Thoroughly tested
The Oberstdorf-based Geiger Group tests Schmitz Cargobull prototypes. This customer relationship also began with a test.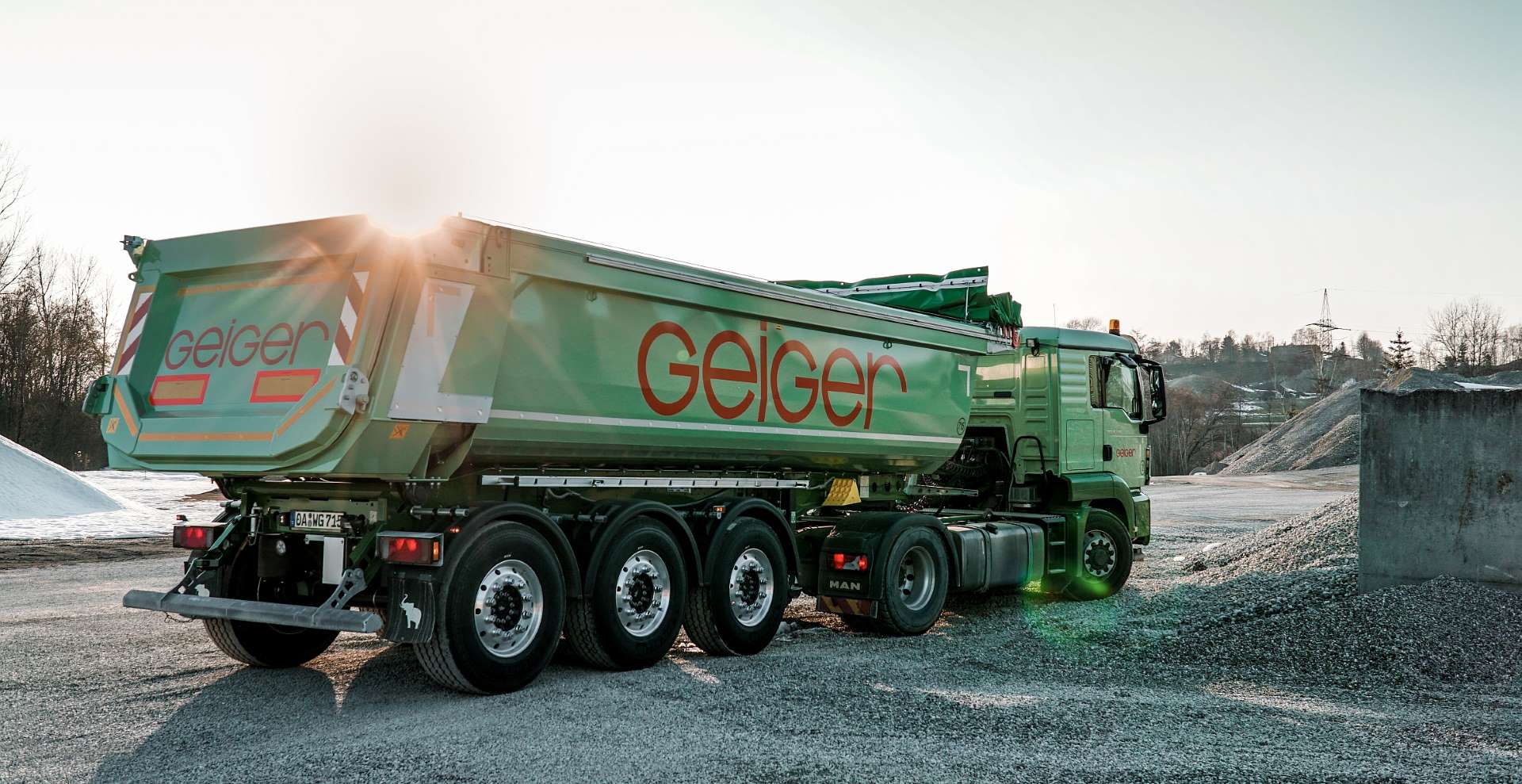 Thumbs up for the tipper trailer
Deliver, build, refurbish and dispose - this has been the focus of the Oberstdorf Geiger Group for many decades. The company, which is based in Oberstdorf in the Allg?u region of Germany, has been so successful that more than 2,500 staff now work at more than 50 sites for the company, which was founded in 1923.
Geiger relies on a high-performing and diverse fleet of vehicles for its extensive transport work, which has become a cross-regional trademark with its special paintwork: three-axle and four-axle trailers, semi-trailer tractor units, trailer tractor units and additional special trailers, such as low-loaders, asphalt trucks, thermo boxes, trucks with crane bodies or container vehicles, are available to meet customers' individual needs.
Just as indispensable on building sites as well: Tipper trailers. Geiger became a Schmitz Cargobull customer in 2017. An extensive trial began because the South German professionals wanted to first test for themselves that the trailers from Gotha were of a high quality. An S.KI 24 7.2 with rounded steel body and an M.KI tipper body on a 4-axle truck were examined. When testing was concluded, Geiger's reaction was: Thumbs up! The quality of workmanship, payload and lower operating costs of the vehicles were impressive, and during 2018 Geiger ordered a total of eight S.KIs and six M.KIs. S.KI semi-trailers all include a hydraulic tailgate, an electric sliding tarpaulin and a reversing camera. The M.KIs are also equipped with a hydraulic tailgate and a special roller tarpaulin that can be operated from ground level.
Close to the start of this customer relationship, the test carried out in 2017 also had a further positive impact for both companies. Geiger tested the prototype of the new M.KI roller tarpaulin semi-trailer, which incorporated Geiger's practical experience and a host of good ideas, and so became a successful example of the close partnership between Schmitz Cargobull and its customers.