Clean business
Sustainable transport solutions from hylane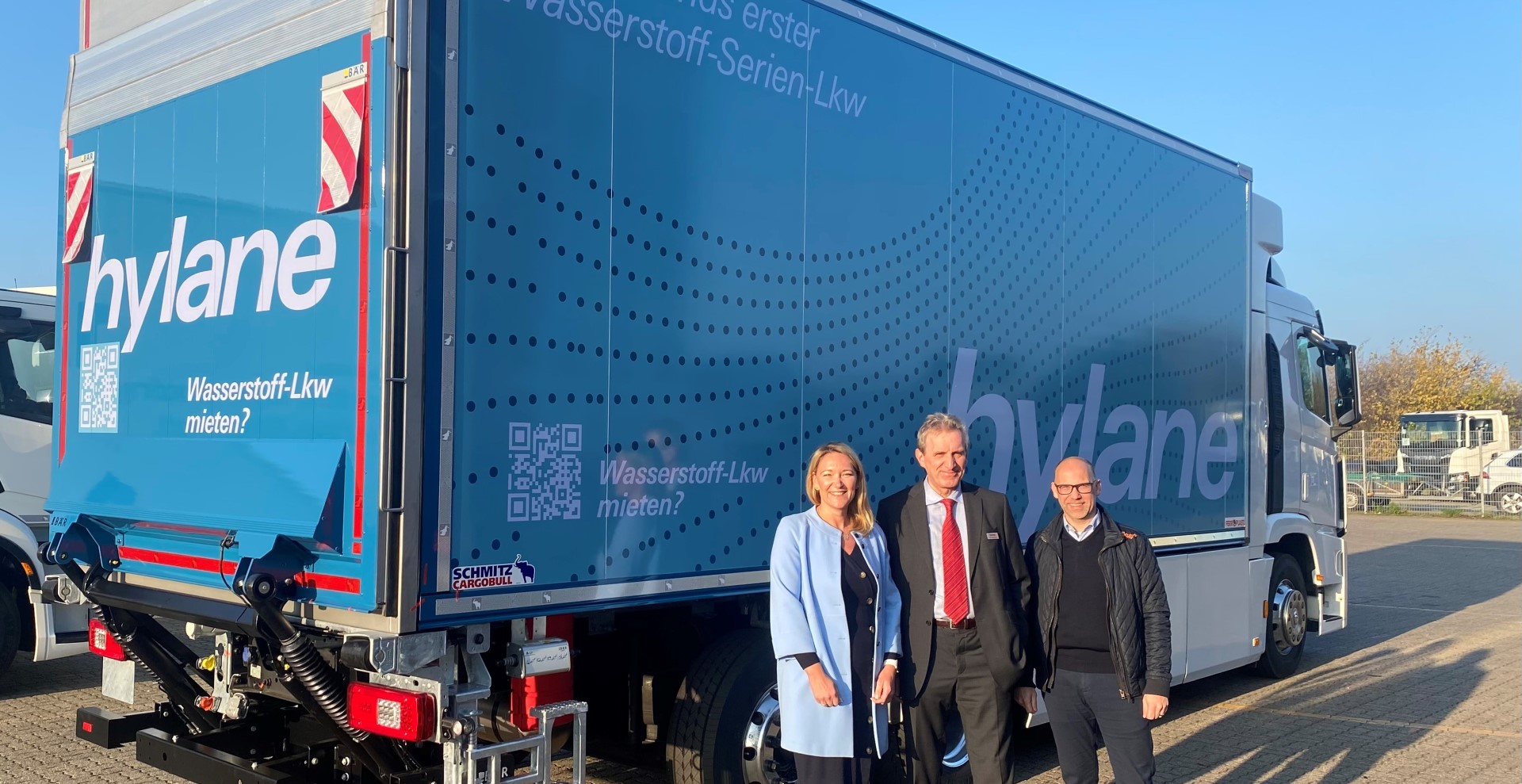 hylane presents the first hydrogen-powered truck approved for road transport in Germany
Climate-neutral rental vehicle provider hylane presents the first hydrogen-powered truck approved for road transport in Germany – equipped with a Schmitz Cargobull M.KO body and Hyundai vehicle chassis.

In order to achieve climate targets, CO2 emissions must be significantly reduced. With the new greenhouse gas minimum quota, the share of renewable energies in transport is to increase to 32 percent by 2030. Alternative drive systems, in addition to battery-powered or natural gas-powered vehicles, are therefore urgently needed. With the approval of the first hydrogen series truck, hylane is pioneering the decarbonisation of heavy goods transport on German roads.

Sara Schiffer, Managing Director of hylane, comments: "The approval of the first hydrogen series truck in Germany is not only an important milestone for hylane, but also a building block for the mobility turnaround in Germany. In order to counteract climate change, we must also work consistently on the decarbonisation of heavy goods transport. For me, the use of hydrogen trucks is a promising way to achieve this."

The Hyundai "XCIENT Fuel Cell" has a range of about 400 kilometres. The hydrogen is stored in seven tanks that can be fully refuelled in a range of eight to 20 minutes, depending on the temperature. Depending on the customer's wishes, the vehicles can be equipped with a refrigerated or dry freight box to be able to transport the goods properly.

As a provider of exclusively climate-neutral mobility for hire, hylane also provides each customer with a certificate of individual CO2 savings.

The M.KO box body, manufactured in the Schmitz Cargobull production plant in Lithuania, is equipped with a multifunctional floor, two load securing rails and a tail lift and completes the Hyundai hydrogen-powered truck. The actual assembly and DEKRA acceptance of the complete vehicle took place at the GRW plant in Toddin.

Bruno Altenschöpfer, Fleet Manager at hylane (in the middle), received the truck for its first use on the road. It was handed over by Dirk Nuxoll, Managing Director of GRW and Sabine Essmann, International Key Account Manager Logistic/Food Business at Schmitz Cargobull.