More than 100 new vehicles for Integre Trans
Lithuanian transport company focuses on quality and sustainability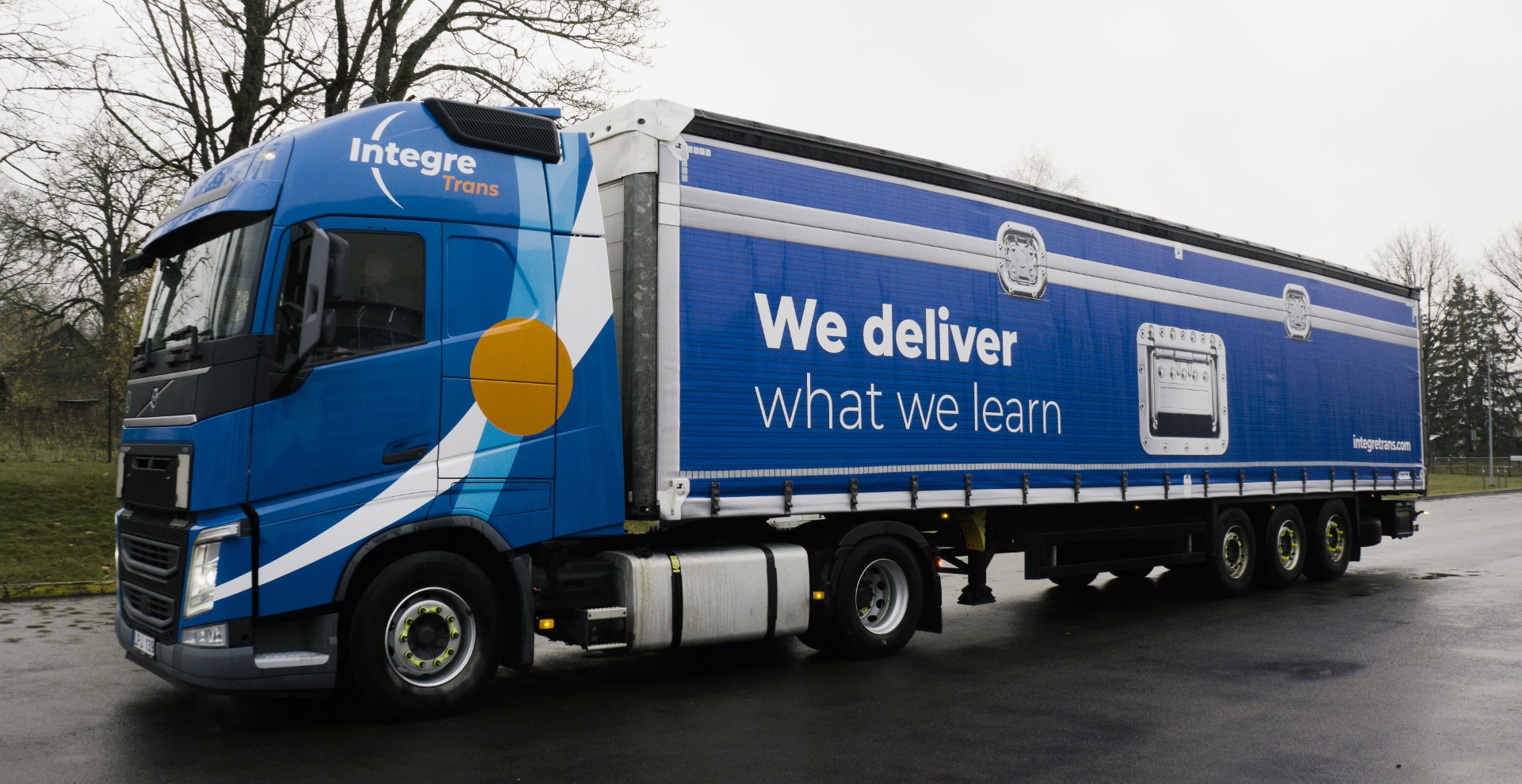 Semi-trailer curtainsider S.CS and semi-trailer container chassis S.CF for Integre Trans
At the Lithuanian company quality and sustainability are the top priorities. With bases in Lithuania, Germany, France and Poland, Integre Trans UAB recently ordered 57 new S.CS UNIVERSAL curtainsiders, 31 S.CS MEGA curtainsiders, ten S.CS MEGA X-Light curtainsiders and ten new S.CF 45' EURO semi-trailer container chassis from Schmitz Cargobull.

The company has been a Schmitz Cargobull customer since it was founded in 2008 and initially rented curtainsider trailers. "Quality is one of the basic requirements of the business for us," emphasises Žana Kel, CEO of the Integre Group. "This also applies to the selection of our partners. Integre Trans has chosen Schmitz Cargobull as a reliable partner for long-term co-operation where their attitudes towards business, service quality and service match ours."

From humble beginnings in 2008 with one truck and three employees, the business now has around 750 vehicles, more than 1,200 employees and over 2,000 customers. Its fleet includes curtainsiders, box trailers, refrigerated trailers and curtainsider trailers. Last year, the company increased its turnover by 30% and its number of employees by as much as 65% and intends to continue to drive growth.

Žana Kel says: "In recent years, Integre Trans has expanded its operations in the particularly important markets of Germany and France, but also in Italy, Spain, the UK and Poland. The expansion in these countries has been accompanied by an increase in the size of the workforce and investments in the expansion and modernisation of the fleet. This area will also be one of the company's priorities in the current year."
She adds: "Our values include competence, quality and responsibility. This also includes our commitment to employees, customers and partners. We work every day anew to improve our service quality."

The company's range of services includes the transport of hazardous cargo, partial and full loads, just-in-time and just-in-sequence transports, express deliveries, contract logistics and reserve logistics. The company is certified with Creditreform's CerfoZert creditworthiness certificate and ISO 9001:2015, ISO 14001:2015, ISO 28000:2007, ISO 45001:2018, 𝗛𝗔𝗖𝗖𝗣 Food Safety Systems, 𝗚𝗗𝗣 Good Distribution Practice and SQAS.

Integre Trans places particular emphasis on sustainable logistics – both at a corporate level and for environmental protection. "When expanding and renewing our fleet, we pay special attention to sustainability. Our fleet consists of new vehicles, because technologically advanced vehicles emit less CO2. This year we plan to acquire a total of 300 new trucks, which will bring the total number of trucks to over a thousand," explains Winfried Netzer, Branch Manager at Integre Trans.

"We see the use of a low-emission transport system as an opportunity. Not only as a measure against climate change, but also to preserve our prosperity, our health and, of course, the efficiency of our business. Fewer emissions mean lower operating costs and therefore lower prices for our customers," Žana Kel continues, but critically notes: "Although the pressure on entrepreneurs to use more environmentally friendly vehicles for transport is increasing, the necessary infrastructure in Europe is still lacking. That is why Integre Trans has joined the European Alliance for Clean Freight Transport, as it strives to accelerate the development of infrastructure for electric trucks".