Outstanding
P&S LOGISTICS - eye-catching, versatile and effective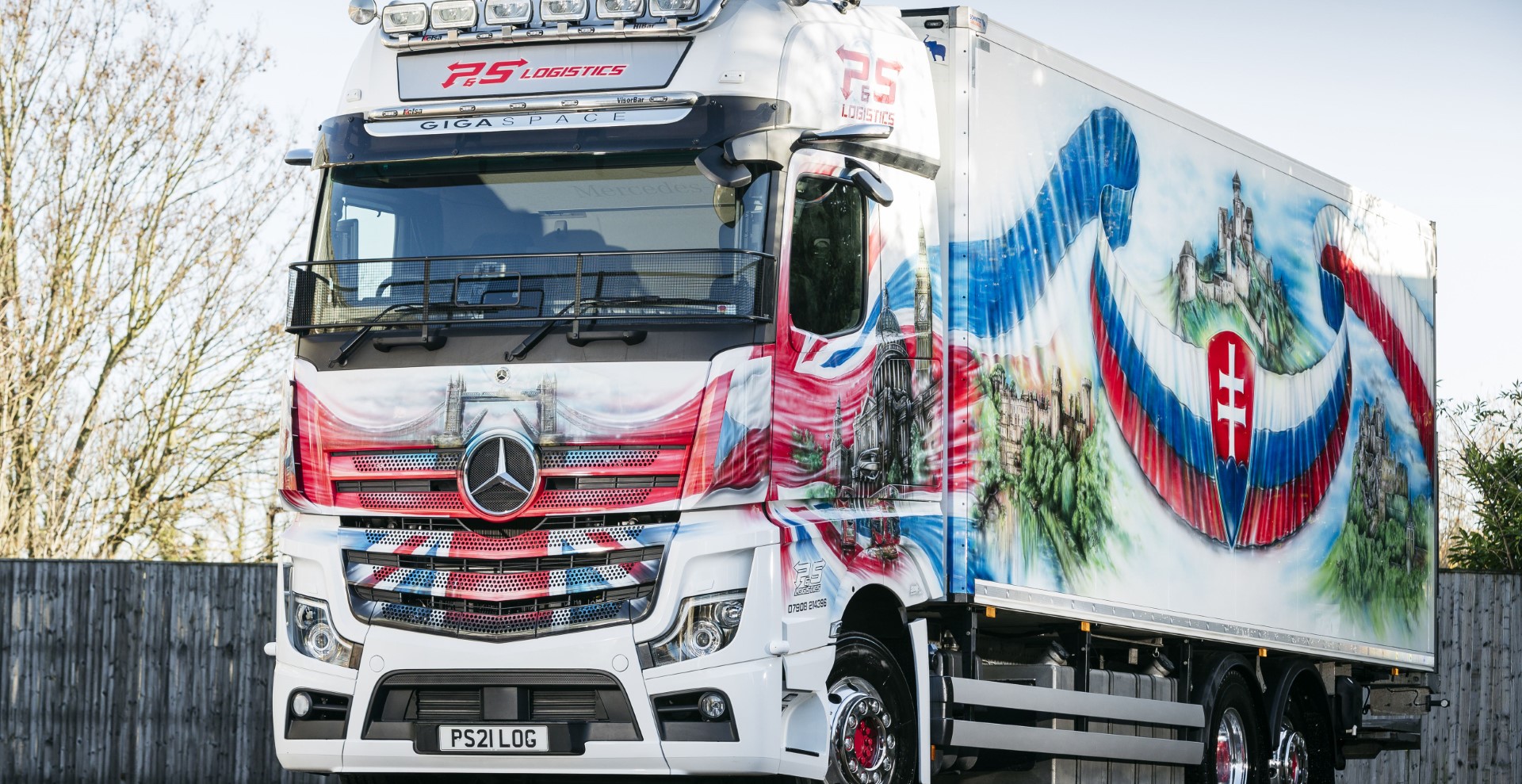 Quality and flexibility of the vehicles is convincing
"What I have is rather rare," says Philip Hudson, owner of P&S Logistics. "I wanted a very special vehicle that would stand out from the crowd and that I could use in the long term. The new vehicle combination, consisting of the M.KO COOL box body and the A.KO box trailer from Schmitz Cargobull, is used for transport formats that other companies cannot deliver. I have the option of using three different temperature zones – cold, chilled and frozen – depending on what my customers want. "If I have orders that only require a 26-tonne truck, or if there are weight restrictions, I can simply park the trailer. The bespoke mechanically operated tail lift makes loading and unloading pallets quick and easy in the process," he adds.
Hudson began upgrading the refrigerated box body with the aim of maximising the flexibility of his European food transport operations in Middlesex. The vehicle is mainly used to transport Slovakian foodstuffs and stands out for its eye-catching livery. It carries the Slovakian flag on the side panels, while the cab is painted with images of London, where Hudson was born. The rear doors, designed with Hudson's Polish wife in mind, feature the Wawel dragon from Polish folklore as well as the country's flag.
The M.KO COOL refrigerated box body, built by Schmitz Cargobull in Lithuania, was shipped to the UK and fitted with Carrier Transicold's Supra 1150 MT (multi-temperature unit) and ECO-DRIVE power module. In addition to the tail lift, the vehicle also received additional specifications such as Kelsa light bars and safety cameras. The Schmitz Cargobull box trailer is also equipped with a Carrier Transicold Supra™ 1050 unit. The ECO-DRIVE is able to power both the truck refrigerator and the trailer's refrigeration unit electrically via the truck engine's drive axle. The box trailer features Schmitz Cargobull's tried and tested FERROPLAST® side walls, which are stronger, and at the same time thinner than GRP bodies, which helps to increase the loading opening inside the body.
The relationship between P&S Logistics and Schmitz Cargobull has existed for more than five years. In 2016, the English refrigerated transport professionals received a box truck from Schmitz Cargobull for the first time.
"Schmitz Cargobull is incredibly responsive to my needs on every order," Hudson continues. "I wouldn't buy a box body from anyone else. Even though the build was so complex, they solved all the challenges in a timely manner. I keep coming back to them because of the quality of the products and the excellent customer service."