A smart cooler goes electric
For almost two years now, the refrigerated transport company STI Germany has been using a fully electric trailer from Schmitz Cargobull. This saves them up to five percent fuel and improves their CO2 footprint.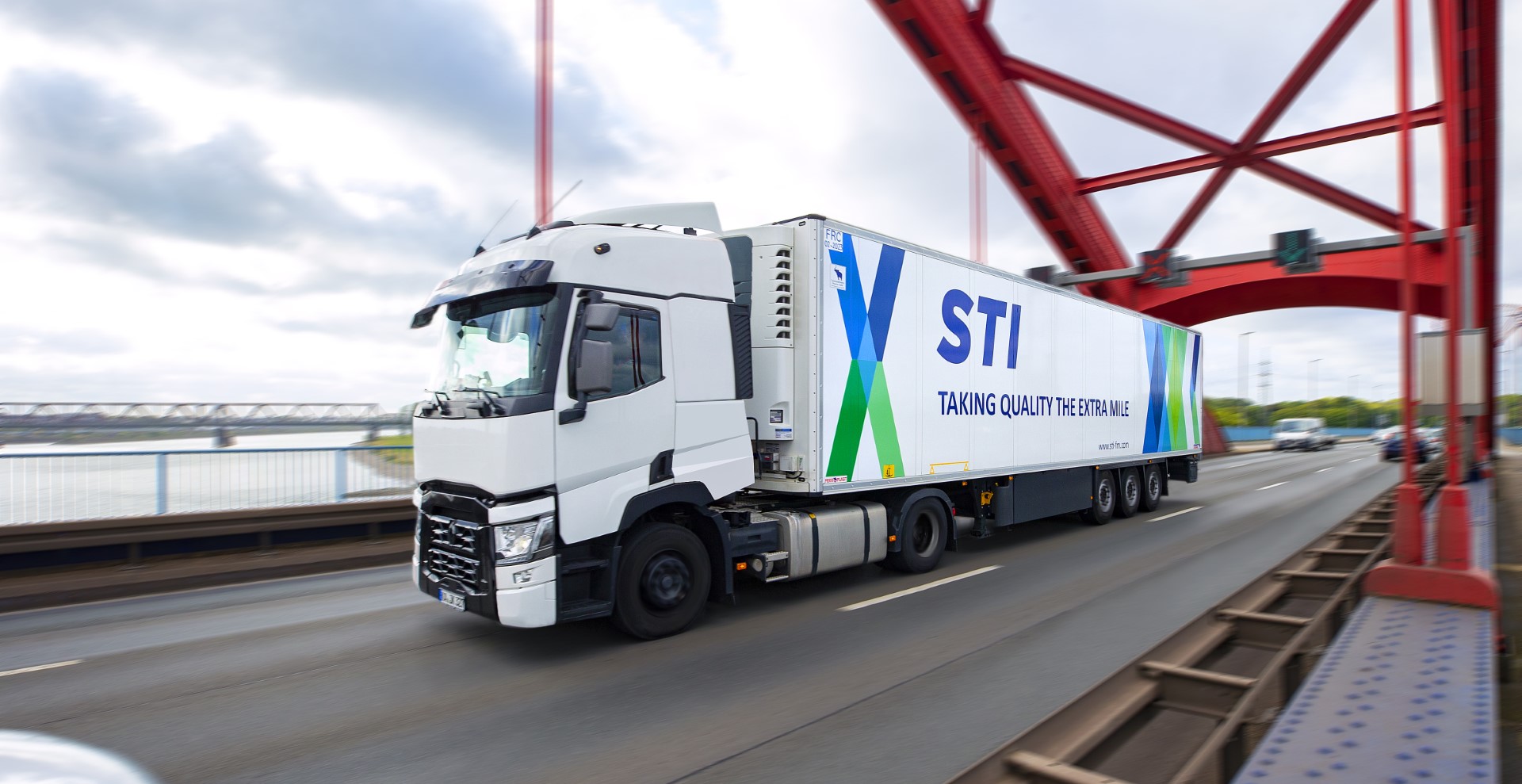 "We were convinced of the benefits of this trailer concept. The future is electric."
When the eye-catching STI refrigerated semi-trailer sets off from Rheinberg near Duisburg to Bingen, only those in the know recognise its special potential. There is no standard refrigerated trailer on the hook of the standard semi-trailer tractor. Schmitz Cargobull has equipped the trailer for STI Germany with an electrically operated refrigeration machine, electric generator axle and storage battery. It has transformed it into a fully electric refrigerated semi-trailer. For many months, it has been commuting the 250 km route between two cold storage warehouses, delivering fresh, chilled and frozen food in the multi-temperature range and not consuming a drop of diesel. That's why it gets free entry into zero-emission zones. It always performs extremely quietly.
"We were convinced of the benefits of this trailer concept. The future is electric. We wanted to bring the 2018 IAA prototype onto the road together with Schmitz Cargobull and make it ready for series production," says Dražan Malesevic, Managing Director of STI (Deutschland) GmbH in Duisburg. His company is a subsidiary of STI Freight Management GmbH and organises mainly temperature-controlled transports internationally. Foodstuffs for fast-food chains or pharmaceuticals for pharma companies are among the goods transported. This is why the refrigerated freight forwarder meets the internationally recognised quality standard IFS (International Featured Standard) as well as the high requirements for the transport of pharmaceuticals according to GDP (Good Distribution Practices).
STI also serves the cruise industry and, in addition to Europe-wide overland transport, handles international air and sea freight as well as import and export customs clearances. STI Freight Management has been operating for 40 years. With over 280 employees in eight countries, it has an annual turnover of around €355 million. In addition to about 340,000 overland transports per year, the company also handles more than 7,000 air and sea freight shipments and almost 35,000 customs clearances. STI does not have its own fleet of vehicles but works closely with certified subcontractors in the transport business. Due to increased quality requirements in the industry, the trailers at STI Germany have become more important in recent years and are leased themselves and sub-leased to hauliers. In this way, STI ensures that only modern refrigerated trailers with double evaporators, double-deck loading, three temperature zones, door lock, geofencing and telematics connection are used for its business, which minimises the risk of failures.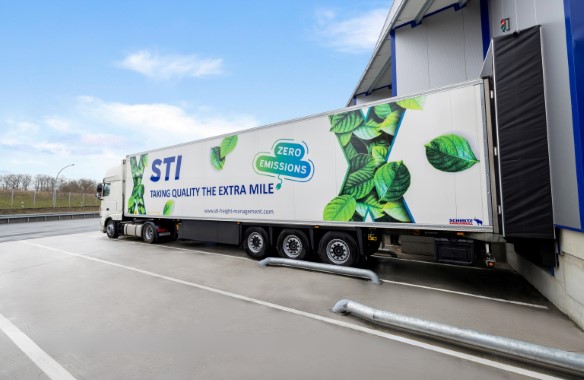 "Today, we dispatch a 200 of our own refrigerated boxes to our partners, almost half of which bear the blue elephant. We are extremely satisfied with the products from Schmitz Cargobull and have already been able to improve our own quality standards, which were later adopted in series production in Vreden," reports Malesevic proudly. At the time, STI Germany was one of the first companies to buy the S.CU refrigeration unit developed by Schmitz Cargobull and helped it to become a success. In 2023, another 30 refrigerated semi-trailers, featuring the S.CU refrigeration unit and the manufacturer's TrailerConnect telematics system, will be purchased, which will likely include some fully electric refrigerated semi-trailers.
"The electrically powered trailer has proven its worth. It enables us to save harmful greenhouse gases," says STI boss Malesevic. The issue of sustainability is one of his top priorities. His sustainability strategy for CO2 reduction is based on the three pillars -avoid, reduce, compensate. For the strategy's implementation, the 49-year-old is looking for support from the commercial vehicle industry. "We have to work more closely with the vehicle manufacturers and provide them with practical experience. Only in this way can they make the products better, more sustainable and ready for series production," adds the native of Hohenlohe. The graduate in business administration was aware of the risks when he agreed to use the all-electric refrigerated box at the prototype stage. On the other hand, the man from Niederrhein wanted to provide the trailer manufacturer with the necessary data to improve the standards of the e-refrigerator and also experience for himself how practical such e-trailers are today. At least there is no loss in payload. The payload loss due to the complex e-technology is marginal at less than 100 kg and is of little consequence.

Equipped with an S.CUe electric cooling unit with integrated power electronics, an electrified Schmitz Cargobull trailer axle as a power-supplying generator and battery storage on the winch, the S.KOe COOL SMART has been operating daily between two refrigerated warehouses in hub-to-hub traffic since August 2021 and has now covered around 150,000 km without any significant faults. The refrigeration unit allows emission-free cooling or heating of the load and has an average power requirement of 7.5 kW. It is powered by the high-voltage battery while driving. With a capacity of around 32 kWh, it offers a maximum of 4.5 hours of running time for the cooling machine. The lithium-iron-phosphate battery is recharged on the road from a speed of 60 km/h by a generator axle with 22 kW power and by recuperation during braking. In addition, the cooling unit can be connected to the mains supply and operated via a CEE plug during standstill times when loading and unloading. This simultaneously recharges the storage battery. The Schmitz Cargobull TrailerConnect telematics system is integrated into the vehicle as standard and transmits the battery's state of charge, the remaining range and the necessary charging time to the telematics portal.

After nearly two years of operation, the results are impressive: The savings in diesel for the refrigeration machine on the trailer amount to more than 2.5 litres in continuous operation, depending on the season and outside temperature. In contrast, the entire refrigerated semi-trailer only consumes about 0.5 to 1.0 litre more diesel per 100 km because of the generator axle - depending on whether it was driven in fresh or multi-temperature mode. The bottom line for STI is a net saving of at least 1.5 litres of diesel per hour, which ultimately produces savings for the entire truck-trailer combination of almost five percent and improves the CO2 footprint to the same extent. However, this does not take into account the electricity costs for the wired recharging of the battery.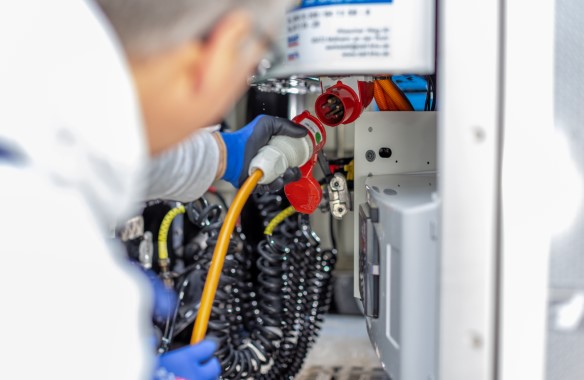 "The electric trailer can be optimally used in hub-to-hub traffic. Schmitz Cargobull quickly got to grips with some challenges relating to the display of the battery's charging status and excelled with fast response times," says Malesevic. The drivers are also pleased. There is no longer any noise from a diesel-powered refrigeration unit and diesel theft is a thing of the past. STI is an early adopter of the technologyin international long-distance transport. There is still a lack of charging infrastructure on the road and at transport depots. In addition, a battery capacity providing for 15 hours of self-sufficient cooling in standby mode would help STI even more
Schmitz Cargobull is still fine-tuning the development of its e-trailer. The technicians have already given the power electronics in the series model a software update and it will be on the market in the summer. This should further increase reliability and diesel savings. Longer standby operation would only be possible with larger and heavier batteries, which would severely limit the payload.
STI plans to take a step in this direction later this year by purchasing 10 fuel cell trucks with the help of subsidies. With electric trailers from Schmitz Cargobull in tow, they will be used in long-distance transport beyond shuttle traffic and not only save diesel but also reduce CO2 emissions on a larger scale. Dražan Malesevic sees the future of his company in the combination of an alternatively powered tractor unit and an electric refrigerated box. If everything goes according to plan, the STI Germany boss aims to convert all of his fleet to the emission-free e-trailers from Schmitz Cargobull by 2028.