Interview - Living Sustainability
Interview with Dr Günter Schweitzer (Chief Operations Officer) and Thomas Wissing de Freitas (Sustainability Manager)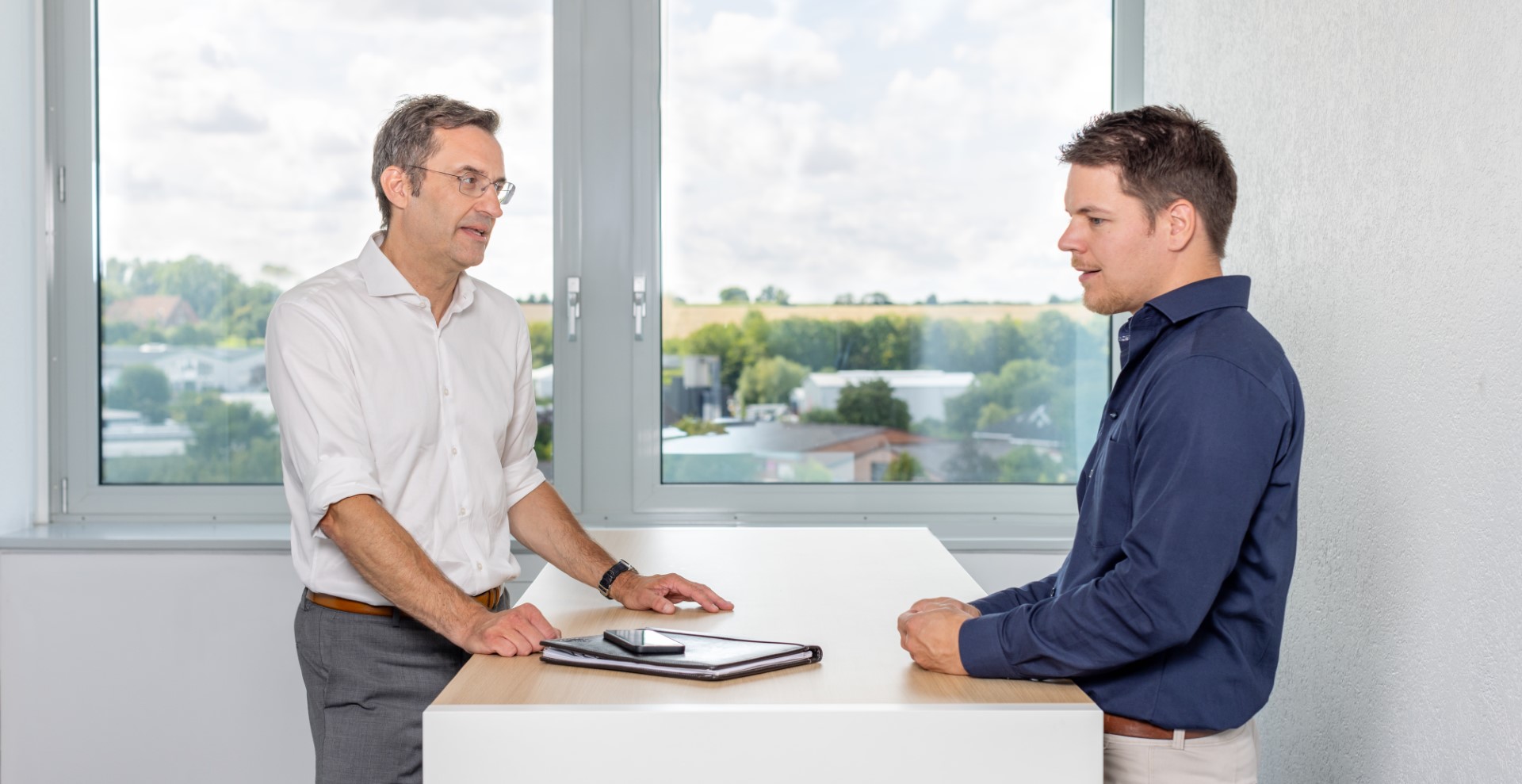 Dr Günter Schweitzer has been the Chief Operations Officer responsible for Operations and Sustainability since 1 September 2021.
Thomas Wissing de Freitas joined Schmitz Cargobull as the Sustainability Manager on 1 April 2022.
In the interview, they report on the progress and challenges for the company.

Mr Schweitzer, you are advancing sustainability at Schmitz Cargobull on behalf of the Management Board. In your honest opinion, how satisfied are you with what has been achieved so far?
We have achieved a lot in a short time and have a clear roadmap. However, our industry is at the very beginning when it comes to reducing environmental impacts throughout the entire value chain and adopting an integrated view of sustainability. As such, we still have a lot of work ahead of us.

Mr Wissing de Freitas, did you jump in at the deep end with sustainability at Schmitz Cargobull?
I have worked at Schmitz Cargobull for ten years now and am very familiar with the central areas of our company. After completing an extra-occupational degree in sustainability management, I think it is great to be able to put this into practice – especially as we have a great team.

What are you proud of?
Günter Schweitzer: I am proud of the team – and that we have developed a sustainability strategy within twelve months. We have tackled a number of major issues. For example, it was important to develop energy concepts
for each site and to obtain transparency regarding our direct CO2 emissions. I am pleased that the entire Management Board and Supervisory Board support sustainability.

Thomas Wissing de Freitas: We have taken our sustainability reporting to a new level and now also include the international companies. In addition, I am also proud of the fact that we have advanced many specific measures at the sites, such as measures relating to waste and energy. Sustainability has to be experienced live on location.

Mr Schweitzer, what are the major challenges facing the industry?
Freight transport in Europe will continue to increase, driven by an increase in general cargo and the desire for more rapidly available goods. Climate change demands that both legislators and commercial vehicle and trailer manufacturers reduce emissions. This is compounded by future solutions concerning the circular economy. It must be ensured that legal requirements can be implemented realistically and do not create disincentives.
Mr Wissing de Freitas, can you give us an example of successful cooperation?
We have highlighted several examples in this report: for example, our cooperation with a supplier which made the trailing arm more CO2 efficient or with research institutes regarding issues related to digitalisation and sustainability. We can only advance things in close cooperation – internally and externally. Sustainability needs many hands and heads.
Is there one sustainability issue that is particularly important to you personally?
Thomas Wissing de Freitas: The coming years will confront us with major challenges, as we are still in the early stages of the transformation to a sustainable way of doing business. I hope that we will achieve this transformation together with confidence!

Günter Schweitzer: For me, the big question is how we can make sustainability more present, how we can inspire people to see what it is all about as part of their everyday work and how they can make their own contribution. The circular economy concept fascinates me: How will we succeed in building a trailer in the future so that the materials used can be returned to the product?