The trailer's contribution to sustainable road freight transport
Sustainable road freight transport and efficiency can harmonise perfectly. These solutions help to reduce CO2 emissions and at the same time increase economic efficiency in the fleet. And they are also available immediately.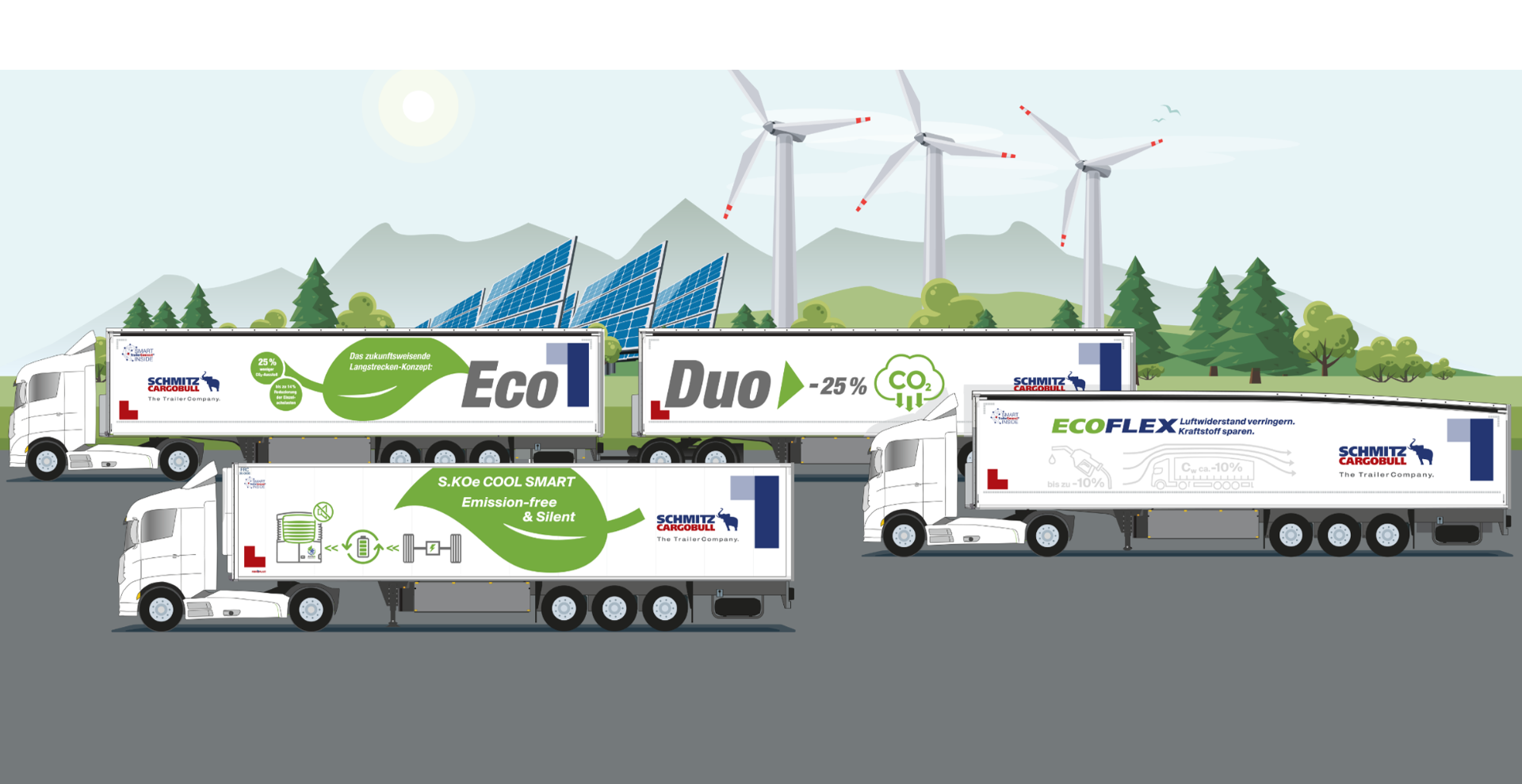 A solution for almost every transport task
Thanks to its broadly based product and service portfolio, Schmitz Cargobull can offer transport solutions in the 12 to 44 tonne weight classes for over 80 percent of all applications in local and long-distance transport: whether it is the transport logistics of pharmaceutical products and foods, which are carried out in accordance with strict regulations, or the special features of transporting bulk goods. For volume transport, vehicles with high loading capacity - for example with a large interior height - are produced that combine high economic efficiency with exemplary reliability. After the Cool Freight and General Cargo product lines, Aftersales and Services is the third strongest product line of Schmitz Cargobull in terms of sales and is a strategic business area. The services include the utilisation phase of a trailer from financing to operation to resale.
EcoGeneration
The S.CS EcoGeneration curtainsiders impress with improved aerodynamics and fuel economy.
Fully electric S.KOe semi-trailer
Electric has the right of way: from 2025, some cities in Europe will set up Zero Emission Zones in which conventional combustion engines are not permitted. The S.KOe semitrailer is fully electric and therefore has free access.
EcoDuo long truck concept
Schmitz Cargobull EcoDuo with vehicles in standard lengths, suitable for combined transport. European solution approach for less CO2 emissions in freight transport.
Motor vehicle bodies
Our bodies are also suitable for alternative propulsion, e.g. hydrogen.
Telematic
Optimise transport and logistics processes with telematics data and thereby reduce CO2 emissions.

Information on the sustainable transport solutions
Brief information: Curtaincider semi-trailer S.CS EcoGeneration

Brief information: Fully electric S.KOe semi-trailer

Brief information: TrailerConnect® Telematic
You might also be interested in: