100% performance – Zero emissions
Heat and cool without any emissions thanks to Schmitz Cargobull's electric refrigeration unit S.CUe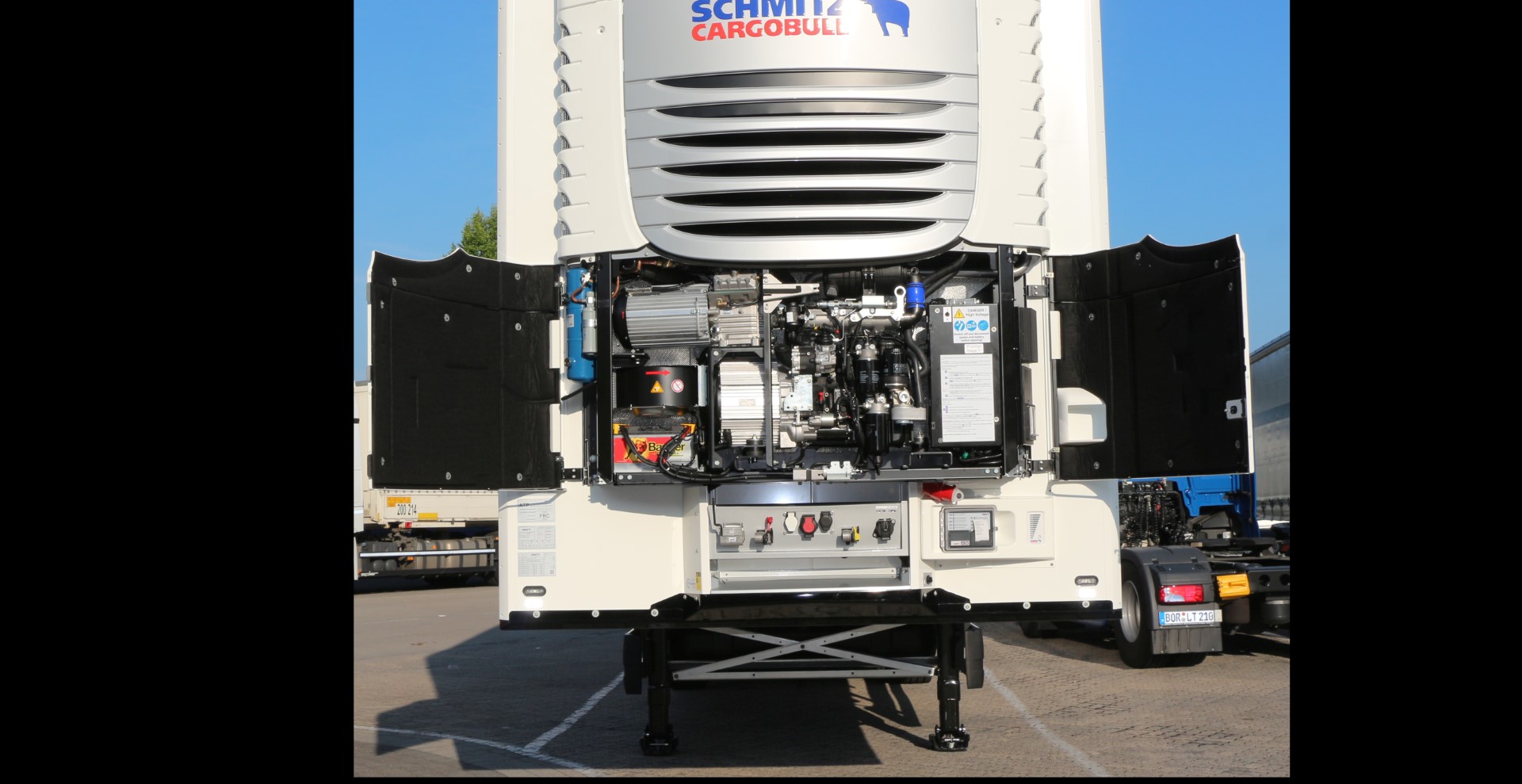 September 2018 – At the 2018 IAA Commercial Vehicles show, Schmitz Cargobull will be showcasing a prototype for its emissions-free refrigeration unit for box semi-trailers, paving the way for efficient, environmentally free refrigerated transport.

Heat and cool without any emissions thanks to Schmitz Cargobull's electric refrigeration unit S.CUe
The electrically powered S.CUe (Semi-Trailer-Cooling-Unit electric) does not generate any emissions and is designed especially for use in distribution transport.
When it comes to reducing harmful emissions, electrical mobility concepts are playing an increasingly important role. The electrically powered S.CUe with a built-in inverter is designed to cool and heat freight without generating any emissions. However, this new technology does not mean compromises are required when it comes to cooling (up to 15,900 W) and heating performance (9,100 W). The batteries are arranged on the landing gear and at the back of the box semi-trailer in a way that allows users to load pallet boxes as normal. In contrast to diesel-powered units, the S.CUe is only very slightly heavier.
The modular design allows battery capacity to be scaled (up to 65 kWh). Depending on the application and requirements, the unit can run on electric power for up to ten hours.
With this new model, Schmitz Cargobull is once again making an important contribution to CO2 reduction and taking responsibility for optimised ecological transport and logistics concepts. In keeping with its core values of "reliability and innovation", Schmitz Cargobull is continuing to bring visions for environmentally friendly drive alternatives to life.
About Schmitz Cargobull:
With an annual production of around 63,500 trailers and with around 6,500 employees, Schmitz Cargobull AG is Europe's leading manufacturer of semi-trailers, trailers and truck bodies for temperature-controlled freight, general cargo and bulk goods. The company achieved sales of approximately 2.29 billion in the 2018/2019 business year. As a pioneer in the industry, the North German company developed a comprehensive brand strategy early on and consistently established quality standards spanning every level: from research and development, through production and service contracts, to trailer telematics, financing, spare parts and used semi-trailer.


The Schmitz Cargobull press team:
| | |
| --- | --- |
| Anna Stuhlmeier: | +49 2558 81-1340 I anna.stuhlmeier@cargobull.com |
| Andrea Beckonert: | +49 2558 81-1321 I andrea.beckonert@cargobull.com |
| Silke Hesener: | +49 2558 81-1501 I silke.hesener@cargobull.com |
100% performance – Zero emissions

100% performance – Zero emissions

100% performance – Zero emissions Picture 1

100% performance – Zero emissions Picture 2