Schmitz Cargobull premières and new services on show at the IAA Commercial Vehicles 2018
New products and services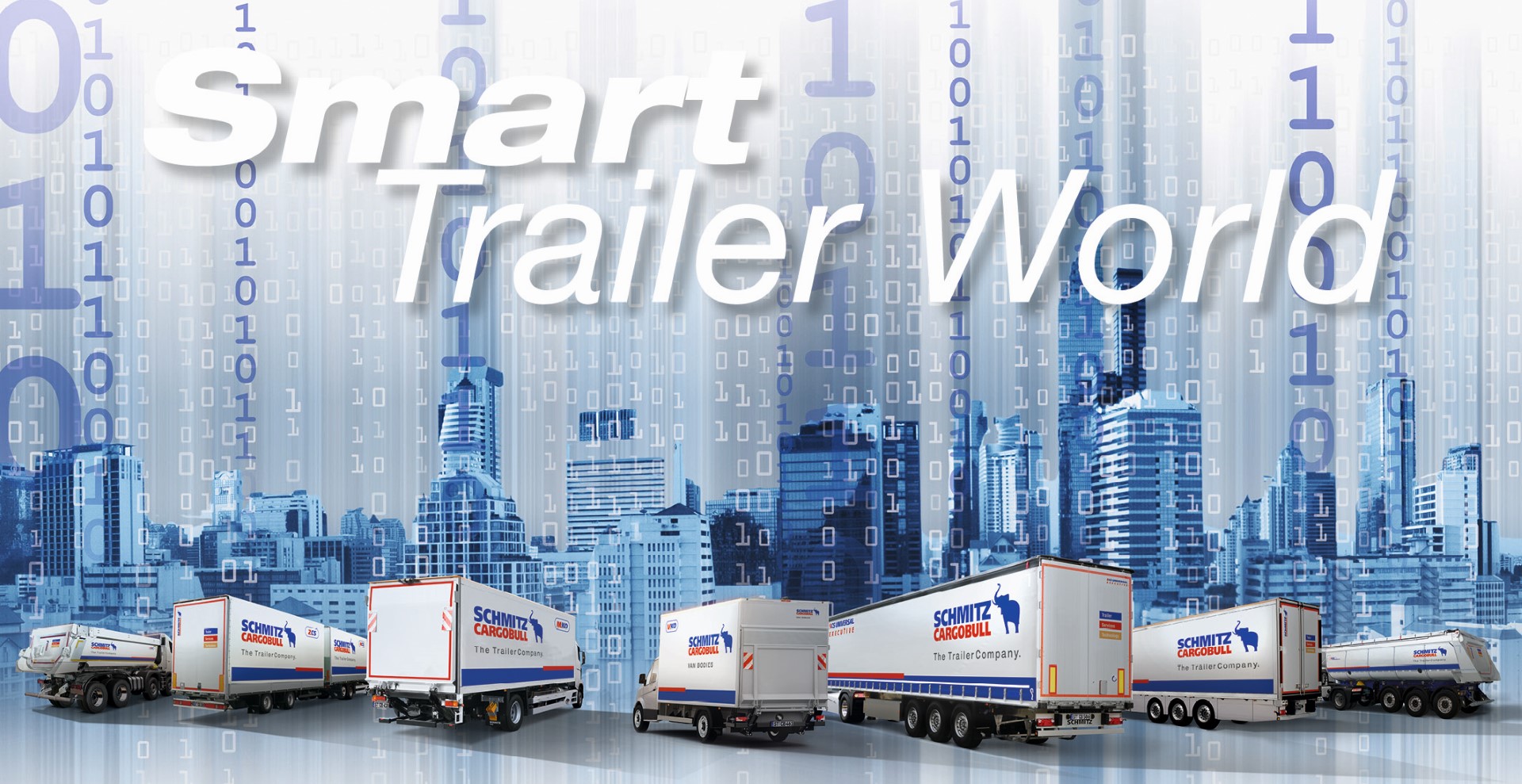 September 2018 – Schmitz Cargobull is set to showcase a range of vehicle innovations and new services at the IAA Commercial Vehicles 2018, all of which have been developed under the strictest quality standards to reduce the total cost of ownership (TCO).
New products and services
Premières!
100% SMART
Following the motto "100 % SMART", Schmitz Cargobull will now be equipping all S.KO COOL reefer semi-trailers with a telematics system as standard. The new benchmark for refrigerated transport is driving the digital transformation in the transport industry. The standard telematics equipment – which includes a certified electronic temperature recorder – creates a strong foundation for optimum control over an interconnected, integrated logistics chain, thereby helping to boost efficiency and reduce the total cost of ownership (TCO).
COOL product line
New Schmitz Cargobull S.CUe transport refrigeration unit
At the 2018 IAA Commercial Vehicles show, Schmitz Cargobull will be showcasing a prototype for its emissions-free refrigeration unit for box semi-trailers, paving the way for efficient, environmentally free refrigerated transport.
The electrically powered S.CUe (electric Semitrailer Cooling Unit) does not generate any emissions and is designed especially for use in distribution transport.
New Schmitz Cargobull S.CU transport refrigeration unit
Schmitz Cargobull has further developed its in-house refrigeration unit and equipped it with the latest common rail diesel motor. The new refrigeration unit generation offers the same high cooling performance and precise temperature management, but uses up 10% less fuel. All Schmitz Cargobull refrigeration units comply with the Stage V emission standard, which comes into force in January 2019. Through the optimum interface design of the new refrigeration unit and improved air circulation, operators can achieve even more consistent temperature distribution in the cargo area.
The refrigeration unit's display has been upgraded to offer improved user friendliness and good readability thanks to the larger keypad. As an alternative to the display, all functions of S.CU refrigeration unit and telematics system can be controlled via a smartphone.
Van Bodies product line: V.KO COOL
V.KO COOL Van Body
With the V.KO COOL, Schmitz Cargobull Van Bodies now offers a speedy body solution for transporter box bodies for fresh and frozen cargo. The new V.KO COOL for refrigerated transport complements the V.KO DRY for dry freight, completing the range of modular, efficient body solutions for last-mile logistics.
New products and highlights!
S.KO box semi-trailer product line
S.KO COOL reefer semi-trailer
The S.KO COOL reefer semi-trailer by Schmitz Cargobull will be presented in a new form at this year's IAA Commercial Vehicles Show. With the transport solution consisting of the enhanced refrigerated box body, the new S.CU refrigeration unit and the telematics system with built-in electronic temperature recorder, transport companies receive an optimised complete package for refrigerated logistics. Visually it's easy to see that a new S.KO COOL generation is about to make its début. It has been developed further, tidied up and given a distinctive new look. The front section has had a complete face lift.
The protected area of the bulkhead has been extended further upwards, so as to avoid damage during coupling. Furthermore, the insulation capacity of the bulkhead has been increased further through the optimisation of many details. The new side guard is the most telling sign that another generational change has taken place.
S.KO EXPRESS box semitrailer with folding wall
The new generation of the S.KO box semi-trailer with folding wall combines the advantages of a solid box with the more flexible features of a curtainsider. The S.KO EXPRESS with folding wall is a dry-freight box semi-trailer and offers greater payload, easy and more flexible loading combined with optimum load securing.
M.KO truck box body and Z.KO central axle body trailer
Schmitz Cargobull offers truck bodies and central axle trailers for inner-city food distribution. These vehicles are used mainly for the inner-city distribution of goods as well as local transport. All bodies are manufactured in line with Schmitz Cargobull's well-known strict industrial quality standards.
S.CS curtainsider product line
The S.CS curtainsider semi-trailer with POWER CURTAIN
The S.CS curtainsider with POWER CURTAIN from Schmitz Cargobull is designed to meet demands for increased transport efficiency and effective time management, particularly for transport in the automotive industry. The certified structural rigidity according to DIN EN 12642 Code XL is achieved without support laths thanks to aramid belts and steel wire integrated into the tarpaulin. The advantage of this lies in quicker loading and unloading without time-consuming handling to secure the load. This enables the driver to continue their run more rapidly and further optimise the transport process. The POWER CURTAIN also ensures a high level of protection against theft.
S.CS MEGA curtainsider semi-trailer minus 300 kg
Thanks to the new rolled chassis, the weight-optimised design of the S.CS curtainsider semi-trailer is now a whole 300 kg lighter, while the standard of robustness and quality has remained the same. To the delight of freight carriers, the basic equipment package for the semi-trailer has an unladen weight of just 6,290 kg.
S.CS UNIVERSAL curtainsider semi-trailer below 6 t
The S.CS UNIVERSAL curtainsider semi-trailer also comes in a leaner version. The Schmitz Cargobull all-rounder is already operational with an unladen weight of a little less than 6 t without any compromises in terms of sturdiness and quality. Of course, the vehicle possesses the DIN EN 12642 Code XL certificate and is also equipped with the new design of side guard.
M.CS truck curtainsider and Z.CS central axle curtainsider
Schmitz Cargobull has also upgraded to a new generation of high-volume trucks with drawbar trailers. The total weight for the M.CS truck curtainsider and Z.CS central axle curtainsider has been reduced by 500 kg. Both vehicles are also now available in the MEGA version. The trimmed-down high-volume truck and drawbar trailer in the MEGA version now offers greater payload for optimum and flexible transport solutions.
S.KI tipper semi-trailer product line
S.KI thermal tipper trailer with rounded steel body and aluminium box body
With a particular emphasis on weight reduction, Schmitz Cargobull presents enhanced thermal insulation for the rounded steel body. To minimise payload loss, the thermal insulation of the S.KI SR rounded steel tipper body has been optimised again for 2018. The innovative insulation material has a low additional weight of approximately 310 kg or upwards, offering a robust and payload-optimised transport solution. Alongside the rounded steel body, the aluminium box body is also available with full insulation. This weight-optimised transport solution also complies with the required insulation standards, while providing a high payload thanks to its unladen weight of only 5.1 t. Because the body's external dimensions do not change significantly as a result, the tipper trailer retains its low centre of gravity and can be combined with any of the trough covering options from the standard range.
S.KI VOLUME tipper trailer with an aluminium box body
The S.KI VOLUME AK tipper semi-trailer has a loading height which, although it is 160 millimetres lower, still retains the same body volume and it has an unladen weight which has been reduced by up to 150 kg. The tipper trailer with step-frame design also be available with the Schmitz Cargobull axle from September 2018 onwards.
Value added services product line
Schmitz Cargobull Parts & Services

Schmitz Cargobull Parts & Services has invested in new digital systems for local service and workshop training. Workshops around the world will be able to connect with Schmitz Cargobull specialists using remote maintenance applications, receiving instructions and help online during the repair process. This drastically reduces the time needed for troubleshooting and keeps downtimes to a minimum. For more complicated repairs, virtual-reality-based training sequences will be used to enhance training and development for workshop engineers. Enabling engineers to experience repair scenarios in a virtual world helps to improve the success of training. The first area of application for these new digital service and training elements will be the new Schmitz Cargobull S.CU refrigeration unit.

Schmitz Cargobull Finance
Since 2017 Schmitz Cargobull Finance has offered an extended range of insurance solutions via its insurance partners through the Schmitz Cargobull insurance broker. Our specialist insurance agent was founded under the umbrella of Schmitz Cargobull Finance and now operates as Schmitz Cargobull Insurance Broker GmbH (CIB), supporting a clientèle of transport companies within Germany.
Schmitz Cargobull Telematics
With the launch of its new telematics hardware, new sensors, a new online portal and the new beSmart app, Schmitz Cargobull Telematics is showcasing a range of pioneering innovations. It will also increase its focus on proactive services and predictive maintenance in future. Schmitz Cargobull's SmartTrailer concept is based on a new generation of the telematics control unit (CTU-3), which also includes extra optional sensor equipment. Customers benefit particularly from the concept's ability to link up all the relevant sensors and monitor the associated trailer components directly via the telematics system.
About Schmitz Cargobull:
With an annual production of around 63,500 trailers and with around 6,500 employees, Schmitz Cargobull AG is Europe's leading manufacturer of semi-trailers, trailers and truck bodies for temperature-controlled freight, general cargo and bulk goods. The company achieved sales of approximately 2.29 billion in the 2018/2019 business year. As a pioneer in the industry, the North German company developed a comprehensive brand strategy early on and consistently established quality standards spanning every level: from research and development, through production and service contracts, to trailer telematics, financing, spare parts and used semi-trailer.


The Schmitz Cargobull press team:
| | |
| --- | --- |
| Anna Stuhlmeier: | +49 2558 81-1340 I anna.stuhlmeier@cargobull.com |
| Andrea Beckonert: | +49 2558 81-1321 I andrea.beckonert@cargobull.com |
| Silke Hesener: | +49 2558 81-1501 I silke.hesener@cargobull.com |
Premières at IAA 2018

Premières at IAA 2018

Premières at IAA 2018 Picture 1

Premières at IAA 2018 Picture 2

Premières at IAA 2018 Picture 3