Major milestone – 20,000th and 20,001st semi-trailers handed over to TIP Trailer Service
TIP Trailer Service and Schmitz Cargobull reinforce their long-standing partnership.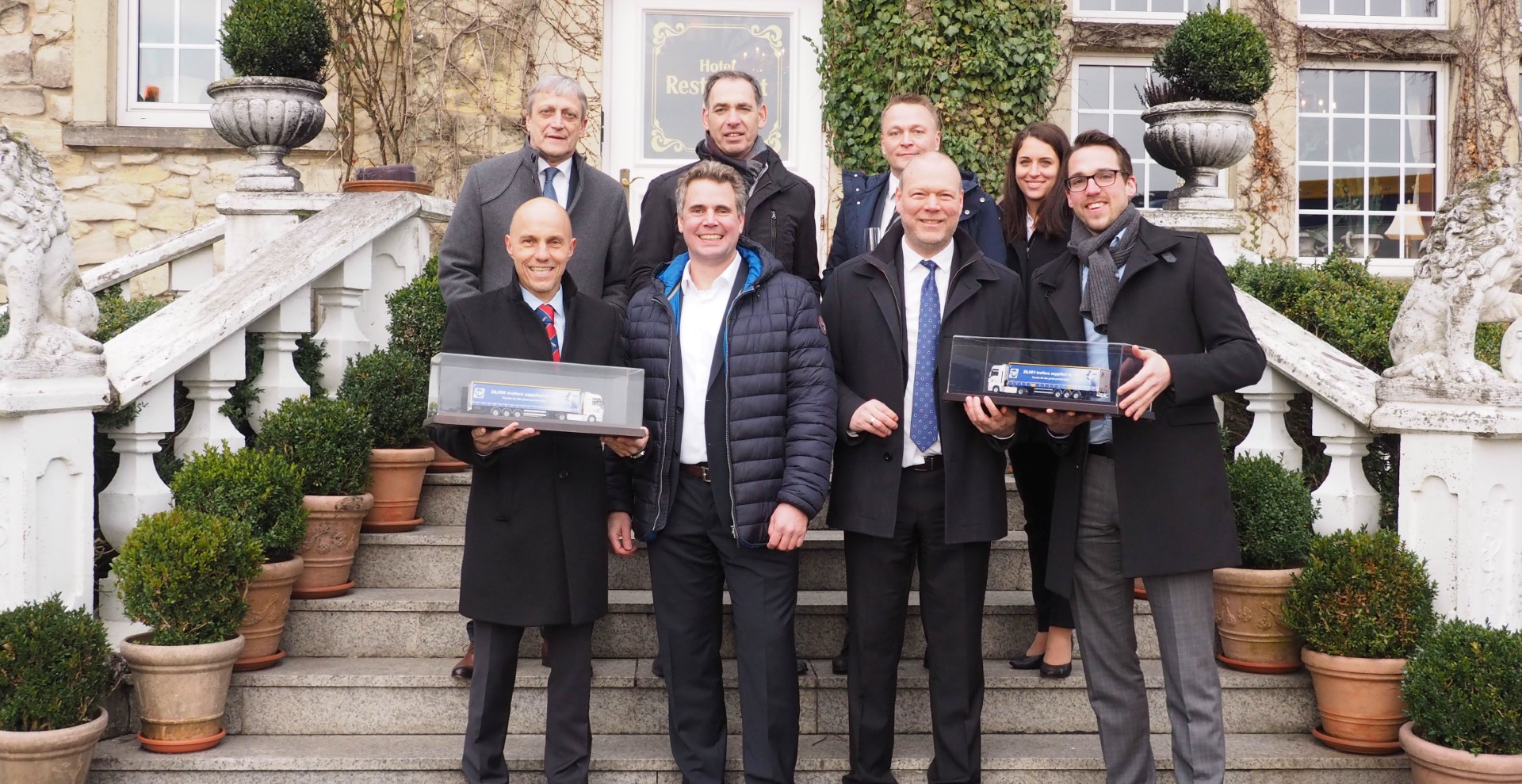 April 2018 - Orders from a major customer tend to be both large and regular. Jörg Irsfeld, Head of International Key Account Management at Schmitz Cargobull and Alwin Lürwer, International Key Account Manager at Schmitz Cargobull, handed over the 20,000th and 20,001st semi-trailers to TIP Trailer Service. These were accepted by Oliver Bange, Managing Director Central Region Christian Petersen, Managing Director Nordics, Daniello Cohen, Senior Sourcing Manager Europe and Peter Marquardt, Operations Leader Central Region from TIP Trailer Service. Schmitz Cargobull has been regularly supplying vehicles to one of Europe's largest leasing companies for more than twenty years.
TIP Trailer Service and Schmitz Cargobull reinforce their long-standing partnership.
At a small ceremony, the anniversary vehicles were handed over to the respective country representatives. And this time was no exception, the 20,000th and 20,001st semi-trailers were also provided with special lettering and an exceptional location – the Steverburg in Nottuln – was chosen as the venue for the handover.
"Both our commercial success and personal contacts have grown over the years," emphasises Oliver Bange in relation to the partnership. This relationship of trust has been of vital importance for both sides, in particular in recent years.
"20,000 vehicles for TIP not only reflect an exceptionally positive partnership, but also the wealth of experience built up together throughout the years. We are proud of the success we have collectively achieved in recent years, and we are optimistic for the future," explains Jörg Irsfeld.
Both vehicles delivered were S.CS UNIVERSAL curtainsider semi-trailers that are also suitable for rail loading, while cutting-edge safety features such as flashing side marker lights round off the vehicle. As a rule, TIP relies on Schmitz Cargobull's S.CS curtainsider semi-trailers in the GENIOS version. Their rolled and cold-formed construction affords all of the attributes relevant for leasing companies such as robustness, flexibility and ease of repair. The impressive modular design of the new GENIOS chassis allows a broad range of equipment variants, along with different wheel and axle spacings. In the event of repairs this makes it easier to replace components, which benefits more than 900 TIP mechanics who maintain and repair not only their own fleet, but also customer vehicles in over 70 proprietary workshops. "In times of high cost pressure, it is particularly important for fleet operators to maintain control over their Total Costs of Ownership (TCO). This transparency pays off for both the customer and the lessor," insists Alwin Lürwer.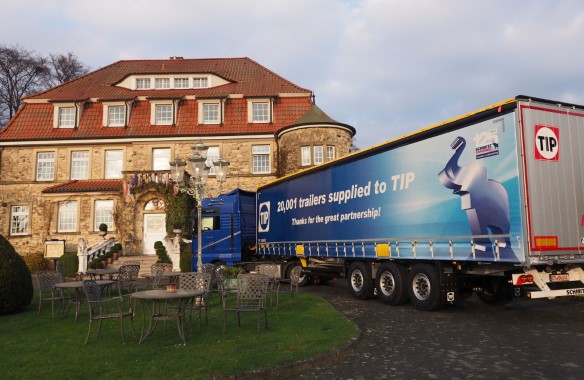 With more than fifty years of experience in fleet management and support, TIP can expressly confirm this. "Our customers value planned costs, and as such consciously choose our flexible leasing options and workshop service," adds Oliver Bange.
Innovative technology is also used for the refrigerated box bodies, with optional equipment including compressible corner bumpers for safe docking at the loading ramp or a multi-function floor. The semi-trailers are often equipped with load securing elements such as the newly developed load securing rails or the new double deck system. The tried-and-tested ROTOS chassis with Schmitz Cargobull's own axle is fitted on all semi-trailers.
Reliable quality that ensures optimum availability as well as continual product innovations are a decisive criterion for an enduring and close partnership. This is why many of the semi-trailers that have been supplied so far are equipped with the TrailerConnect trailer telematics system. Both the quality and practical handling of TrailerConnect were key factors for the placement of the most recent order. Since 2017, TIP Nordics has been using the latest generation of the Schmitz Cargobull telematics hardware and software in the Scandinavian region, but also elsewhere in Europe.
TIP Trailer Service in one of Europe's leading commercial vehicle leasing companies. The services they offer include everything from the specification and procurement of transport trailers to organising financing, leasing, daily operations, maintenance and repairs, in addition to the procurement and sales of used commercial vehicles. Based at 70 locations throughout Europe, their products and services are distributed across 16 countries.
About Schmitz Cargobull:
With an annual production of around 63,500 trailers and with around 6,500 employees, Schmitz Cargobull AG is Europe's leading manufacturer of semi-trailers, trailers and truck bodies for temperature-controlled freight, general cargo and bulk goods. The company achieved sales of approximately 2.29 billion in the 2018/2019 business year. As a pioneer in the industry, the North German company developed a comprehensive brand strategy early on and consistently established quality standards spanning every level: from research and development, through production and service contracts, to trailer telematics, financing, spare parts and used semi-trailer.


The Schmitz Cargobull press team:
| | |
| --- | --- |
| Anna Stuhlmeier: | +49 2558 81-1340 I anna.stuhlmeier@cargobull.com |
| Andrea Beckonert: | +49 2558 81-1321 I andrea.beckonert@cargobull.com |
| Silke Hesener: | +49 2558 81-1501 I silke.hesener@cargobull.com |
TIP Trailer Service

TIP Trailer Service

TIP Trailer Service_Picture 1

TIP Trailer Service_Picture 2