Big Data – 15,555th trailer delivered to PEMA
PEMA and Schmitz Cargobull confirm long-term partnership

June 2019 - Schmitz Cargobull and PEMA GmbH, one of Europe's largest vehicle leasing companies, enjoy a successful collaboration that has spanned decades. At the transport logistic trade show in Munich, Boris Billich, Sales Director at Schmitz Cargobull and Jörg Irsfeld, Head of International Key Account at Schmitz Cargobull, formally presented the 15,555th semi-trailer to Peter Ström, Managing Director at PEMA.
PEMA and Schmitz Cargobull confirm long-term partnership
"Along with business success, our personal contacts have also grown and deepened over the years," says Ström, emphasising the partnership, "This foundation of trust has proven invaluable for both parties."
"15,555 trailers for PEMA symbolises an exceptionally positive partnership and also reflects the convincing quality of our products and services. We are proud of the success that we have achieved together over the years and view the future with healthy optimism," states Billich.
PEMA regularly acquires trailers that span Schmitz Cargobull's entire product spectrum, ranging from state-of-the-art refrigerated semi-trailers to universal curtainsiders and tipper trailers for agricultural harvesting. PEMA relies on the experience and quality of Schmitz Cargobull. In addition to its modern product portfolio, the company also offers a comprehensive service network with 1,700 workshops throughout Europe together with optimum spare parts supply.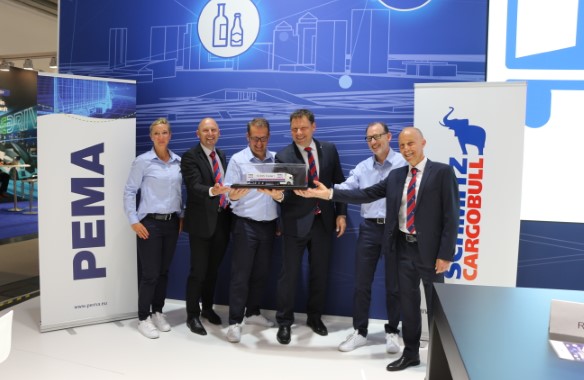 "In times of high cost pressure, fleet owners need to have the total cost of ownership (TCO) under control. This transparency benefits both the customer as well as the lessor," emphasises Irsfeld.
PEMA, which was founded 1976, is considered a pioneer in the commercial vehicle leasing sector and currently employs around 450 people. The fleet encompasses more than 18,000 units and the company's own service network includes more than 25 sites in nine European countries. The modern PEMA fleet offers a diverse range of transport solutions capable of handling the needs of companies in the logistics sector.
About Schmitz Cargobull
With an annual production of around 61,000 trailers and with approximately 6,900 employees, Schmitz Cargobull AG is Europe's leading manufacturer of semi-trailers, trailers and truck bodies for temperature-controlled freight, general cargo and bulk goods. The company achieved sales of around €2.3 billion in the 2021/22 financial year. As a pioneer in the industry, the North German company developed a comprehensive brand strategy early on and consistently established quality standards spanning every level: from research and development, through production and service contracts, to trailer telematics, financing, spare parts, and used vehicles.


The Schmitz Cargobull press team:
| | |
| --- | --- |
| Anna Stuhlmeier: | +49 2558 81-1340 I anna.stuhlmeier@cargobull.com |
| Andrea Beckonert: | +49 2558 81-1321 I andrea.beckonert@cargobull.com |
| Silke Hesener: | +49 2558 81-1501 I silke.hesener@cargobull.com |
Big Data – 15,555th

Big Data – 15,555th

Big Data – 15,555th