Schmitz Cargobulls EcoDuo concept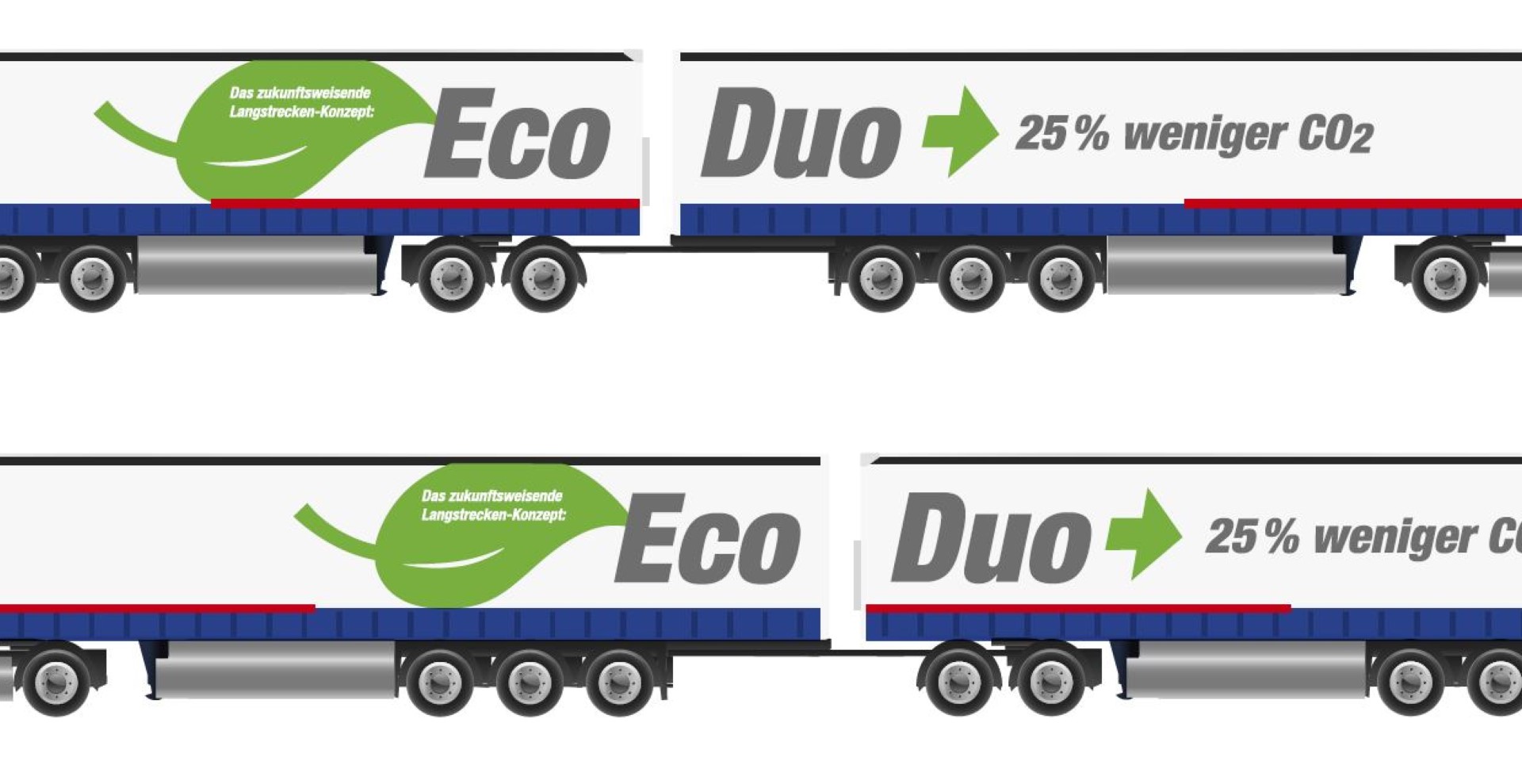 June 2019 – With its new EcoDuo concept, Schmitz Cargobull is launching a new transport concept for the European market. As well as being able to transport more freight, it does not put any extra strain on current infrastructure, is able to reduce CO2 emissions, is in line with current commercial transport standards and is ideal for point-to-point transport outside of urban areas.
Flexible trailer combination for efficient, climate-friendly transport
In the EcoDuo combination, two standard curtainsider semi-trailers – connected via a dolly – are coupled to a tractor unit. The total tractor-trailer weight of the tractor and the first trailer remains unchanged at 40 tonnes; the weight of the second trailer can vary, though it can reach 36 tonnes to comply with current Scandinavian regulations. This trailer combination is currently being tested in Spain with a tractor-trailer weight of 40 tonnes for the first trailer and 30 tonnes for the second. "At the moment, this trailer combination is only valid in Scandinavia. Over the long term, however, we believe that the EcoDuo will be seen as an ecologically and economically efficient transport solution for the whole of Europe," explains Andreas Schmitz, Chairman of the Board of Schmitz Cargobull AG.
This flexible concept – based primarily on standard trailers – has a number of plus points. In conventional long HGV concepts, the length of the load carriers used can differ, meaning they cannot be combined for flexible use, requiring fleets to invest additional money.
Since this combination is not permitted in every country and every country has a different legislation, complete cross-border transport jobs are more difficult. In contrast, the EcoDuo trailer combination can easily be split between two tractor units at border points or in specific areas.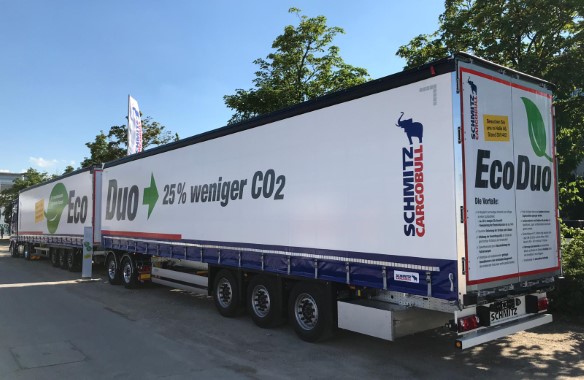 When compared to conventional tractor units and one trailer with a 40t total tractor-trailer weight, the EcoDuo concept offers the following advantages:
- Reduced fuel consumption and, as a result, lower CO2 emissions per transported tonne
- Lower single axle loads
- Increased total transport capacity on the roads and/or less traffic/tractor trailers
- Less strain on roads and bridges due to lower axle loads and fewer HGVs
- Solution to the driver shortages – One driver, two semi-trailers for long-haul journeys
Existing tractor units can still be put to good use and the use of two standard semi-trailers means that current dimensions used in the transport industry will remain unchanged. All current infrastructure can still be used without any expensive investments. This means that trailers can still be loaded onto trains and nothing will change in terms of loading and unloading procedures.
When modern trailers are used – i.e. ones that are equipped with the latest axle and brake technology – the EcoDuo complies with all safety standards. The concept is therefore compatible with current traffic conditions without any additional risks – safety distances and warning signs ensure that cars can still overtake without any danger. The EcoDuo concept is also suitable for future technological developments, such as platooning and assisted driving.
About Schmitz Cargobull:
With an annual production of more than 46,000 trailers and with around 5,700 employees, Schmitz Cargobull AG is Europe's leading manufacturer of semi-trailers, trailers, and truck bodies for temperature-controlled freight, general cargo and bulk goods. The company achieved sales of approximately €1.87 billion in the 2019/2020 financial year. As a pioneer in the industry, the North German company developed a comprehensive brand strategy early on and consistently established quality standards spanning every level: from research and development, through production and service contracts, to trailer telematics, financing, spare parts, and used semi-trailers.


The Schmitz Cargobull press team:
| | |
| --- | --- |
| Anna Stuhlmeier: | +49 2558 81-1340 I anna.stuhlmeier@cargobull.com |
| Andrea Beckonert: | +49 2558 81-1321 I andrea.beckonert@cargobull.com |
| Silke Hesener: | +49 2558 81-1501 I silke.hesener@cargobull.com |
Schmitz Cargobulls EcoDuo concept

Schmitz Cargobulls EcoDuo concept

Schmitz Cargobulls EcoDuo concept_Picture 1

Schmitz Cargobulls EcoDuo concept_Picture 2